Dalton students grow it, will sell it on May 19-20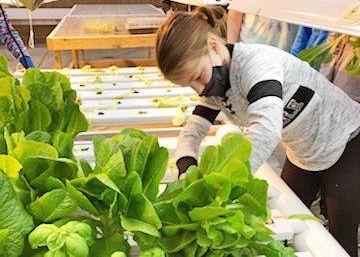 Red and pink geraniums, coleus, dill, basil, fennel, watermelon, vinca, parsley, marigolds, Swiss chard, arugula, burpless and straight cucumbers, ornamental sweet potatoes, peppers, spider plants, aloe vera, and more. What do all of these have in common? They can all be purchased at the Dalton Local Schools Greenhouse Plant Sale, scheduled for May 19-20 at the school.
The sale will take place May 19 from 4-6 p.m. at the greenhouse and May 20 from 2-4 p.m. at the school cafeteria and commons area.
With plants ranging in price from $1-$5, all profits go to the STEAM program and to support the greenhouse. "The money goes back into buying soil, pots, fertilizer. I've never had to ask the district for more money once the greenhouse has been up and running. It really is self-sustaining," said Laura Grimm, the STEAM teacher who heads up the sale.
According to information on www.steamedu.com, STEAM represents a shift from "traditional education philosophy based on standardized test scores to a modern ideal that focuses on valuing the learning process as much as the results."
The sixth-graders, especially, get to be hands-on in the greenhouse. "I really like working in the greenhouse because you're able to pick different jobs to do. My personal favorite is either soil/broom master or the waterer," student Hayden Cecil said.
The class propagates the geraniums by cutting them, dipping them in honey and then sticking them in soil. They also start seeds and then transplant them.
"It's hard for some kids," Grimm said, "because they just want to power through stuff and they need to be gentle and slow down."
So far the students seem to be enjoying the chance to get their hands in the dirt.
"The best job in the greenhouse is probably the soil job. Sure, it gets your hands dirty, but who cares?" sixth-grader Carsten Nussbaum said. "But the best part about working in the greenhouse would be the teamwork involved. Just getting out there and working is just really calming. I love it."
"Doing hands-on activities like this gives us a break from just memorizing things and lets us learn hands-on skills that we can apply in other places than just school," classmate Ben Hostetler said.
Other grades get time in the greenhouse too.
Seventh-graders grew lettuce hydroponically using household items in the greenhouse. The idea stemmed from a book they read with language arts teacher Jessica Matz, called "A Long Walk to Water."
Second-graders are growing marigolds for Mother's Day, which Grimm likes to call Caregivers Day.
"Not everybody has a mom. I lost both my parents, but someone still took care of me," Grimm said. "Some of these kids are living with grandparents and aunts and uncles. I don't want them to feel that they don't have a caregiver."
After Grimm talked to the school board for a year about starting a STEAM program, in 2012-13 she received the go-ahead.
"I'm a scientist. And I didn't want to just teach out of a book. Some of the kids that have difficulty with book learning excel in my class," Grimm said.
Once in the new school building in 2014, Grimm had the idea of having a greenhouse for the school. "My background is agriculture. I'm a plant pathologist. I worked in greenhouses. I was raised growing things. Both my grandparents were farmers," she said. "I want kids to have that same experience. If kids don't know where their food comes from, how can they protect the land on which it's grown?"
Built during summer and fall 2017, the greenhouse was funded by donors in the community and by grants Grimm received.
"This is a state-of-the-art greenhouse — heating and cooling is controlled automatically. We keep it at about 65-75 degrees all during the school year. Most of the months that kids are in school are the months that things don't grow," Grimm said, and the high-tech system allows plants to grow in the winter.
The kindergarten students call it the "Magic Room" and are growing strawberries to give to their caregivers. They also grew potatoes and ate mashed potatoes in STEAM class.
But Grimm's work teaching still isn't done. "Even yesterday," she said, "we were talking about what you can make from potatoes. They said 'potato chips, french fries,' and one little kid said 'chicken nuggets.' But I'm not going to start raising chickens."
Besides raising all the flowers for around the schools, every seven to eight weeks, the greenhouse is able to deliver a crop of romaine lettuce to the school's cafeteria.
"The lettuce is fantastic," Grimm said. "They take it up to the cafeteria, and they are so proud. They'll come in the next day and say, 'Hey, I ate some of our lettuce.'"
The sixth-graders will help run the plant sale. "I can't wait until the plant sale," student Max Steiner said. "I love the way the flowers look."
"I like working in the greenhouse because you get to see your plant grow all the way up until it's sold," classmate Garret Wilson said.