Edgewood students go online to study, 'meet' Gen. Wooster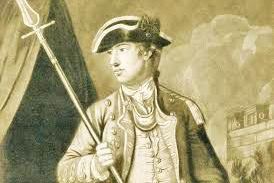 Fifth-grade students from Edgewood Middle School had the opportunity to "meet" Gen. David Wooster as part of a virtual field trip/Zoom presentation on Wednesday, May 6.
Jason Anderson, a Wooster resident and social studies teacher at Archbishop Hoban High School in Akron, has done extensive research on Gen. Wooster and offered to present the general's story to fifth-graders. However, Anderson didn't just lecture the students. He dressed up as the general with a full costume, wig and props and told Wooster's story in a first-person, 30-minute presentation.
Anderson performed for each of the four fifth-grade Edgewood classes. About 45 students tuned in via Zoom to watch and learn more about his history in the American Revolutionary War.
"The students were very engaged and stayed focused throughout the virtual field trip," said Marty Yoder, associate principal at Edgewood. "Mr. Anderson did a wonderful job with the presentation all four times. He shared about the life of Gen. Wooster and the complications that he encountered in his life and his role as a general, and I think it was a great opportunity for our students to learn a little about the life of the man whom Wooster is named after."
Anderson, who completed his master's thesis on Gen. Wooster, spearheaded the successful effort to commission a statue of the city's namesake. The statue is set to be installed this year on the front lawn of the main branch of the Wayne County Public Library.
"We are so thankful to Jason Anderson for bringing Gen. Wooster to life for our students," said Richard Leone, director of secondary education. "His excellent portrayal of the general and the history it helped teach is sure to be a highlight of this school year for our fifth-graders."
The presentation is available on Anderson's YouTube channel and can be viewed at https://youtu.be/L9mxN1fiEo4.