Growing, facing adversity are Hiland grads' lessons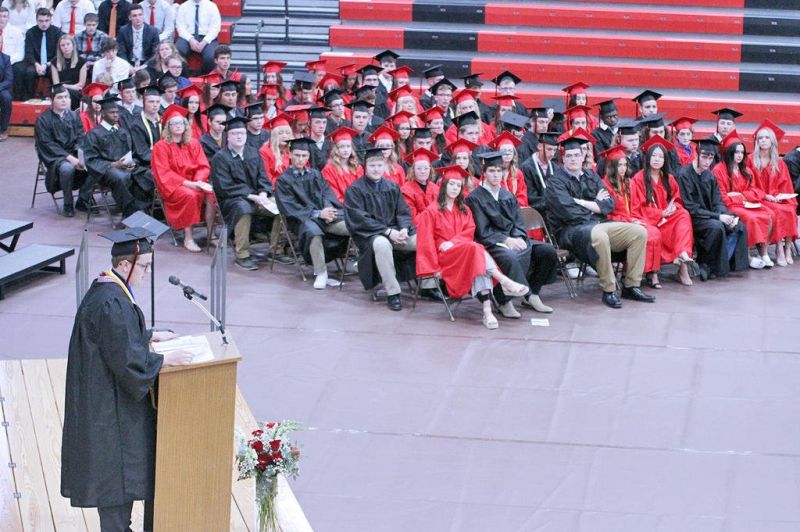 On a bright and sunlit afternoon on Sunday, May 30 at the Perry Reese, Jr. Community Center at Hiland High School, the graduating class of Hiland High enjoyed one final day in the sun as they received their diplomas and set the stage for their next phase of life.
In leading their class out the doors of high school one final time, valedictorian Jacob Beachy and salutatorian Brynn Mullet explored what the future might look like while at the same time taking a look back at what has shaped the lives of the 71 graduating seniors.
In speaking first, Mullet said the Class of 2021 has had to stare down challenges and difficult circumstances like no class before them.
Mullet addressed her classmates in noting they had finally made it, many of them eager to see it come for numerous reasons.
"We get to open a door to a new chapter in our lives," Mullet said. "Yet it somehow doesn't feel real. My whole life has been intertwined with Hiland, and all of a sudden, our senior year has come to a close. In a year where everything was a 'maybe,' a 'we'll see' or a 'we're hopeful that,' it would be easy to think about the disappointment and frustration felt by all of us."
She said it wasn't long ago she expected this graduation ceremony to be one of the most anti-climactic moments of her school career. However, after reflecting, she came to the realization this senior year and her entire career at Hiland has given her far more than she could have ever asked.
"I realized that while events were canceled or postponed, those were not our most cherished memories," Mullet said.
She then shared all of the countless, seemingly insignificant moments that occurred throughout their school days that helped build relationships and create truly unique and fond memories.
"Those are feelings and emotions that I tie to this school and this class," Mullet said.
She said their trek through the 2020-21 school year was all about adaptation as they found ways to remain positive, ways to have fun and ways to make the best out of any situation.
She said in a unique way, facing all of the challenges and uncertainty and coming out on the other side better for it was what made this year so satisfying.
"I believe this year we had to make a choice: to give up or to take that one step toward greatness," said Mullet, who will attend Ohio Dominican University, where she will study business administration and marketing while playing basketball. "The adversity we faced will serve us well for years to come. I don't know what the future holds for us, and I don't want to know. What I do know is that we are equipped to handle whatever it is the real world throws at us. It wasn't always easy, comfortable or fun, but the hard work is always worth it."
Beachy, who earned the highest of scholastic accolades, will attend Kent State University, where he will study zoology with a preveterinary minor.
He said the seniors could not thank all of those who helped prepare them enough, both family and the members of the East Holmes teaching staff and administration, their hard work setting the tone for the students to follow.
He talked about the accomplishments the class achieved, from the girls state basketball title to all of the academic accomplishments from FFA, choir and band. From bring your tractor to school day to the junior-senior prom, he said all of those memories will be tied together and bundled in each of their memory banks for many years to come.
He said hopefully each of them can find something positive and uplifting to take with them after facing down a COVID year that just didn't seem to end.
"Hopefully, we can all find something positive that will stick with us," Beachy said. "It could be a teacher or a mentor who has helped prepare you for the next level of schooling. It could be a friend or a memory or an experience, but the one thing that we can all take is our adaptability. We've heard it all before, but it did take extra effort from everyone to make this year successful. We have been able to adapt and to face new challenges like no one before us."
Beachy said as he perused sources for a famous quote that would sum up this class' experience, what he found was that no matter what, this pandemic has taught today's graduates they just need to keep moving forward, working hard toward their goals and striving to achieve.
He said like someone in the water, they just need to keep swimming, striving to do better, to accomplish more and to continue to do their best at where life might take each one of them next.
"Let's not forget what it means to be a Hiland Hawk: hard work and determination," Beachy said. "No matter what view you have about school, it was an important part of our lives, and it is coming to an end."