Feeding West Holmes students doesn't just happen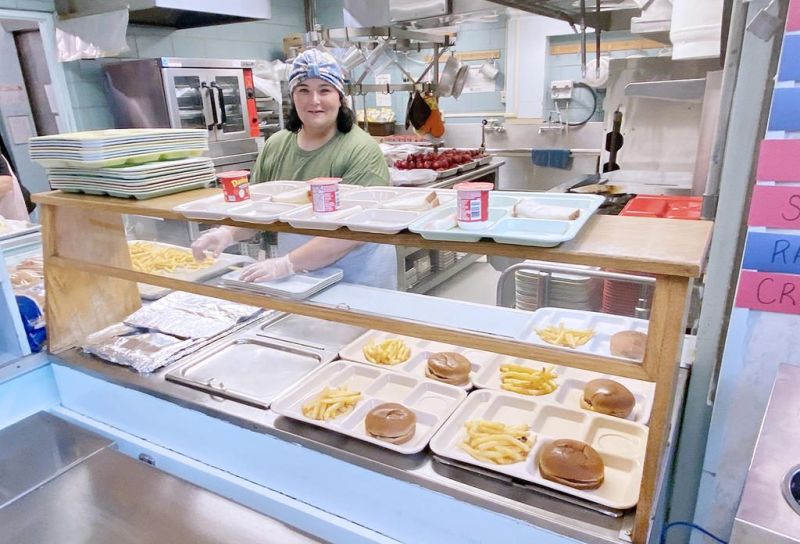 Preparing for the start of the school year for cafeteria employees throughout the West Holmes School District is a time-consuming undertaking that requires a lot of attention to detail, and there is much to do before the lunch crews dole out the first day of food come the start of the school year.
For Dawn Martin, West Holmes Schools director of food services, breakfast and lunch preparedness begins well in advance of the start of each school year, and with the nation in a critical moment in terms of receiving shipped goods in a timely fashion, the clock was ticking pretty fast as the new school year approached.
"Preparedness is everything," Martin said.
July brings the process of direct certifications for students receiving free and reduced meals. That notification must be sent out to all students and parents qualifying for free and reduced meal plans. That is followed by the application process.
That task alone was a challenge this year because the past two years during COVID has seen all students in the district receive free meals for breakfast and lunch, with the government opting to provide funding to give every student free meals.
Martin said that challenge alone is a big step.
"We've been on free meals the past couple years, and we are going back to full pay for kids who aren't qualified for free and reduced meals, so I am anxious to see what happens," Martin said. "We were seeing a lot of families taking advantage of the opportunity to receive free breakfast and lunch. I know there will be families who would appreciate having those free meals who may not qualify for free and reduced meals. Hopefully, we won't see anyone struggle because of this. It's very heartbreaking to even think about that."
Then there is the food-ordering process.
Martin must order plenty of food for the high and middle school and the elementary schools, of which there are four in the district.
Martin said ordering for the two larger elementary schools at Millersburg and Killbuck require a two-week grocery order while Nashville and Lakeville are a one-month order. The high and middle schools require ordering food for the first week.
"That first initial food order is massive," Martin said. "I order everything through GFS, and we also used Nickel's Bakery and Smith Dairy. The district also receives commodity money, which allows Martin to purchase fresh fruits and vegetables through the government.
"I set aside $20,000, which I can spend on produce throughout the school year. Usually, the state will reallocate money through the year, and I take part of that money for produce."
The initial order for fulfilling the six district schools for the first period for the high and middle school alone is $14,000, and that is for one week. The elementary schools range from $1,000-$3,000 for the start-up costs.
"When I first started 11 years ago, it was something like $300-$700 and around $2,000 for the high school," Martin said. "I thought that was a lot. I just about got sick to my stomach when I hit the submit button for the first time back then. Now that cost is nothing compared to what it is today."
Then there is the process of each of the school staffs getting the kitchens and lunchrooms prepared for the year. Martin had high praise for each of the school cafeteria staffs, saying they work incredibly hard at their jobs.
"They're wonderful to work with," Martin said. "We get the food orders in place, they get their cafeterias ready, and we have a meeting the week before school, and we're off. I always say that our cooks know the students the best of anyone and what they need, so they do their own inventory and let me know their needs. They are very much involved. They are in those buildings with the kids every day, so they do their own menus. I only make sure they meet the qualifications."
The cost of school lunches is vast. Martin said the more students they can get to fill out free and reduced lunches helps because the government steps in and helps provide funding for those meals, and the district also receives Title money from the district to support those meals.
"There's a lot that goes into the process, but we do encourage everyone who might qualify for free and reduced lunches to sign up," Martin said. "It helps them, and it helps us, and they can apply any time."
All the school's secretaries have the application forms, and they also are on the school website at www.westholmes.org.