HCEF celebrates 30 years as former students share their success stories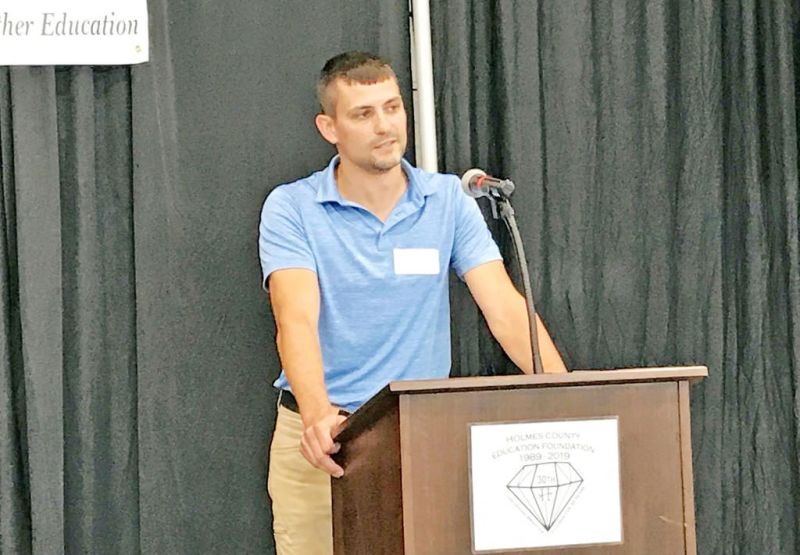 The Holmes County Education Foundation staff joined many local business people for a 30th anniversary luncheon at Harvest Ridge expo center in Millersburg on Thursday, Aug. 22.
The event was a celebration of success stories from throughout the years as HCEF executive director Darlene Stitzlein shared their appreciation to a community that has been crucial to the organization's ability to provide area students with scholarship funds.
"It is so overwhelming and heartwarming to realize the impact we have had on these students," Stitzlein said. "I never realized how emotionally attached I would get to some of these kids. To be a beacon of hope for them is amazing, and I am totally blown away by the work ethic and maturity of our area students who continue their education. That is something that our community needs to hear because these kids are the vessel that we are investing in."
For the first time, the HCEF had former scholarship winners come back and speak at the celebration event. Stitzlein said hearing their stories provides insight as to exactly how the HCEF scholarships have touched the lives and inspired the county's youth to pursue their dreams.
"It is exciting to hear the success stories of our scholarship recipients who have gone on to achieve some really great things," Stitzlein said.
The keynote speakers included a trio of former Holmes County graduates who received HCEF scholarships, went on to complete school and returned home to become a part of Holmes County.
What tied all three of these students together aside from their affiliation with HCEF was that all three of them worked hard to put themselves through school.
Michael Stutzman graduated from Hiland High School in 2006 and put himself through dental school, attending Indiana University of Pennsylvania and then earning his Doctor of Dental Surgery degree from the Ohio State University. He has since returned to Holmes County to become a partner at Yoder Dental in Berlin.
Stutzman said the scholarship — and feeling how much the community was behind the students in their support — mattered a great deal.
"It was a big deal to me," Stutzman said. "Part of the reason it was is that I was footing the bill for my own education. I was very grateful for that because I learned a lot about who I was as an individual, and it was an incredible time of growth in my life because before that Mom and Dad took care of everything."
Stutzman said looking back at all of the people who helped him along the way has been eye-opening.
"I think that is something that is very special to this community because not every community has people who are willing to help people as they move toward their careers," Stutzman said. "One thing that led me to realize the profound impact has been the number of people who have been impacted by the Holmes County Education Foundation. That gives me hope and inspiration, and I don't see why in the next 30 years we can't see this grow even further."
Tracy (Rose) Reiheld graduated from West Holmes High School in 2000 and went on to earn a bachelor's degree in finance from Kent State University in 2005. She came home and now is the deposit operations manager at Killbuck Savings Bank.
As the first person in her family to contemplate going to college, Reiheld had no idea how to approach that phase of her life. Her hopes were nearly dashed as she neared the end of high school, but then her English teacher, Diane McCartney, began to urge her to connect with Stitzlein and the HCEF.
With little to lose, Reiheld agreed.
"I was excited and hopeful but very unsure, but I loved Darla from the very first moment I met her," Reiheld said. "She was so kind and helpful and offered me a scholarship to go to a state school. It seemed too good to be true. I had spent all of those nights praying for a miracle. I was given this amazing opportunity, and I am still in disbelief at how everything fell into place."
Reiheld said she believes she would have gone to college at some stage in her life, but she said the HCEF opened the door for her to fulfill that dream.
"There's no doubt in my mind that there are many other kids in our community who are just like I was," Reiheld said. "They have the drive and determination to follow their dreams, but they lack the support and guidance to achieve their goals. Thanks to people [who give to HCEF] and many others, our community is very blessed. I can't say thank you enough because the course of my life has been forever changed."
The final speaker was Jarrett Mathie, a 2007 WHHS graduate who went on to attend Wayne College before moving on to earn a mechanical engineering degree from the University of Akron's main campus in 2012. He currently works as a manufacturing engineer with ProVia, where he is responsible for the function and flow of manufacturing equipment.
Like Reiheld, Mathie was a first-timer to go to college in his family. He said he was on his own when applying to college, but with help from people like Stitzlein, he made it through. He said it was now time for people like himself and others to help encourage students to pursue their dreams.
"A lot of kids don't understand what is available to them," Mathie said. "I think it only takes one person to make a difference. I know that with help from the Education Foundation and help from people in this room, it afforded me the opportunity to go to college. Giving is something we should all look to do. By being here today, you have all chosen to lead by example and through humility in putting your own priorities aside. Your donations have empowered others to better themselves."
Following the keynote speakers, Stitzlein presented the 2019 Friends of Philanthropy and Volunteer of the Year awards.
The Friends of Philanthropy went to Larry and Linda Frenette and their daughter Heather. The family was honored for its efforts over the past two decades to honor their daughter Aimee Frenette-Rickly, who passed away in 1999. The family established the Aimee Frenette-Rickly Memorial Scholarship and has been faithful to it ever since.
"They exemplify love and doing good for their community," Stitzlein said.
The family accepted the award in an emotional moment that showed how much Aimee meant to the family and how much the HCEF's efforts mean to the entire family.
The Volunteer of the Year award went to Wayne Leininger, who has done a little bit of everything for the HCEF. The longtime teacher and volunteer firefighter has willingly done whatever is asked of him at the foundation.
The HCEF event was sponsored by Fifth Third Private Bank and was catered by Exclusively Yours Catering.