Hiland to introduce Chromebooks to enhance learning opportunities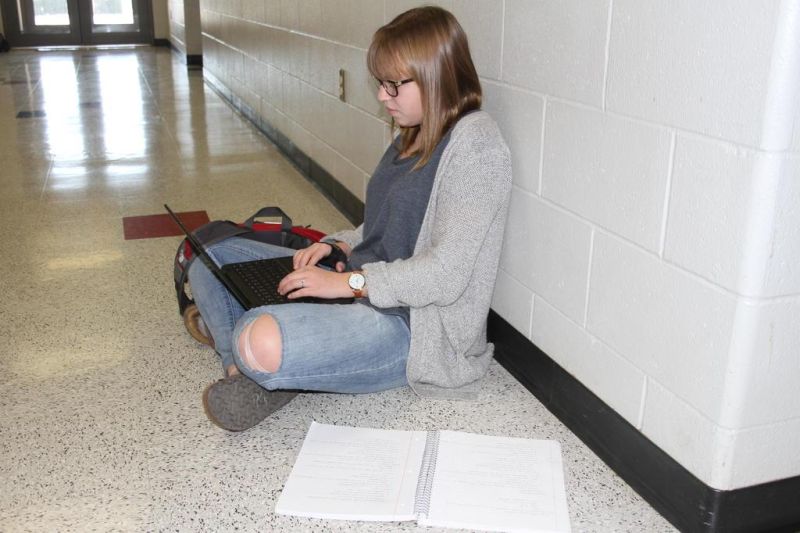 While ushering in a new way of education can be a bit intimidating and scary, when the end goal helps bring about a better way of learning in a manner that better fits the world today, it becomes well worth the effort.
That is the hope of East Holmes School District as it nears the time when it will usher in an exciting new era of education.
During the 2018-19 school year, each student at Hiland High and Middle School will tote an electronic Google Chromebook to class as East Holmes plans to take its educational experience to a new level.
"Every student will have a Google Chromebook, and we look at that as a positive digital learning environment for all students 24/7," Hiland High and Middle School vice principal Scott Pringle said. "They are going to have access for a school-issued device whenever they need it, and that is going to become a big part of their curriculum."
While it may seem like a monumental leap for East Holmes, the transition to Chromebooks shouldn't be anything earth-shattering because the school is already in the midst of utilizing Chromebooks on a daily basis.
Hiland has approximately 210 Chromebooks already in existence at the school including five carts of 30 Chromebooks that are currently available for teachers to sign up and utilize.
Teachers are able to sign the carts up for a day and have their students use the Chromebooks for a number of various educational opportunities. Pringle said the idea of issuing each student their own personal model will only enhance what is currently taking place in an educational realm where electronic learning tools have already become commonplace.
"We look at this as a seamless transition, both inside and outside of the classroom," Pringle said. "Currently our carts get used all the time, and teachers have taken advantage of enhancing their classroom experience. The idea now is that we wouldn't have the carts, but instead each student would have their own Chromebook and their own charger, and that would be their responsibility, just like a text book. The device will become part of the curriculum and the daily part of teaching and learning."
One of the big benefits of issuing Chromebooks to each student is that it will allow for the use of technology both inside and outside of the classroom.
The technology plan was created through a collaborative process with members of the Hiland technology team, support staff and administrators. According to Pringle, the members have been attending meetings and work sessions that started in September of 2016, and they continue to meet to develop and revise components of the plan on a regular basis, which will allow the district to best utilize the Chromebooks' advantages.
Through strategic planning, the team members developed a mission and vision statement with the belief that technology can significantly enhance the learning environment.
The group's mission statement is "staff will create educational experiences fostering critical thinking and interactive learning using technology in a balanced and responsible manner so that students can become self-directed lifelong learners."
In addition they will implement another vision statement that the school will create 21st-century blended learning environments for students by designing instruction that incorporates cutting-edge instructional strategies and delivery models that encourage change and student leadership.
Pringle said the possibilities of blending both the traditional teaching styles with technological advancement will only serve to enhance the students' educations.
"Hiland is committed to providing students with a technology-rich learning environment," Pringle said. "Understanding and using technology will be an integral part of virtually every aspect of daily life, and the classroom is the primary place where this preparation can occur."
The move to Chromebooks is believed to be a move toward fulfilling the four Cs of education: critical thinking, collaboration, communication and connectedness.
"It is essential that the integration of technology supports and enhances our recently adopted and future adopted curriculums," Pringle said. "It is our belief that the future of technology integration is through a blended learning model."
Blended learning is a method in which students learn content through traditional instruction and digital and online media. In theory this approach allows the teacher to combine the best teaching practices from the traditional classroom and those from a digital classroom.
"Some lessons may require the use of technology, while in other lessons technology may not be needed, while other lessons may need technology for part of the lesson," Pringle said. "There are still going to be tasks that may still require paper and pencil while a presentation may require a student to act out their leaning."
Another advantage of the move is to create a flipped classroom, meaning instructional strategy and blended learning can take place outside of the classroom and allow more time for activities and labs in the classroom. It provides additional teaching and learning opportunities outside of the traditional school day.
At the core of the program is the learning management system, a software application for the documentation, tracking, reporting and delivery of electronic educational technology, also called e-learning. The district currently offers students and staff this free educational application to enhance teaching and learning known as Google Classroom.
It is a cloud-based service that provides storage and resources over the internet. Google Classroom empowers teachers and students to engage in teaching and learning through the district's curriculum in more impactful ways than without a Learning Management System.
While teachers are currently integrating technology in various ways at both the high school and middle school levels and students are utilizing technology regularly, Pringle said much of the vital information for the move will be rolled out some time this May.
Parents and the public in general can learn more about the nuts and bolts of the program.
Parents or guardians of Hiland students and future Hiland students should have already received a letter referring to the initiative that is planning to be implemented for the 2018-19 school year. However, the push to get information to parents through social media accounts and the Hiland website has already begun. It also can be found on Facebook: Hiland High and Middle School as well as on Twitter via @HilandHigh. Email questions may be sent to the school at 1-1@eastholmes.org.
"Some of the things we are developing are promotion and support videos and online resources," Pringle said.
Because the district has been moving toward the blended learning experience for some time, Pringle said the move to give each student a Chromebook should be a smooth transition and one that the district shouldn't fear because it will only enhance the learning experience in the long run.
"Using technology is an integral part of teachers and students' lives today," Pringle said. "This is nothing new, only a new way to approach learning, and it is a natural progression to bring our students into a better way of learning."