What book will children tab as the next Caldecott winner?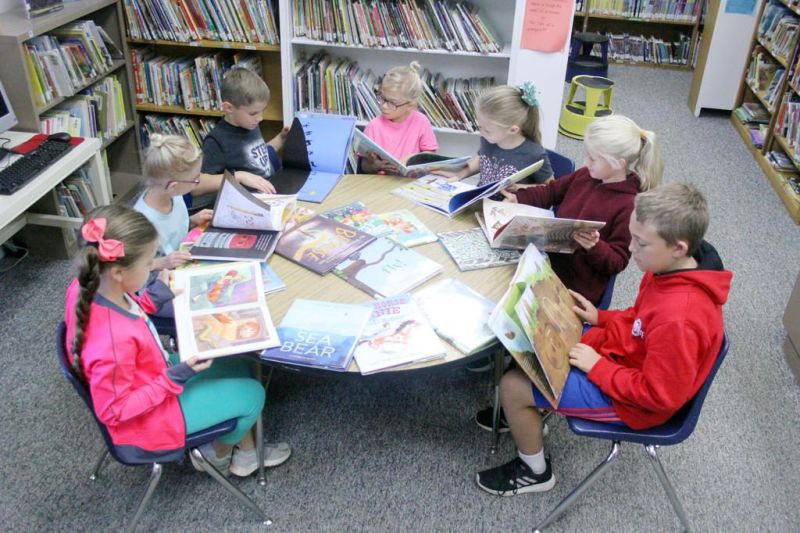 Every year there is a national competition to crown what critics believe to be the finest entry into the children's picture book world. The book that is chosen will earn the coveted Caldecott gold sticker on its cover, an honor that will forever remain attached to the book.
Holmes County kids will have a chance to crown their own Caldecott winner.
The Holmes County Library has partnered with East Holmes and West Holmes schools, Holmesville Elementary, and parochial schools throughout the county to provide a Mock Caldecott experience for Holmes County residents.
The Caldecott Medal was named in honor of 19th-century English illustrator Randolph Caldecott. It is awarded annually by the Association for Library Service to Children, a division of the American Library Association, to the artist of the most distinguished American picture book for children.
East Holmes Schools started providing this experience for their students when former Winesburg and Mt. Hope principal Dan McKey began doing so in the 2014-15 school year. This year they have invited all of Holmes County to participate on a local level.
East Holmes library media specialist Lori Pringle took over the role of the Mock Caldecott from McKey, and she and Michele Skolmutch, head of children's services and children's collection department at the Holmes County Main Library, applied for and received a grant for Library Services and Technology Act funds to purchase picture book contenders for Holmes County's very own Mock Caldecott.
The grant came from the Federal Institute of Museum and Library Services and was awarded by the State Library of Ohio. The grant set in motion the ability to purchase a large number of sets of each of the 20 books involved in the contest, allowing them to distribute them throughout the county.
"In the beginning we were only in East Holmes Schools and we had to borrow the books from the Holmes County District Public Library," Pringle said. "Having the grant has opened up the door for us to expand to the whole county and to purchase books that make it much easier for children to get their hands on them."
In order to qualify for a Caldecott Award, a book must be published in 2019 and it must be from an American illustrator.
The launch date for reading, reviewing and voting on the books will begin on Oct. 21. Children and parents will have a chance to read through what the committee hopes will be each of the 20 books through the end of January 2020. They hope to name a local Mock Caldecott Award winner by Jan. 31 in anticipation of the naming of the national Caldecott Award winner, which will be selected in early February 2020.
The list of books that will be featured in the contest are "As Warm as the Sun" by Kate McMullan and illustrated by Jim McMullan, "Bear Came Along" by Richard T. Morris and illustrated by LeUyen Pham, "Because" by Mo Willems and illustrated by Amber Ren, "Carl and the Meaning of Life" written and illustrated by Deborah Freedman, "Chicken Talk" by Patricia MacLachlan and illustrated by Jarrett J. Krosoczka, "The Donkey Egg" by Janet Stevens and illustrated by Susan Stevens Crummel, "Fly!" written and illustrated by Mark Teague, "How to Read a Book" by Kwame Alexander and illustrated by Melissa Sweet, "If Animals Went to School" by Ann Whitford Paul and illustrated by David Walker, "If I Built a School" written and Illustrated by Chris Van Dusen, "The Important Thing About Margaret Wise Brown" by Mac Barnett and illustrated by Sarah Jacoby, "Linus the Little Yellow Pencil" written and illustrated by Scott Magoon, "Little Smokey" written and illustrated by Robert Neubecker,
"Max Attacks" by Kathi Appelt and illustrated by Penelope Dullaghan, "Sea Bear: A Journey for Survival" written and illustrated by Lindsay Moore, "Sign Off" written and illustrated by Stephen Savage, "There Are No Bears in this Bakery" written and illustrated by Julia Sarcone-Roach, "What If Everybody Thought That?" by Ellen Javernick and illustrated by Colleen Madden, "Why?" written and illustrated by Laura Vaccaro Seeger, and "Wild Horse Annie: Friend of the Mustangs" by Tracey Fern and illustrated by Steven Salerno.
Skolmutch said the hope is that this endeavor will open up opportunities for parents or caregivers and children to read these award-winning books together, something she said will enhance the children's learning and reading ability while factoring in that children will get to spend quality time with their caregivers.
"They have been doing this in East Holmes for a long time now, and Lori wanted to open it up to the whole county for kids to discover these great books," Skolmutch said. "We felt that we could canvas both East and West Holmes school districts and home-schoolers and the Amish community with the bookmobile."
Pringle said she and Skolmutch selected more than 30 books they felt were worthy of being part of the contest. Then they gave educators across the county an opportunity to chime in and narrow that number down to the existing 20 books.
"It was difficult to narrow down the numbers because there are a lot of great books out there," Pringle said. "We had to scour web resources, and we used School Library Journal, which provides monthly reviews."
In order to allow as many children to cast a vote as possible, they are providing two ways to vote. Children can vote online, or they also have created paper forms for children at all of the parochial schools or for any children who would prefer to do it that way.
"The winner will be determined solely by the children," Pringle said. "They cast their vote and submit reviews that we post on the website, so it is going to be their favorite. While teachers and staff often read the books to the younger children, we really encourage older students to read each book and look at it through a very scholarly, critical eye, using the criteria of the Caldecott."
The Mock Caldecott is designed for preschool to eighth grade, and Pringle said they encourage every youngster within that age group to invest in reading each book, get online, fill out their reviews and vote for their favorites.
For more information including details about criteria for the Caldecott Award and a list of past winners in the Mock Caldecott, families can log on to the Mock Caldecott website at www.bit.ly/holmesmock20.