Huskies repeat as Tri-County Academic champions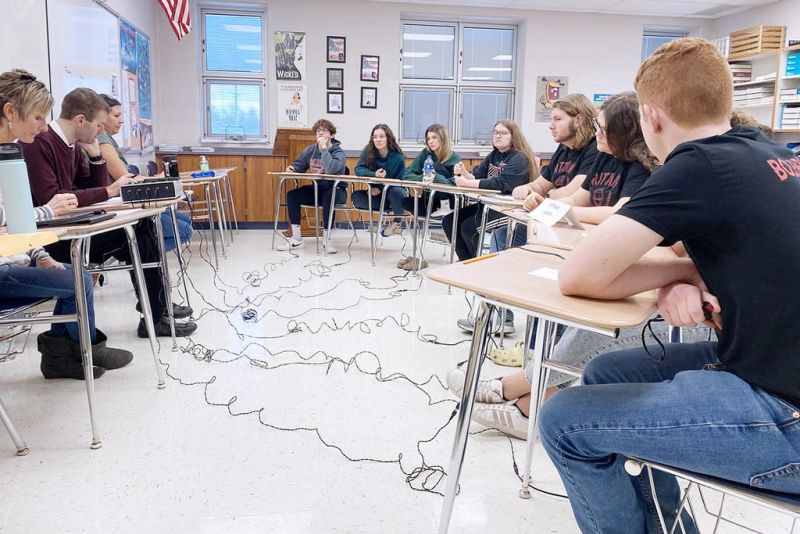 With thumbs on buzzers, attentive ears and nerves on edge, close to 100 area high school students withstood the pressure of answering questions at breakneck speed as they tried to be the first to buzz in with the correct question.
The annual Tri-County Educational Service Center Academic Challenge Tournament took place at West Holmes High School, where the annual challenge pitted school team versus school team in a battle of the wits.
Eleven schools participated in the contest including Black River, Chippewa, Hiland, Hillsdale, Northwestern, Norwayne, Orrville, Rittman, Triway, Waynedale and host West Holmes.
Each school brought both varsity and junior varsity teams.
The day featured teams participating in nine rounds of 30-question quizzes that called on participants to recall information in history, science, geography, current events, math, literature and more.
When the final question was posed, Northwestern's varsity team had pulled out a closely contested win. The Huskies, who defended their title from 2022, were followed closely by Black River and Waynedale.
Northwestern's championship team consisted of members Jesse Evans, Gabe Chupp, Steve LaGoy, Brooke McNeil and Jacob Wakefield, all seniors. Black River consisted of Travis Bloom, Stryker Charlton, Nathan Obarski, Nick Obarski and Sarah Racut. Waynedale's team was made up of Lincoln Nichols, Olivia Brown, Grace Cerniglia, Tru Frazier, Lane Miller and Destiny Valek.
In the JV challenge, Hiland's team of Hannah Hershberger, Phin Johnson, Elliot Mullet and Ohlen Troyer emerged victorious. Runner-up honors went to the West Holmes team of Owen Neville, Zac Craft, Parker Garver and Elijah Piatt.
Many of the matches came down to the final question, sometimes going beyond in tie-breaker fashion.
In match six Hiland fell behind 8-5 to Rittman, rallied to take a lead and clinched the match when Capt. Kendall Weaver correctly answered questions 27 and 28. The Hawks also found themselves trailing by two to Triway in the next round, only to storm back and answer the final three questions to pull out a win.
Match eight saw Waynedale in a must-win match against Norwayne that went into sudden death, when Waynedale's Olivia Brown recorded a winning answer on the second overtime question to sew up a win. They then snuck past Hiland by two in the final round.
Meanwhile, Northwestern's crew was buzzing through its competition, never dropping a match in their eight rounds, taking control and drilling Waynedale in a critical match-six round.
Northwestern senior Capt. Jesse Evans said they simply try to relax and have a good time at each event, and at this one, it's been a pretty fun couple of years in bringing home the big trophy.
"I think it comes down to having a good working general knowledge of geography, science, government and current events, but we have a deep team where we can rotate people in and out, and the more ground you have covered, the better the odds of getting questions correct," Evans said.
He said one key is overcoming the feeling of answering incorrectly. He said sometimes members avoid answering out of fear of an incorrect answer, but hearing the correct answer after a question goes unanswered and knowing you knew it is the worst feeling.
As for the members of the Tri-County ESC team, the chance to bring all these high school teams together was worth all the hard work that went into putting it all together.
New tournament co-director Karen O'Hare said setting the stage for a challenging yet fun day is at the forefront of their effort to host the tournament.
"We know how hard all of these students work at this and how important it is to them," O'Hare said. "Most of these kids have been doing this since junior high. It's their passion, and they are great at it. Yet everyone here is so willing to help, which makes it such a unique and enjoyable event."
O'Hare, a longtime teacher and superintendent at Norwayne High School, said all the participants have a competitive edge to them, yet they all understand that it is a friendly competition. While sporting events are often labeled as athletic contests, she said this event provides an avenue for the students to excel in academic life.
She also thanked West Holmes High School for hosting the event, something the school has done for many years.
"They open their school and welcome us in, and this year the music boosters even opened the concession stand, which was incredible," O'Hare said. "It just makes the event that much more special, which is something these kids deserve because of the time and effort they put into this. Thank you to all the volunteers who made this day a success."
The school advisors also were willing to dole out praise for the way the tournament was operated.
"This is a great tournament for us because we face a lot of good programs we don't often see, and it's really well done," said Don Blanchard, whose Hiland team recently qualified for nationals by winning a small-school competition. He said whether they go is still up for debate because of the cost involved.