Indian Valley Foundation presents scholarships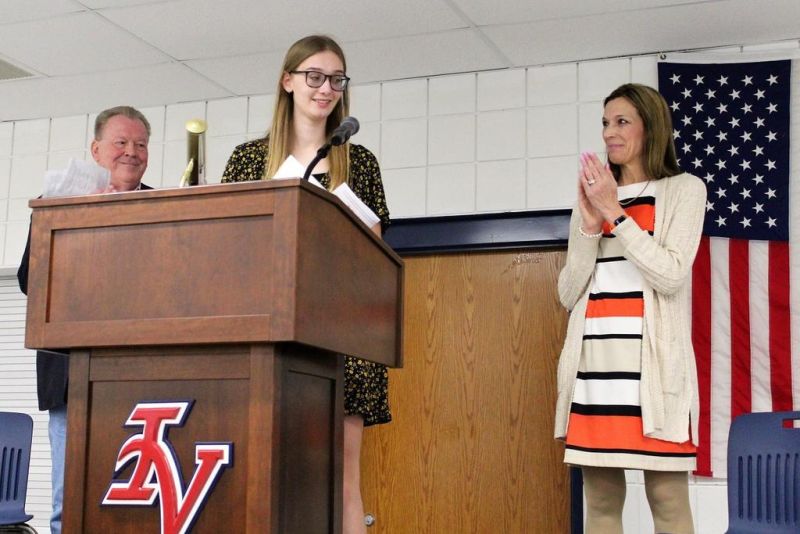 It was an evening of remembrance and inspiration when donors and members of the Indian Valley Foundation presented scholarship awards to 28 students at Indian Valley High School in Gnadenhutten.
Guest speaker Jeff Rankin of Cincinnati, a 1972 graduate of Indian Valley High School, spoke at the event about his career and the value of reputation. He credits always trying to do the right thing as part of the success he's had. Rankin started out at Proctor and Gamble and moved on to other companies, working his way up to president in one company.
"What's the definition of reputation? It's two things: your actions and what other people say about you. That's your reputation. You can control your actions. You cannot control what other people say about you," Rankin said. "Your reputation precedes you wherever you go. You can't shake it. It's going stay with you. It's the most powerful leverage you can have in your life and in your business in the future."
Rankin reminded students that through their actions they have been working on their personal reputations throughout high school.
"Why you are here tonight is because of what other people are saying about you," Rankin said. "(The IVF has) seen your actions and is going to acknowledge you as having a great reputation by awarding some people scholarships. Continue to build on your reputation, wherever you're going next and in your personal life and professional life."
Rankin congratulated the students and thanked them for being the future.
Dave McPeek, president of the IVF, noted the impact of attending Indian Valley Schools.
"One thing about attending a small school like Indian Valley North and South was back in the day we did forge great relationships with our classmates. And one thing that's never changed around Indian Valley is the quality of education," McPeek said. "I look back at our class. We have doctors and lawyers, counselors, nurses, engineers, and it was a pretty highly successful class. As I look back on that, I see in reading your scholarship applications that that trend continues to this day."
Many heartfelt memories were shared during the presentation of the awards.
Amy Wentworth, superintendent of New Philadelphia Schools, presented a scholarship in memory of her father, a longtime Indian Valley teacher.
"Henry 'Hank' Allgyer was unashamed in his love for all things Indian Valley. He energetically and enthusiastically supported this district in words and in deeds. He was a bus driver, a teacher, but most importantly he was a lifelong learner. And he would be absolutely thrilled to know that even today he's able to impact students in their learning," Wentworth said.
Scholarship presenter Blair Hillyer took time to speak about the person behind The Leslie S. Harrold Charitable Endowment Fund, which donated some of the award money. At the time of her passing, Dr. Harrold was the medical director for Community Hospice.
"She lived in Massillon, and if you would have seen her around, you probably would have never known she was a doctor. But she was on call 24/7 for every dying patient in hospice. And her charge — zero — never collected a paycheck," Hillyer said. "She was so happy with Tuscarawas County she left a lot of money for scholarships. She also left a ton of money to Community Hospice to help folks who are in their last days. I said when she passed away, we lost the best volunteer we ever had."
Former educators Kandi Wilson and Jayne Huebner presented a scholarship in memory of their late colleague, Debbie Gilmore.
"As you know, the Indian Valley community lost a beloved teacher, colleague and friend with the passing of Debbie Gilmore earlier this year. Her loss was felt by many, and she is greatly missed," Wilson said.
Founding IVF member Minnie Garabrandt was pleased the group was able to distribute scholarships to all 28 students who applied this year.
"I have to tell you that my heart is full and overflowing. I trust that each one of you will remember the wonderful remarks that have been made tonight and especially the graduating seniors going on into college," Garabrandt said. "But don't forget about us when you get out into the working world. Remember the Indian Valley Foundation is going to need younger (members) to pick up the baton for those that are coming behind you. I just love you all, and I'm so thankful and grateful that we've been able to do what we've done tonight."
All scholarships given were a combination of funds from donors and the IVF or donors and The Leslie S. Harrold Charitable Endowment Fund.
Those receiving scholarships were Kaylie Wrather, $3,000, in memory of Henry "Hank" Allgyer, a longtime IV teacher; Caleb Wells, $2,000, in memory of Claire Boring; Liberty Copley, $2,000, in memory of John L. Hursey, Jr.; Lucas Hagan, $3,000, in memory of Robert and Dorothy McPeek and Todd McPeek; Abigail Barrett, $3,000, in honor of Jodi Hillyer for her volunteer service to IV; Katana Kerch, $3,000, in honor of Jack and Minnie Garabrandt; Jevin Stidd, $3,000, in memory of Juanita Garabrandt Johns; Cari Anderson, $2,000, in memory of Anthony Natoli and Mildred Natoli; Sydney Thomas, $3,000, given by First Federal Community Bank in Dover; Ellie McPeek, $2,000, in memory of Robert Mathias;
Julia Edwards, $3,000, in memory of Raymond and Virginia Huebner; Cole Lancaster, $3,000, in memory of Lena and Benjamin Schreiner; Matthew Robinson, $2,000, in memory of Ronald Zimmerman; Rachel Gardner, $2,000, given by IV North Class of 1981; Maria Ajanel, $3,000, in memory of Nancy Ulrich Rose; Tyler Beckley, $3,000, in memory of Gene and Sally Jasper; Sheldyn Stewart, $3,000, in memory of Russell "Red" Rankin; Emily Palmer, $3,000, in memory of Gerry Jasper; Hailey Barger, $3,000, given by Midvale High School Alumni Association; Audrey Byrd, $3,000, given by Robert and Cathy Fuller;
Kylicity Shivers, $3,000, given by IVN Class of 1972 celebrating its 50th reunion; Abby Morrison, $3,000, given by James Crawshaw in honor of his Gnadenhutten High School 1946 classmates; Ashton Doak, $3,000, in memory of Debbie Gilmore; Emilee Kinsey, $2,000, given by TAC Services; Corra Love, $3,000, in memory of Kelly Gold Lawver; Kailee Raber, $3,000, in memory of Anthony Natoli; Rylan Merten, $3,000, in memory of Harry Kenney; and Madison Monte, $3,000, in memory of Stephanie Risher.
The Indian Valley Foundation hosts a gala each year to help fund the scholarships and bring together the school's supporters and former students. Save the date of April 15, 2023, if you would like to attend next year's gala.