Kent State Tusc engineering student project aims to help others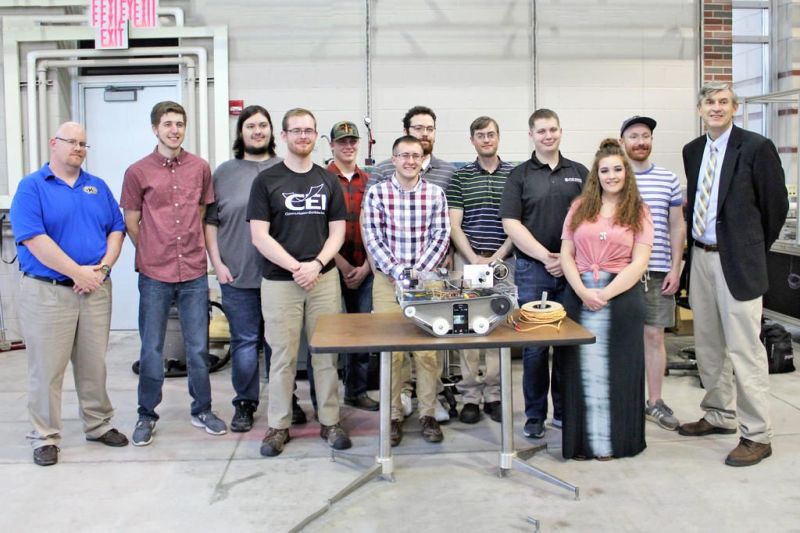 With their grades on the line, the 10 members of the MERT 22009 engineering project class at Kent State University Tuscarawas unveiled their search and rescue robot project on finals night.
The students in the class taught by Dave Schlosser designed and built the robot, which is intended to be sent into burning buildings to search for the source of the fire or find victims and allow them to be rescued.
The project was completed in only 16 weeks. Schlosser said many ideas were discussed originally from more efficient paper shredders to heating devices. In the end it was the students' desire to do a project to leave something of value to the world that guided them to create the robot.
The students who participated in the project are Wyatt Angel, Rian Antonelli, Michael Hill, Zach Houze, Dylan Little, Erin Heisel, Kade Rainsburg, Chase Ricker, Hunter Smith and Robert Stewart.
The robot has a camera on the front that broadcasts in real time to cell phones and I-Pads. It features a Phenix Lighting LED Strobe Light for visual tracking, two FoxFury RUGO2 camera spotlights and LED body lighting. It also can deploy CMC RIT Rescue Rope in dark, smoke-filled environments and smoke or tear gas canisters in the case of an active shooter incident.
The top panel on the robot was left clear to show the workings inside. The unit can be controlled via laptops, I-Pads, cell phones or a wireless X-Box remote within a 1,000-meter range.
"We can send the robot in, and it can illuminate and mark [a victim's] location," Schlosser said. "It also has a rope attached to the back. If a victim can find the rope, they can find their way out. The strobe lights, in a smoky environment, become a beacon."
Rechargeable lithium batteries, commonly used in outdoor sporting equipment such as four-wheelers, were used to power the robot. Although the students had been playing with running the robot for a few weeks, the batteries have not yet needed a recharge.
"They did a fantastic job," Schlosser said. "It's unique because it's a class project, but it's on par with what you can buy from anyone else. A similar robot made commercially would cost between $10,000 and $100,000."
The class put their project together for less than $2,000 with much of the material donated by area companies and organizations. The cost to the class was only $824.25.
The class thanks FoxFury Lighting Solutions, Communication Exhibits Inc., Allied Machine and Engineering Co., CMC Rope, Action Extreme Sports, Vehicle Solutions Emergency Equipment, Capt. Joe Skinner of the New Philadelphia Fire Department, and KSU Tuscarawas security officer Scott Kreitzer for their support and input with the project.
Time management was another element of the project. "If you meet a road block, you have to know how to work around them and still get your project done on time," Schlosser said.
Both electrical engineering and mechanical engineering students worked on the project, which also was an exercise in team-building. "Both disciplines end up with a greater appreciation of each other," Schlosser said.
"I was impressed tonight when I got to see the robot in action. It's complete and operational. It is a testament to the dedication of the students to the program. It's rare to get students that work so well together," KSU Tuscarawas dean Bradley Bielski said.
Schlosser would like to put KSU Tuscarawas in a worldwide spotlight next year and hopes to put the robot on display in Indianapolis, Indiana for the National Fire Department Instructor Conference, which is attended by fire fighters from around the world.