Class of 2020: Knight seniors will remember missing their final bow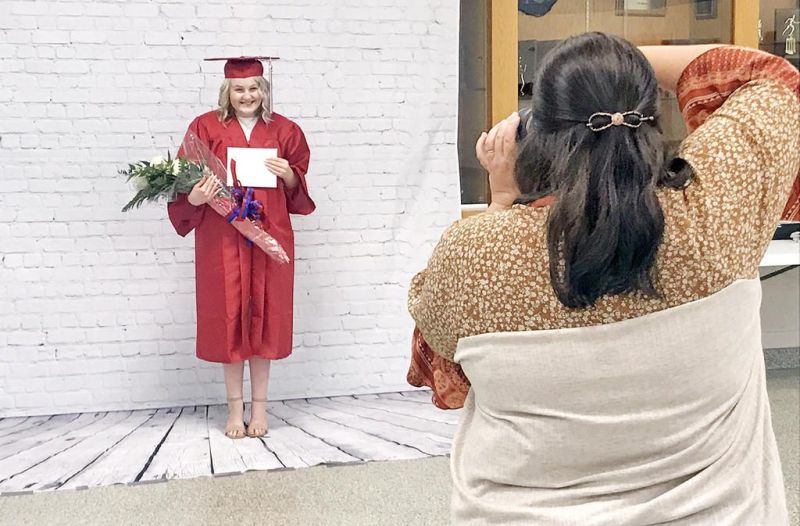 The final few months of any high school senior's educational experience are supposed to be ones where they get to sit back and enjoy the culmination of everything they have been through together over the years. It is supposed to be a time to laugh together, share together, have fun together and maybe even cry together as they share the apex of their youth.
What comes next is either work, military or college, but seniors are expected to become adults after graduation, so those final fleeting weeks are meant to enjoy, whether in the classroom, in athletic or music fields, at prom, or just being with one another for the final few moments.
The Class of 2020 at West Holmes High School should have gotten that chance, but unfortunately a three-week hiatus from school due to COVID-19 that was put into order by Gov. Mike DeWine on March 15 eventually became the final day of school for everyone.
Seniors were robbed of their right to enjoy the fruits of their labors, those final weeks together gone forever.
If they had known the final day of school on Friday, March 13 would be their last together, would things have changed? Would they have done anything different, said anything different or observed things a little closer?
From May 21-23 Knights graduates came to school one last time, in a slow parade through the school gymnasium, where they received their diplomas and marched into adulthood with a few close family members.
There was little fanfare and no crowd, but there were genuine tears of joy and of sadness as emotions ran the gamut.
Brendon Yoder was lucky enough to complete his final season of soccer, unlike the wrestling team that was robbed of a chance to compete at state and the entire spring sports season, where athletes had to live on dreams of what might have been.
Yoder used the time off to work with his dad and said doing schoolwork via online video was strange.
"I did hang around with some friends during that time, so the biggest change was classes online," Yoder said. "I plan on working for my dad in his logging business, so this was really kind of an early start to my job."
Classmate and Bowling Green State University-bound Maggie Oliver said taking classes online was tough because it kept her away from all of her friends and her routine. "It wasn't as stressful as classes at school, but I missed the whole senior experience that every senior class before us got to enjoy. I worked a lot and focused on school work, and I was surprised with how emotional I got during my graduation walk-through to get my diploma. We just missed a lot of stuff that we were all looking forward to at the end of our school careers."
Collin Graebner said the excitement of the graduation ceremony with all of his classmates together for one final time was something he missed dearly. "Hopefully we might still get prom; we'll see. I think not seeing my friends every day was the most difficult part."
Graebner didn't let the coronavirus keep him away from classmate and girlfriend Ava Close. The two were able to spend time together, and she said missing prom (which is still up in the air for later this summer) and the last day of school celebration are things she will miss.
"It kind of took away the time to say goodbye to all of your friends like we would have done on the last day," Close said. "It was a little bittersweet to step into school one last time to get my diploma. It was sad not having all of my friends and family there. This was supposed to be a celebration with everyone, but at least we got to go through with close family."
Carly Gallion said the graduation ceremony was strange and anticlimactic, although she said she appreciated everything the school did to make it as special as possible.
Heading to Ohio University to study design, Gallion said she will remember all of the good times despite missing the end.
"If I would have known the last day of school in March was our last day together, I might have done a lot of things different," Gallion said. "I guess we can say we did something that nobody else has done."
For Jacob Goudy, missing spring school meant something completely different. As a junior, Goudy missed becoming an All-Ohioan in track and field in the high jump by one position at state. He was looking forward to rectifying that this year, but the season never came.
"We are supposed to get a chance to relax and kind of coast over the final few weeks and enjoy being together, and we never got that chance," Goudy said.
As for the track experience, Goudy said he will never know what might have taken place. "I think that was harder for me than missing school. I was working hard all offseason, and I was ready. Unfortunately it never came."
Goudy will get another chance to compete and prove himself when he joins the track and field team at Tiffin University.
Walker Uhl suffered a similar fate, just as gut-wrenching. After being a two-time alternate at the state wrestling meet, he qualified in this, his senior year, by placing second at districts. Mere hours before he was slated to wrestle, the state tournament was canceled.
Uhl was devastated, as was his mother, Sara Sponseller-Uhl, who as a teacher had the opportunity to get closer than most with many of the 2020 graduates. She also had the joy of taking the senior photos at the graduation day ceremony, where she could say a final goodbye to all of the students.
"We all feel incredibly bad that these seniors weren't able to complete what should have been a really fun final few months of their school careers," Sponseller-Uhl said. "I knew so many of these kids, and they are great kids. It was really neat to see all of the different emotions that families went through after their seniors received their diplomas. It was still emotional and meaningful to walk across the front and receive their diplomas. It still mattered so much to most of them. It's just too bad they couldn't all be together to celebrate one last time."