KSU dedicated to student safety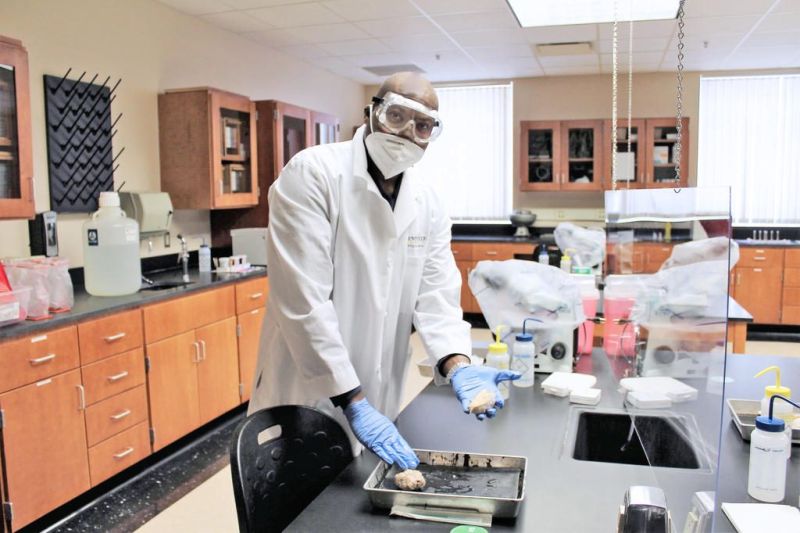 When the pandemic hit last March, faculty and students alike were forced out of Kent State University at Tuscarawas and into remote or web-based classes. While most have yet to return, the staff and faculty at KSU Tuscarawas are working diligently to provide a safe environment where students can thrive.
With in-person learning vitally important for some subjects, the first students to return were those studying biology in the lab.
"Some of the things students need to acquire as they are going through their education is from hands-on experience," said Dr. Jean Engohang-Ndong, associate professor of biology at Kent State University at Tuscarawas. "There are some concepts that are really difficult to grasp unless you actually touch and see how things are set in the living system."
A recent class activity involved learning about meninges, the membrane that protects the brain, by examining a brain specimen from a sheep.
"We can say everything we want about them in lecture, but students are going to have a hard time understanding some aspects of it," Engohang-Ndong said. "We have to bring them in the lab so when we talk about meninges it's not just a theory. They can see the meninges for themselves; they don't only hear about it."
When students enter the lab, things are much different than they were prior to the pandemic.
"We had all the Plexiglas installed at all the bench tops, and the students have to sit 6 feet apart." said Heather Aubihl, academic laboratory manager.
Aubihl pointed out stickers on the tables that indicate where students can and can't sit for class.
The move reduced the capacity of the lab by 50%.
"We can have 12 students in here safely; whereas before, we had 24 and we would max it out," Aubihl said. "We have masks available, disinfecting wipes and gloves. The students put gloves on as soon as they walk into the lab, and they wear them throughout the duration of the lab session."
With safety the top priority, students still get the hands-on learning they need, but the procedures add to the work load for the faculty.
Prior to the pandemic, the faculty would have all the materials out, and the students would get what they need and take it back to their table.
"Now we have to make sure we have everything at the tables for them," said Dr. Don Gerbig, associate professor of biology, "so we don't have anybody moving around in class and bumping into one another. They come in, sit and do the activity, and they can talk to each other across the Plexiglas."
The university mandated the safety requirements following CDC recommendations.
Last summer the lab classes were held remotely. Students received samples to grow in their home like baker's yeast. For other experiments the faculty did them in the lab uploading images and videos. Students also were provided with microscopes to use at home and a digital camera to share photos of their microscope slides.
Gerbig said he would rather do live remote classes than web-based. "When students are there, they can ask questions," he said. "No matter what it is, when you teach online, something will go wrong."
Aubihl was assisting Gerbig with a class when his computer froze. "Heather was there, so she talked to the students while I rebooted the machine. The kids were fine with that. When they lose connection, we understand. It's not a problem because it happens to us too," he said.
In-person lab classes started back in the fall semester. Most of the students taking biology classes are biology majors, nursing students or those in the veterinary technology program.
All faculty members were offered the opportunity to take online workshops to learn how to use technology to help their students.
"The university has invested a lot of money in making sure we felt comfortable using the technology, and we've got Microsoft Teams, Blackboard Ultra and a number of learning platforms that we can use," Gerbig said.
Remote learning can have its challenges.
"Right now the majority of students, I think, don't really enjoy this," Gerbig said. "I think that part of the experience is the social experience. The other thing that we're losing in lab is that we usually sit four to a table, so there is a lot of critical thinking at four to a table. We still have critical thinking with two at a table, but we can't do what we normally would. You have to find another way to make sure that we have that critical-thinking experience."
Engohang-Ndong conducted a survey with his students at the end of the fall semester for a paper he is writing. He found the biggest issue students have with remote learning is motivation. They feel they can only rely on themselves to complete the work that is expected of them.
"More than half of the students reported that what they struggled with the most was motivation. The social context that the university is providing is really essential for students to be in the mind-set that is necessary for learning," Engohang-Ndong said. "The students attending face-to-face labs will do better because they not only learn by doing, seeing and touching, but they will find themselves more motivated being in an environment with other students."
Keeping the labs at Kent State Tuscarawas well stocked with equipment and supplies has always been a priority.
"In the last four years, we had a massive lab reorganization where we tripled the amount of lab materials for student use," Gerbig said.
Some of the items purchased included new microscopes to make sure students have the latest technology and that everyone has their own equipment to use.
Aubihl said they are continually looking to improve the labs so they can improve the experience for students.
Engohang-Ndong also has put together a smaller lab he uses for research. He is leading investigations on Buruli ulcer, a necrotizing skin disease caused by a bacterium called Mycobacterium ulcerans.
"The disease starts as a painless nodule and eventually is going to evolve into an ulcer where the skin of the patient is necrotizing if the infection is not taken care of. That damage can be really extreme," Engohang-Ndong said.
The disease is not life-threatening, but it can result in a poor quality of life for the patient as it progresses.
"This work is about checking on what are some drugs that can be used to control the microorganism," Engohang-Ndong said.
Engohang-Ndong put the lab together using grants and with the help of his colleagues.
"It's a unique feature of the campus and something we're really proud of," Aubihl said of the research.
Engohang-Ndong as a microbiologist is pleased with the work Aubihl and the Return to Campus Committee have done to protect everyone at Kent State Tuscarawas and, in turn, the community.
"I feel confident that I can work here. I can teach students face to face safely, provided we all follow the protocols," he said. "We are prepared to fulfill our purpose in the community."