Kuhns wins Holmes County Spelling Bee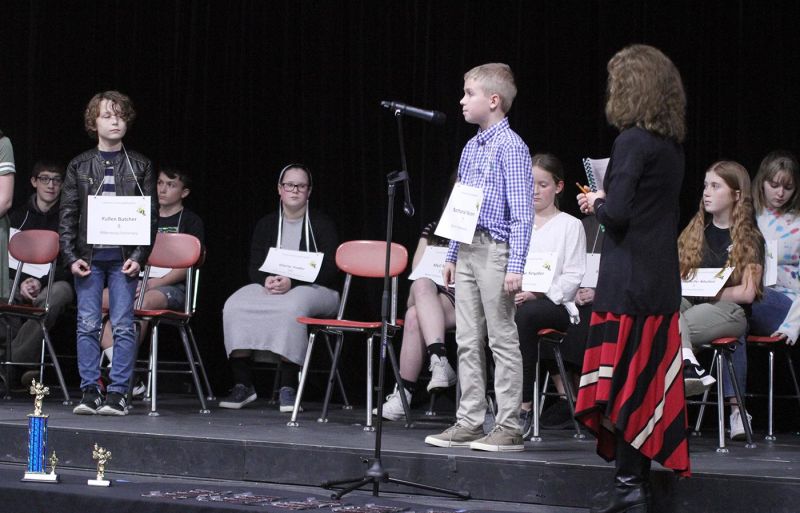 T-O-U-R-N-A-M-E-N-T.
That was exactly what Mt. Hope School eighth-grader Bryan Kuhns captured Tuesday, Jan. 17 at Hiland High School when he took home the top prize at the annual Holmes County Spelling Bee.
Ironically, that also was the final word that allowed him to win the spelling bee title.
Twenty-one students from throughout Holmes County gathered on stage in the Hiland High School auditorium to put their spelling skills to the test as they worked their way through round after round in hopes of earning the title.
In the end it was Kuhns and Savannah Yoder from Winesburg Elementary who were left standing, and the two would go through four rounds before determining a winner.
After Tri-County ESC consultant Jennifer Marrah welcomed the students and those in attendance, the spellers set course for a date with destiny to determine a champion, with Victoria Birk of Tri-County ESC serving as the pronouncer.
Knowing the ringing of the bell would signify the end to their evening, each student faced the nerves that accompany this event.
"It is nerve-racking," Judge Andrew Johnson of Tri-County ESC said. "Some of these students have been here before; some have not. But the pressure is there and can play a role in each student's success. They have to be brave and confident."
By the end of round three, seven competitors had fallen. Round four claimed six more, and it was down to eight.
The words botany, futility and attendee claimed three more in round five, leaving Ethan Schlagenhauser, Connor Hershberger, Lilly Perry, Kuhns and Yoder still standing.
Round six claimed Schlagenhauser on the word phalanges while Hershberger fell on the following turn on the word cyanosis.
One round later Perry faltered on the word ascension.
That narrowed things down to just Kuhns and Yoder. Going first and alternating turns, Yoder correctly spelled dividends, fraternize and radium while Kuhns matched her effort by nailing down the correct spelling of geography, razorbill and lute.
When Yoder misfired on relevancy, it opened the door for Kuhns, who hit on the word totalitarianism before receiving a bit of a break with the word tournament to win it. Kuhns said he felt good about firing off that final winning word.
Kuhns said he enjoys reading fantasy stories and reads a good deal. Asked if he felt the pressure as students fell to the wayside, Kuhns simply said, "Yes, I did."
The one word that really challenged him was totalitarianism, but he found a way to get the job done.
"I didn't picture myself winning it, but I wanted to come and do my best," Kuhns said.
Yoder said she too was nervous, as evident from her consistent toe-tapping on stage. It didn't unnerve her as she outlasted all but one contestant.
"I like to read, and I was nervous, but I wanted to try my hardest and see how far I could go," Yoder said.
While spelling is the name of the game, the judges believe another important part of education plays a key role, that being the simple act of reading.
"The more vocabulary a child is exposed to, the higher probability they will be successful in life," Johnson said.
He said there are two components of reading in a child's life that are valuable, the first being the child reading on their own and the second being parents and adults reading to the child.
"There are real benefits to reading as a child," Johnson said. "The more they read, the better off they will be in school."
Marrah agreed with the importance of reading, noting that reading continues to be an integral part of people's lives, whether they want to recognize it or not.
"Our really great spellers are kids who have a grasp of word origins, and reading is a huge part of their ability to grasp and understand the English language," Marrah said. "We saw some great kids up here today, and it takes a lot of courage to stand up here and perform in front of people with the pressure on."
This year's participants included Edison Butcher, Millersburg Elementary; Autumn Casey, Killbuck Elementary; Gabrielle Mullet, Berlin Elementary and last year's runner-up; Annabelle Snyder, Lakeville Elementary; Nathaniel Norem, Berlin Elementary; Kullen Butcher, Millersburg Elementary; Kloe Neuenschwader, Walnut Creek Elementary; Domenic Guerra, West Holmes Middle School; Ethan Schlagenhauser, Killbuck Elementary; Bryan Kuhns, Mt. Hope School; Savannah Yoder, Winesburg Elementary; Connor Hershberger, Hiland Middle School; Ana Turner, West Holmes Middle School;
Grace Miller, Wise Middle School; Laila Kramer, Chestnut Ridge School; Lilly Perry, West Holmes Middle School; Emilene Yoder, Wise Middle School; Myli Miller, West Holmes Middle School; Gloria Yoder, Mt. Hope Elementary; Shane Lorentz, West Holmes Middle School; and Eric Beachy, Chestnut Ridge School.
Qualifying but not in attendance were Mylo Lorentz, Lakeville Elementary, and Quinn Mullet, Hiland Middle School.