Matt Johnson set to return as Hiland principal in one-year interim role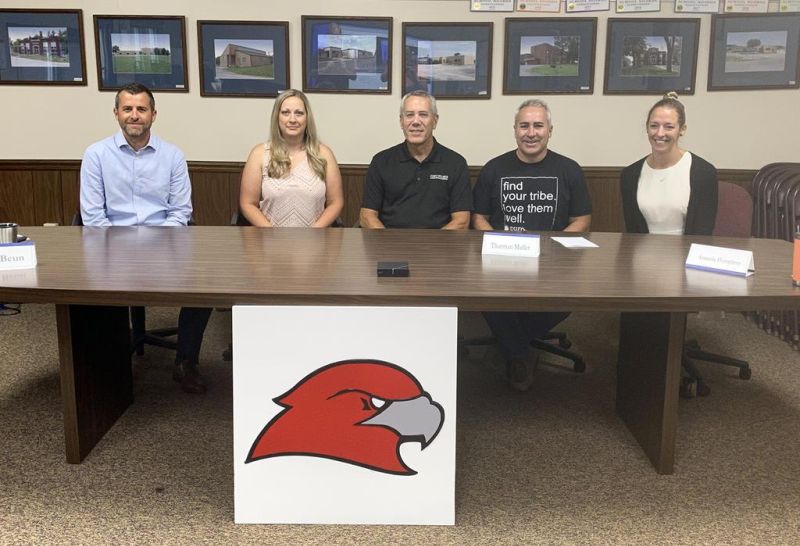 A very familiar face will be sitting behind the principal's desk at Hiland High and Middle School when the 2021-2022 school year rolls around this coming August.
When former principal C.J. Spreng opted to take the principal job at Edgewood Middle School in Wooster, the East Holmes School board was left with the dilemma of filling his role in a very short time span.
Rather than quickly rush into finding Spreng's predecessor, the board turned to former long-time Hiland High and Middle School principal Matt Johnson to serve as principal on an interim basis for the coming school year.
On Wednesday, June 30, the East Holmes board convened and officially brought Johnson back on board.
According to East Holmes superintendent Erik Beun, bringing in a familiar face to the role of principal played a key in the board's decision to present Johnson with the opportunity on a one-year interim basis until they could move forward to find a permanent principal.
"That familiarity played a key role in our decision," Beun said. "His knowledge and experience with the staff and students and the day-to-day of how Hiland operates gives us a lot of confidence in preparing for a great year," Beun said. "That Matt was excited to step back into the position in an interim role helped make the decision so much easier."
Johnson, who continued to serve a role in the district as a bus driver the past three years, began his educational career at Ridgedale (OH) High School for five years before accepting the teaching position of social studies at Hiland High School from 1987-1996. He then became principal at Hiland and served in that capacity from 1996 until his retirement in 2017.
He said returning to the principal's role will be a unique opportunity, one that he relishes because he knows that the staff will be easy to work with.
"I've been blessed to still work in the district as a bus driver, and I will miss that very much, but at the same time I am excited about coming back in this role," Johnson said. "I appreciate the confidence that Mr. Beun and the board has in me in helping them through this transition. I am looking forward to working with Scott Pringle, the assistant principal, and working with the staff, many of whom were there when I was there before."
He said that his main focus will be on creating a great school year for the Hiland students. He said there was a lot of familiarity since he hasn't been too far removed from serving as principal, but at the same time, he understands that some things have changed, and he will need to learn to adjust.
He noted that having the full support of Beun, Pringle, the board and the staff will help ease him back into the role he was in for so many years.
On having that kind of support and aid in his role, Johnson said of the changes, "That will help create an environment that will be very good four our kids."
During Johnson's one-year tenure, Beun said the school board will begin an extensive and in-depth search to find the best long-term principal.
"Next spring, we will be able to post the position and allow for a lot more time to make sure," Beun said. "It's a big decision. That role impacts a lot of students, staff and parents, and we want to feel confident in whatever that long-term decision becomes."
Spreng will continue to work with Johnson in easing back into the role through July before moving on.
Beun said the timing of Spreng's decision didn't leave them ample time to decisively explore the options of hiring a full-time principal. However, he said Spreng's decision to accept the role at Edgewood Middle School was one that suited his family.
Beun said Spreng's three years of serving as principal at Hiland was filled with many great accomplishments.
"We think a lot of C.J. and his leadership capabilities and how he worked together with staff and students over the last three years," Beun said. "He led a lot of that together with people, and we will certainly miss him and wish him the best."
Beun said having Spreng become so ingrained in the school over the three years made it tough to say goodbye, but he understands the move, which he said allows to be with his children and his wife in the Wooster school district.
Beun also said hiring an interim has worked in the area before, most recently in the West Holmes district, where John Thomas was brought in to serve a one-year interim role as superintendent while the district did its due diligence to find the perfect fit. Hiland is hoping to do the same.
"That certainly gives us confidence, knowing we can find the right person in Matt to lead, it gives us more time," Beun said.
With the announcement of Spreng moving on, the board was not entirely sure Johnson would be open to the idea when it first came into play, but Beun said once the board began to formulate a game plan, Johnson's name quickly rose to the top of the list as an interim.
"We talked about several different options and how to best proceed, but the idea of having an interim for a year to give us more time to make that decision was by far the best," Beun said. "Matt was the first call we made, and we were excited he accepted the challenge and is passionate about returning."
Johnson will officially assume the title of principal Aug. 1.