Nearly 1,300 attend Career Carnival at BCC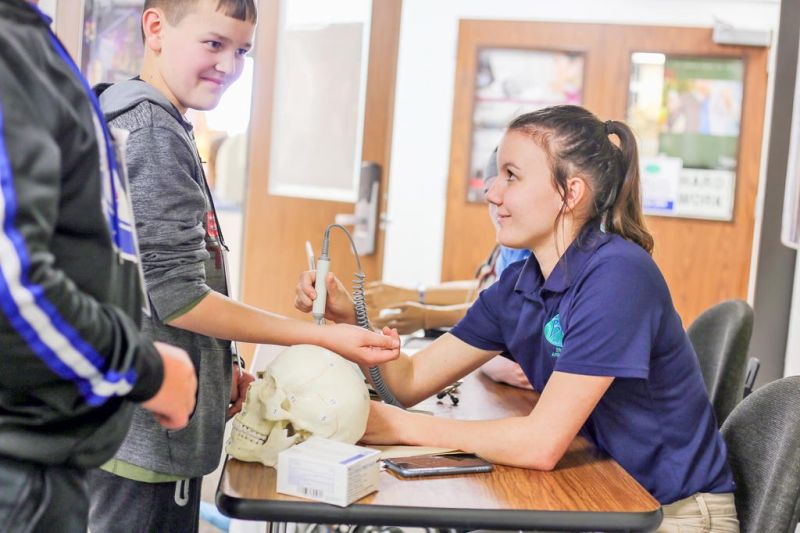 Nearly 1,300 area students from Tuscarawas, Carroll and Holmes counties came to the Buckeye Career Center March 2-6 for BCC's annual Career Carnival.
The students selected five career clusters to visit, designated by the Ohio Department of Education. Each BCC program falls into one of those clusters.
Once in the session, students were greeted by a speaker who is a professional in his/her industry.
"Our speakers were fantastic this year. Each person gave insight into his/her career and how they got to this particular point in his/her career journey," BCC public relations coordinator Shyanne Carroll said. "We had over 70 speakers, all with unique stories and experiences to help the visiting students narrow down careers that they might be interested in. At this age we just want to expose them to their various options and help prepare them for the future."
The visiting students had lunch at BCC and participated in hands-on activities with Buckeye students during their lunch period. They also were treated to hands-on experiences within the cluster visits.
Notable speakers included ODOT District 11 deputy director Tom Corey, Tuscarawas County Sheriff Orvis Campbell, Kent State Tuscarawas dean Brad Beilski, Ohio Department of Education deputy superintendent Dr. John Richard, Perci Garner with ComDoc, Gail Houglan from Allied Machine & Engineering and more.
Schools that visited during the Career Carnival included Strasburg, Carrollton, STAR and home-schooled students on Monday; New Philadelphia and Tusky Valley on Tuesday; Garaway and Claymont on Wednesday; Indian Valley, Newcomerstown and Tuscarawas Central Catholic on Thursday; and Dover, Conotton Valley and Hiland on Friday.
For more information call Buckeye Career Center at 330-339-2288 or visit www.BuckeyeCareerCenter.org.
Buckeye Career Center is located at 545 University Drive NE in New Philadelphia.