Nursery schools adapt to pandemic problems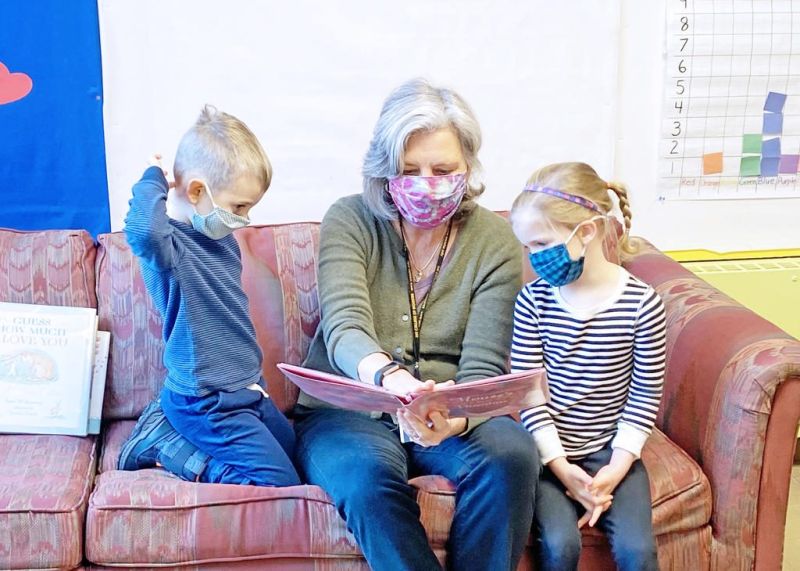 "Tops and bottoms, tops and bottoms, in between, in between ... scrub them altogether, scrub them altogether til they're clean, squeaky clean."
Sung to the tune of "Frere Jacques," College of Wooster nursery school teacher Apple Hopkins uses this rhyming song to help the kids be sure to wash their hands long and thoroughly enough.
Nursery schools have felt the impact of COVID-19 just as much as schools for the older kids, and area teachers have had to be creative in adapting the children's early learning experience to the new reality.
Directors of the schools have had to rethink everything from story time, to physical spacing, to mask wearing.
"To be honest, we were probably expecting more resistance than what we've had," said Sarah Myers, director of The College of Wooster nursery school. "The kids have really been great with everything."
Myers, who also teaches, said the children were more adaptable than expected and have done a great job with masking, hand washing and other safety requirements.
"We've had to make a number of changes within our program, but thankfully, the kids and their parents have really made it pretty easy," Myers said.
The College of Wooster nursery school's class of 3- to 5-year-olds stands at 36, down by 50% from its usual enrollment, according to Myers. The changes in capacity were necessary to maintain safe spacing, and class times are staggered by age and day.
In the classroom there are dots on the floors for seating, fewer seats at tables and no sharing of play dough like there used to be. The children's temperature is taken upon their arrival, and hands are washed right away.
The drop-off and pickup routine has changed with parents no longer able to come up to the classroom with their kids.
Parents have been very supportive with things like keeping kids home if they have any kind of symptoms. "Our parents' cooperation has been great, and we really appreciate it," Myers said.
At the Christ Church Nursery School in Orrville, teachers also have had to be flexible and modify their programming in the face of the pandemic.
"Our kids are doing wonderful, playing, even thriving," said Teri Thomas, director and head teacher.
Children at the school are not required to wear masks, although the teachers do.
"I feel like the kids are used to seeing us in masks now," Thomas said. "Even if they can't see us smile, it seems like they pick up on the cue of the corner of our eyes going up."
New COVID-19 sanitation and safety protocols have been put in place, and there's more reliance than ever on healthy habits, according to Thomas.
"We've always taught them to cough into their elbow, but it sure seems a lot more important now," Thomas said.
When the lockdown happened last March, the school had transitioned to remote learning, and Thomas said the parents were great with helping their kids through that time.
"We also did packets with activities like the alphabet, shapes and numbers that the parents could come in and pick up for the kids," Thomas said. "That way we could keep going with their hands-on learning. You can't really teach a child how to use scissors online."
Last May parents came to the school to pick up their children's diplomas in a parade.
"One mom in a van had put 'we love you' and 'we miss you and thank you' on her window, and that was really fulfilling," Thomas said.
When children who had been in school last year during the lockdown returned this fall, Thomas said it was obvious how happy the kids were to get out of the house. "They really need that social-emotional part of their development," she said.