OHS alum nominations due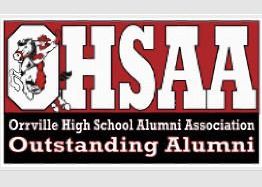 April 1 is the deadline for 2023 Orrville High School Alumni Association Outstanding Alumni nominations.
The 2023 winners of the award, which hasn't been given since 2015 but will now be given at inductions held biannually starting this year, will be introduced at the OHS football game on Friday, Oct. 13, followed by a ceremony on Saturday, Oct. 14 at Orrville High School, with details coming soon. Nominations can be made in memoriam of someone as well.
Letters of nomination can be made via mail or email and should include the following:
—Nominee's full name, year of graduation, current address, phone number and email.
—College degrees if applicable.
—Key achievements, honors and recognitions.
—Community involvement.
—Ongoing connection with Orrville if applicable.
—Employment and retirement.
—Spouse's name (include maiden name and year of graduation if OHS grad).
—Your name, contact information, relationship to nominee (friend or relative) and year of graduation if OHS grad.
Nominations may be mailed in written form to OHSAA Outstanding Alumni Nominating Committee, P.O. Box 422, Orrville, OH 44667, or emailed to orrvillehsalumni@gmail.com.
Recipients will be selected by a committee, determined by two-thirds majority vote. Recipients will then be required to submit a brief bio and recent photo for publicity purposes.
Past honorees include the following:
—1987: Louis Prechtel, '36.
—1988: Alan Auble, '60.
—1989: Howard Wade, '50.
—1990: Pete Curie, '50.
—1991: Tony Yonto, '38.
—1992: Tim Smucker, '62.
—1993: Darlene Linhoss Morrison, '67.
—1994: Paul Seifried, '59.
—1996: Ellis Fields, '44.
—1998: Jennifer Johnson Reusser, '65.
—2000: Nancy Longshore Brest, '47.
—2002: John Kropf, '61.
—2004: Bob Shonk, '56.
—2006: Kent Smith, '78.
—2008: Pat Lorson, '74.
—2010: Robert Hershey, '44; Dr. Donald Orr, '62; Kathy Tschiegg, '74; and Lt. Col. Michael Landers, '77.
—2015: Bob Knight, '58, and Clarence Reggie Williams, '59.