Orrville, Southeast schools reopening off to smooth start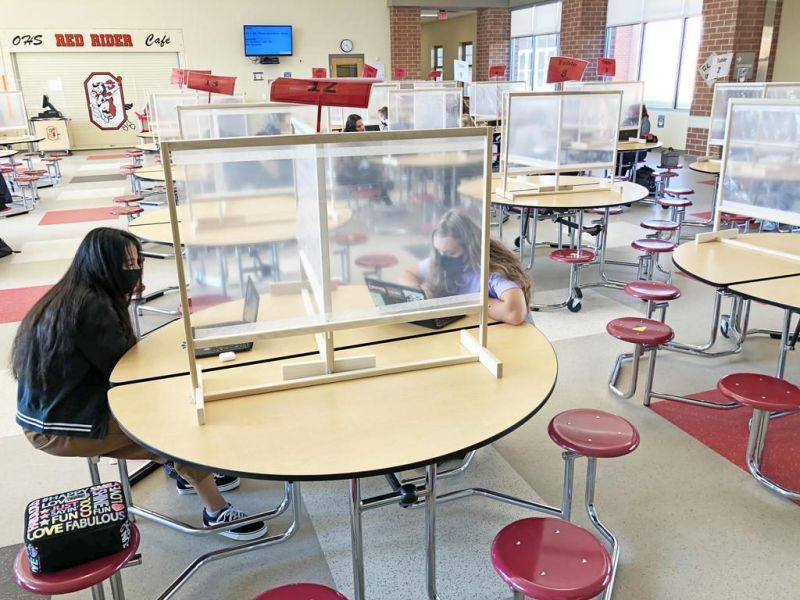 Orrville and Southeast Local schools superintendent Jon Ritchie said despite COVID-19, school is off to a smooth start this year. "It looks like safety town in here with all the arrows and dividers," he said of Orrville High School.
To be certain, the signs of the district's coronavirus safety "Reset and Restart" efforts are highly visible.
Directional and social distancing arrows cover the floors, classes are more spread out, hundreds of cardboard and Plexiglas barriers keep students and teachers separated from each other, hand sanitizer is plentiful, and staff and students are all masked. UV sanitizing devices have been purchased for the buses and the football field.
"I can't compliment the students and staff enough for doing such a good job navigating these unique times," Ritchie said.
Ritchie said even with all the changes to maintenance, sanitization, transportation and food service operations, the school was operating better each day.
"Probably one of the things we need to look at a little more is traffic patterns around the school," Ritchie said.
More parents are dropping off their students to help cut down on the numbers on the buses. "I can't say enough how well the staff, students and parents are working together in the face of this challenge," he said.
The school is following dozens of protocols it adopted over the summer to keep everyone safe, according to Ritchie, who also leads the Rittman schools.
"We will teach healthy hygiene, social distancing, intensify cleaning and disinfection, and require sick staff and students to stay home," Ritchie said.
Ritchie said the school will now have two separate nursing clinics — one for non-COVID-19 symptoms and one for symptoms of the virus.
"If anyone has COVID symptoms, we will notify the family immediately," Ritchie said.
The Wayne County Health Department will follow up with any necessary contact tracing.
"We have seating charts on the buses and in all classrooms, so it will be easier for the health department to identify those possibly exposed," Ritchie said.
Ritchie said the schools have spent thousands of dollars addressing the COVID-19 challenge. "We spent a lot on PPE, cleaning and sanitizing products. We have masks available for anyone who needs one," he said.
The schools have brought on extra personnel for cleaning and have long-term substitute teachers ready if anyone should miss extended time because of the coronavirus.
Some teachers' schedules have had to be adjusted. For example, now some teachers move to the students for specials to cut down on the number of students having to move around in the hallways.
Ritchie said at the elementary level recess is now limited as to the number of children allowed out at once, and children no longer share supplies such as in art classes.
For now no field trips are planned, and there are no visitors allowed in the school buildings, Ritchie said.
Some families have chosen the online option for their students, and teachers are dedicated to this method of learning, as well as all teachers being ready to pivot to totally online teaching if a virus outbreak were to make a shutdown necessary again.
"We've got a new learning management system called Plato, which should make this a more seamless transition," Ritchie said. "We ordered additional Chromebooks in case we have to return totally to online instruction sometime later this year."
Food service changes include the cafeteria now using all Styrofoam plates and plastic silverware. In Orrville and Rittman, juniors and seniors may now leave the campus for open lunch to reduce the occupancy of the cafeteria. The schools continue to provide breakfast and lunch.
Also to reduce congestion in the hallways, students are only allowed to go to their lockers before or after school.
Choirs have been moved into larger spaces in the auditoriums, and singers have to wear face shields in addition to masks, Ritchie said.
Sports have been a challenge, but Ritchie said he is confident the schools have put in enough changes to ensure safety.
"My goal is to try to make sure we can have a full season for all the sports," Ritchie said. "We want to make sure the student athletes still have a positive experience on our athletic fields."
Attendance at the stadiums is reduced to 15% of fixed capacity, and athletes will be able to get tickets for their parents. Orrville's stadium capacity is approximately 300 on the home side and 150 on the visitors' side. Rittman and Southeast Local have around 150 for home and 100 for visitors.
"We don't control the ticket allocations when we're on the road," Ritchie said.
Ritchie said he appreciates parents' patience with him. "I'm not an expert on pandemics, so whenever anyone has recommendations, we're always open to hearing good ideas," he said.