Portman promotes Pell Grants for technical students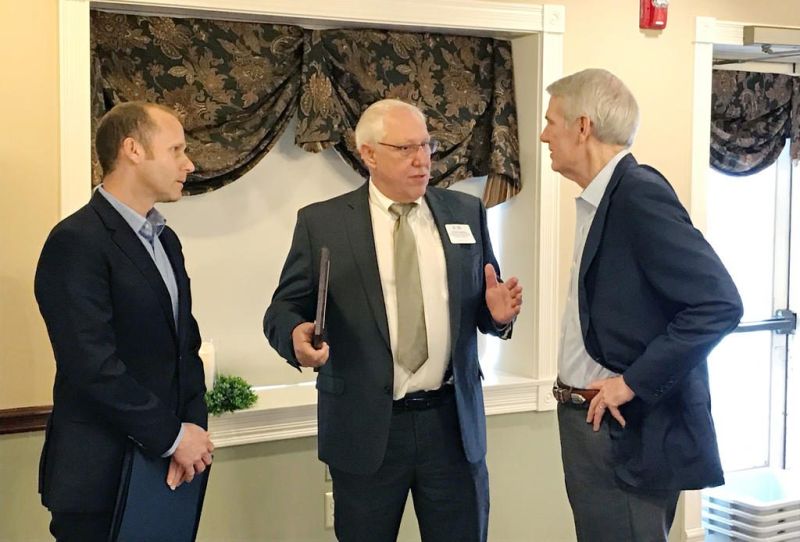 For decades Pell Grants have been a part of students being able to take the next step in the educational process in seeking to attend the higher learning institution of choice.
While U.S. Sen. Rob Portman from Ohio is in favor of that, his one big question remains unanswered.
"Why don't we have Pell Grants for students who are seeking technical education opportunities?" Portman said. "We offer all of these Pell Grants for our students entering a four-year college but not for those seeking to attend technical schools for career opportunities like welding, becoming a machinist or truck driving. These 15-week programs are unable to secure Pell Grants, and we need to change that to encourage students who want to pursue something in the technical world as a career to do so."
Portman said Ohio is creating jobs at a rapid pace, and many companies are seeking but not finding capable employees with the proper technical skills to do the job. The OhioMeansJobs website shows approximately 140,000 job opportunities. Many of those are technical jobs.
The bi-partisan Jumpstart Our Businesses by Supporting Students Act would alter this standard by allowing students undertaking shorter job-training programs at a higher education institution such as a community or technical college to also qualify for such funding.
To be eligible, a person must enroll in a program that has at least 150 hours of instruction time over a period of eight weeks, leads to industry-recognized credentials and certificates, and meets the needs of the regional or local workforce.
Portman said the JOBS Act, which focuses on students training in 15-week educational fields like truck driving, welding, machinists and pipe-fitting, all of which are linked to the gas and oil world, would allow these students to attain Pell Grants that they are currently not able to obtain. He said students wanting to pursue these fields are becoming frustrated because they could get a Pell Grant to go to a four-year college, yet the trade schools are being overlooked when it comes to financial aid.
"The one thing you'll be struck by when looking at all of those jobs is that they all require skills," Portman said, "things like welders, pipe-fitters, and oil and gas jobs that are technical skill jobs. We have all of these jobs available, yet there seems to be a disconnect."
He went on to note that in order to provide for the federal, state and local workforce that is being sought by employers, the move must be made to enhance the trade skill educational opportunities and make them both affordable and enticing to those moving into the workforce.
Portman said when he arrived in Washington in 2011, he was shocked at how little emphasis was being put on the technical aspect of higher education and how much was being put toward four-year schools.
He said while many students can't afford to go to college, the idea of attending a 15-month technical school to learn a trade can apply to their lives moving forward and is something that many students could pursue in the face of sky-rocketing college prices.
Portman and Sen. Tim Kaine, a Democrat from Virginia, set up a caucus in the Senate that has grown from the two of them to 27 senators.
"The whole idea is to hold up those students in the career and technical fields who are being overlooked," Portman said. "Career and technical schools are not your father's Oldsmobile, so to speak. It's a whole new deal, and they have changed dramatically over the years and play an important role in our society and the growth and education of our young people. It's incredible the opportunities that are being given to students opting to attend career and technical schools."
Portman said teenagers are gaining valuable experience in these institutions, collecting important skills and knowledge, and even gaining college credit in high school classes that allow them to quickly and professionally step into a trade position where they can earn solid wages doing what they love to do.
While Portman pushes Congress to get these students Pell Grant funding, he encourages students who have graduated to return to their high schools to speak to underclassmen about the opportunities that could lead them into a fulfilling trade or technical job in the future.
"We have to do more with the parents too," Portman said. "We have to better educate the parents and get them more involved so they understand what the opportunities are for their children."
Portman said a generation or two ago vocational school was seen as the place where students went who couldn't handle high school. He said that is not the case now, nor was it really ever the case, but he is excited about the direction vocational schools are heading.
"The money will follow the students," Portman said. "If we can drive home the idea that more and more of our young people are gaining valuable experiences and going into the trades, eventually the money will be there, but it will take a collective effort, and we have to provide the skills training and give kids the best possible funding to do so in gaining valuable college credits."
Portman said the other aspect of a 15-week Pell Grant for technical school makes more sense in that those students are more likely to complete their schooling as compared to many who drop out of four-year schools to pursue a retail job. Thus taxpayers are paying for Pell Grants that are not being completed in some cases.
"It's almost unfair that we are biasing one kind of a career choice for young people and telling an entire other group of young people who are passionate about pursuing something they want to pursue that we aren't going to help them. That is why we need to push the JOBS Act," Portman said.