Program helps adults who 'aspire' to learn more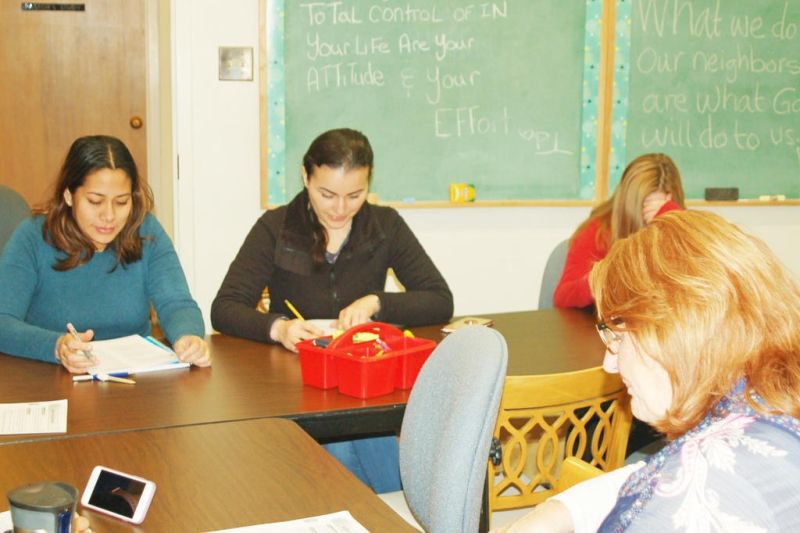 It only takes a few minutes to learn Emily Hartzler is enthusiastic about her job as the adult literacy coordinator at the Wayne County Schools Career Center. The program goes by the name Aspire, also fitting.
Formerly called ABLE, it is a free program of the Wayne County Schools Career Center.
Hartzler said at its various locations it even draws some Amish students, seeking a GED, vocational training or entrance into a community college.
Hartzler said the WCSCC is the fiscal agent and provides in-kind and financial support of the program.
Hartzler is now in her sixth year as the coordinator of the program. "I started as a volunteer in 2008 and became an instructor in 2010," she said.
Aspire is 100 percent grant-funded through the Ohio Department of Higher Education and receives local financial support through United Way of Wayne and Holmes Counties, the Orrville Area United Way and the Employment Resource Fund.
Hartzler said Wayne County Aspire is a local Ohio Means Jobs-One Stop partner, and additional community partners provide supplemental in-kind support to the program. The projected enrollment for the 2019-20 school year is about 235 adults.
Aspire serves any adult with or without a high school diploma needing to improve academic skills. The program helps students meet their educational goals as they work toward their career path. This, according to Hartzler, is accomplished in the following ways:
—Improve basic skills (math, reading).
—Earn a high school equivalency diploma (HSE).
—Increase English language proficiency (ESOL).
—Obtain, retain or upgrade employment.
—Enter post-secondary education or job training.
—Offer short-term classes on various topics such as citizenship exam prep and retail/customer service.
The WCSCC is an official testing site for all GED-type exams. The program requires the participant to earn career certification along with the required academic skills for their desired trade.
"We also offer family literacy programming at our Orrville Learning Center, held at the First Presbyterian Church," Hartzler said.
The programming allows students and their children to attend classes together. "While they are in their adult class, their children are down the hall in an early learning environment," Hartzler said.
Families Learning Together is funded through the support of Orrville Area United Way.
Classes are offered in Wooster, Orrville, Smithville and Millersburg.
Day, evening and distance education classes are available. Enrollment is ongoing. Call 330-988-1007 for more information or visit www.aspirewaynecounty.org to sign up for an orientation.
"I am most fortunate to have a tremendous staff," Hartzler said.