Puzzles and equations highlight WHHS valedictorian speeches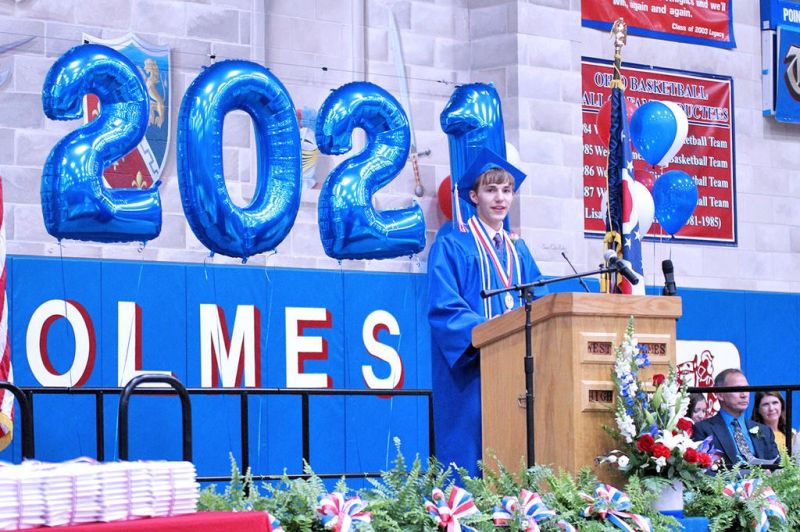 The West Holmes High graduates were led in the classroom by fellow valedictorians Josh Shrock and Joy Latouf, and the two shared their hearts and hopes with their classmates during this year's WHHS graduation ceremony on Friday, May 28.
Shrock said with everything this class has had to endure during the past two years of school, they are more than deserving of the spotlight that was cast upon them during their graduation celebration.
After sharing a humorous story about his gift of procrastination, Shrock zeroed in on more meaningful advice to his fellow graduates. He said as they approach their new lives, they need to show empathy and be kind to others.
He used an analogy of building the biggest building in town. One way is to build the building in town, and a second option is to build a decent-sized building and spend the rest of your life trying to tear down everyone else's buildings.
"The majority of people choose option number two because it is easier," Shrock said. "Being kind to others requires us to be open and vulnerable, and being vulnerable makes us feel exposed, isolated and uncomfortable."
Shrock said he had an opportunity to meet with one of his church's leaders this past summer, and he didn't give the 20-minute conversation much thought. He did say he took one thing from that moment in time: the man's consistent effort to always focus on Shrock and not himself throughout the conversation.
Later that week an envelope showed up at the dinner table, a thank-you note from the man that said he appreciated Shrock's kindness and positivity. It was a random act of kindness that extended well beyond their conversation and again made an impact on Shrock.
"It made me think how big of an impact we can make when we show small, random acts of kindness toward others," Shrock said. "I encourage you to do a small, random act of kindness each day. Because it not only impacts the people around you, it impacts yourself."
Finally, Shrock encouraged the graduates to control the things they can control and not worry about everything else. Shrock, a Knights basketball player, used the idea of his basketball team winning just seven games the past two seasons before this year. This year the Knights amassed 17 victories and a sectional championship, and Shrock said they did it by controlling the things they could control, like working hard, listening, playing together and having a good attitude.
He brought up football coach Urban Meyer's equation philosophy of E+R=O (event plus response equals outcome). The game of basketball plus lots of hard work resulted in 17 wins. The season was a huge success.
"Seven wins in two years was rough, and it was something I only had partial control over," Shrock said. "However, late nights in the gym and reading books on leadership, I had control over those things. I share this story not to brag, but because we as West Holmes students are in a similar position. Many of you may look at graduation and see it as an outcome. The mornings where you didn't want to get out of bed and the tests that caused you so much stress are the events. That would be one way to look at it. But I challenge you to look at graduation as an event. And in doing so, I ask one simple question: How will you respond?"
Latouf used a puzzle analogy and how all of the graduates' lives are like a box filled with different puzzle pieces they must figure out and put together as they grow.
"Our lives are like a jigsaw puzzle, but here is the kicker: We lost the box so we don't know exactly what the picture is supposed to look like," Latouf said. "The best way we can put it together is by working from the outside going in. We start with the four corner pieces, the pillars of our lives, which are family, friends, hobbies and interests, and your job, or for us, school."
Latouf said the next objective is to fill in the rest of the edge pieces with each individual puzzle piece representing one moment in time or an experience in life. Once the edge is complete, people can begin working toward filling in the middle to define exactly what life's picture is going to look like.
"That center is happiness, whatever it is that brings you joy," Latouf said. "You need to find out what that is and focus your life around it, and everything else should fall into place. Your puzzle may change around a bit, but you learn to adapt and find a way to fill that gap."
She said events like changing jobs and gaining new hobbies and new friends can change the puzzle's look, but she said the graduates need to make sure they continually focus on making their happiness the central theme, regardless of how the puzzle may change.
She said in addition to each of them putting their own life puzzles together, so too are all of those people around them in their lives, puzzles which will be every bit as complicated and challenging as their own.
"We can't know what other people's puzzles look like if we don't know what they've been through to build it," Latouf said. "What we must realize is this: No one is just a puzzle piece. They may seem that way when we are trying to fit people into our own puzzle, and we can't get upset when pieces don't fit. We are a mosaic of everyone we have ever met, but that doesn't mean they don't have their own mosaic."
Finally, she said we can't afford to change or alter our puzzles because of someone else to the point where we don't recognize it anymore. She told the students that it is their puzzle and theirs to build and enjoy.
She then thanked the many people who have helped her create the pieces for her own jigsaw puzzle, from teachers and administration to friends, family and those who have impacted her life, both in positive and negative ways.
"Everyone you come in contact with will become part of your mosaic," Latouf said. "We have affected each other's lives. Most of us have known each other since at least sixth grade and seen each other grow up and helped shape each other, sometimes without even knowing it. Go build your own puzzle. Don't spend your time trying to change someone else's puzzle or building your own around someone else. Make sure that you absolutely love your big picture."