Graduates leave with resolve, having been through so much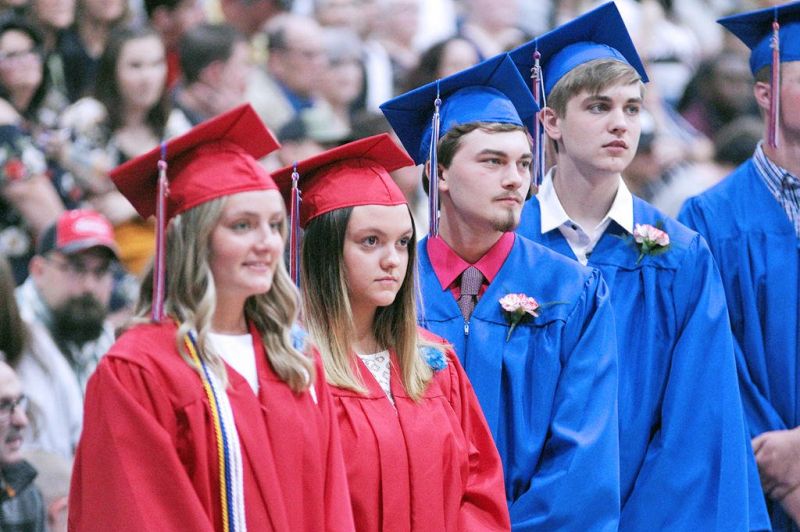 How do you measure the struggles for a group of seniors at graduation? What equals success and failure? While working through high school can be challenging enough for any graduating class, the pandemic year of 2021 will forever be tied to a group of students who had to endure.
West Holmes sent 188 graduating seniors across the floor in front of a nearly packed house at West Holmes High School's gymnasium on Friday, May 28, and with the turn of a tassel, they walked into a new era of their adult lives.
Two days later, 71 Hiland High School graduates accepted their diploma and a rose as they too stepped into a brave new world, celebrating graduation day in the Perry Reese, Jr. Memorial Center at the high school on Sunday, May 30.
In what was a challenging year to say the least, both schools had to slog through week after week of challenges, learning from home in hybrid and remote fashion, finally returning to full-time at school where students and staff were separated by shields of Plexiglas almost at every turn.
But amidst all of the challenges, all of the changes and the difficulties, this graduating class showed incredible resiliency, and while many wondered what graduation day might look like come May, it was pretty much the standard fare at both schools as family and friends watched the seniors graduate.
West Holmes superintendent John Thomas, who came in to lead the district for just one year as an interim, said his experience was one that made a sincere statement about the great people of his district, and he was especially complimentary of the graduating seniors.
"Throughout history people have struggled with forces in their environment, and historians have often tried to capture that in their writings," Thomas said.
Thomas then went to Charles Dickens' "A Tale of Two Cities" for his inspiration, describing what this senior group has had to endure as they made their way to graduation.
In the opening lines of Dickens' novel, he writes, "It was the best of times, it was the worst of times, it was the age of wisdom, it was the age of foolishness, it was the spring of hope, it was the winter of despair. We've had everything before us, we've had nothing before us."
Thomas said the line succinctly defines the major conflicts between family and love, between hatred and oppression, good and evil, light and darkness and all human struggles.
"Graduation speeches are supposed to inspire, challenge and motivate," Thomas said. "Speakers are expected to say things that are memorable and thoughtful. What I say today, I doubt will be remembered by anyone here. But I have no doubt that you will remember this year for the rest of your lives. The fact that your senior year has taken place in the midst of a pandemic will never be forgotten."
Thomas talked about the trials and tribulations he has been through in his 73 years, 50 of them spent in education. He said he experienced outbreaks of scarlet fever and mumps, knew people who were stricken and died with polio, and has been quarantined. He said nothing in his life experience could have prepared him for what this past year has presented.
"For most of us, the uncertainty, the changes in activities, the disruption of instruction and learning, and the responsibility to keep all of you safe have all been unexpected," Thomas said. "Much of it was imposed by outside agencies."
He then told the seniors they had lived through a most difficult final year, but in the end, it would help mold their will and strengthen their resolve.
In facing more of the unknown to come, he said to the graduates, "Be flexible, resilient and persistent."
He noted that the fact this group was sitting in front of him on graduation night, ready to step into a new world, spoke volumes as to the character of the students and their readiness to move ahead.
"You've shown the grit and determination that helped you learn this," Thomas said. "You've learned the true value of a sacrifice, the importance of cooperation, the true value of friends and family. You've gotten through this year because you've done it together."
Hiland High School principal C.J. Sprang told his seniors making it to this day was something special.
"With every graduating class, our staff learns something new and takes something away as a memory," Sprang said.
He then listed four traits he felt best represents this class: showing up, thinking creatively, continuing to do the work and being kind.
"Continue to do these things, and you will experience success, no matter where life takes you," Sprang said. "You are here to learn and lead our school. So much can be achieved if you are where you should be. Always remain adaptable and resourceful. This class understands the importance and role of hard work. Continue to do all work as an opportunity and not a chore. Continue to treat others with respect and understanding. In the end, all we have are our relationships, and those, above all else, should be valued the most."
East Holmes superintendent Erik Beun said the role played by caring parents, grandparents, and family and friends who have walked alongside these students, teaching them, nurturing them and loving them for the past 18 years, also played a key role in the success of graduation.
He said they will face choices, some tough, some easy, all with consequences, as they grow into their adult lives.
"History teaches us that doing things together, caring for each other and making the best decisions makes all the difference," Beun said. "Starting now, our community needs you. You are our future. Take the lessons you have learned from your family, your church, your school and make good decisions that will work for you and bless future generations."
With these words of wisdom and the guidance of many adults who have nurtured and cared for these Holmes County graduates, more than 250 students stepped forth into a world full of possibilities.