Tusky Valley speech finishes strong at Nationals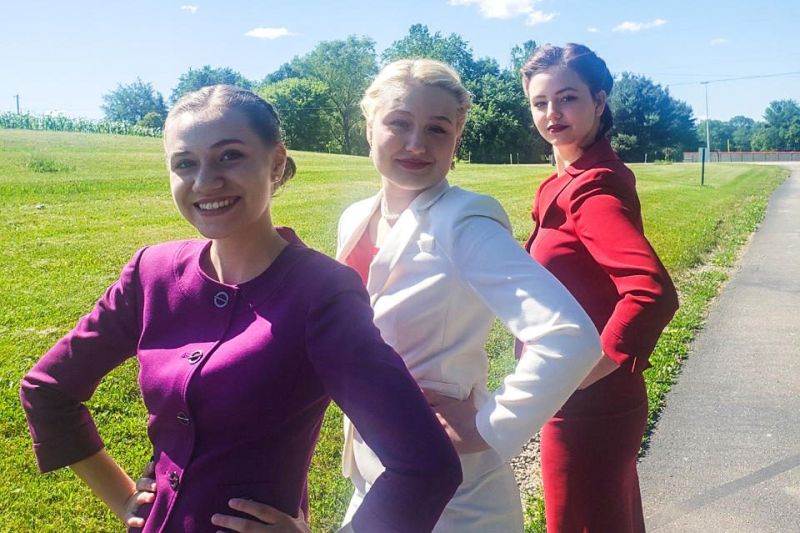 In its eighth year, the Tusky Valley speech team delivered another strong showing at the National Speech and Debate Association tournament this year. The tournament is the largest academic competition in the world. Originally scheduled to be held in Des Moines, Iowa, the tournament was held online June 14-19 due to continued COVID-19 restrictions.
"In our eight years as a team, we've had a student make it to the semifinal round six years in a row," the team's coach Carrie Spina said. "I don't think people quite grasp what a big deal it is, but less than 1% of national competitors makes it that far."
The school also earned a national School of Honor award for total speech points earned during the year. Tusky Valley placed among the top 21-40 schools out of the thousands across the nation that compete.
"We were right up there with Hawken, Solon and Canfield," Spina said, mentioning three of the top five-ranked schools in the state. "If we had been in Des Moines, we would have been called up on stage and given a huge plaque."
Not to worry. Said "huge plaque" will soon be delivered to the team.
During five days of competition, all of the Tusky Valley students "broke" into the top 100, with three advancing to the top 60 in the nation out of the more than 7,000 students competing.
Senior Ellie Dorsey made the semifinals and finished 11th in the nation in the Informative category with her self-authored presentation addressing the stigma of speech impediments.
Dorsey said the 12-hour days of the tournament were really long. "But I didn't hate it because I did well. I don't think people realize how much time we put into speech."
Dorsey said participating in speech has changed her. "I definitely wouldn't be the same person if I didn't do speech. It gave me the confidence to actually share my opinions. That's one reason I chose to do informative speaking because I could talk about whatever I want and inform people about a topic important to me."
Brianna Swinford, also a senior this year, finished in the top 20 in the nation in Humor in her second trip to Nationals. "It felt good to end the season on a good note," she said.
Swinford said being on the team has helped her become more confident in social situations. "I was super shy before and had a lot of trouble making conversation with people I didn't know. Speech taught me how to be more comfortable socially, and I have a lot of friendships I wouldn't have formed if it weren't for speech."
Junior Olivia Burgess said she too has gained a wealth of confidence from participating in speech. Burgess finished in the top 60 in her first year competing in Drama.
"I've been acting and doing theater with Carrie since I was in the fifth grade," she said. "Carrie was always asking me to be on the team, but I was too afraid at first. Once I did it, I was fine."
Competing virtually from the high school
Spina had the students compete from the high school this year instead of from their homes as they did last year.
"We received a grant from the Coach Tate Foundation that allowed us to purchase light rings, backdrops and other equipment to make the presentations look very professional," Spina said. "Even though we weren't in Des Moines, we were still together as a team. We ate together, watched the results together, cried together and screamed together."
Two other students, Kaleah Dorsey and Zoe McConaha, were able to compete this year in supplemental categories. McConaha finished in the top 100 in Prose, competing against more than 600 other students.
The 2022 national tournament is scheduled for June 12-17 in Louisville, Kentucky, and Tusky Valley plans to be there.