STEAM camp helps introduce youths to technology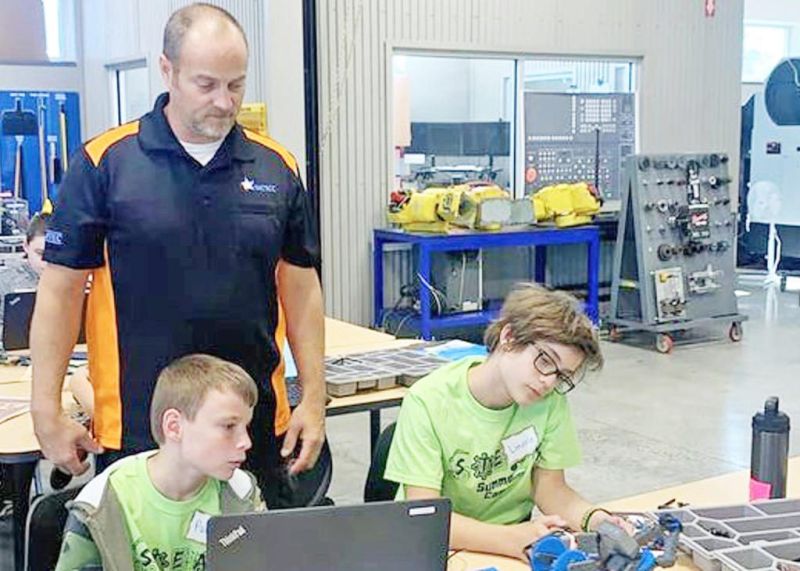 Tri-County Educational Service Center, Wayne County Schools Career Center, Schantz Makerspace, Wayne Center for the Arts and the Wayne Economic Development Council collaborated this summer to create a STEAM camp for nearly 100 students grades 3-8.
Four sessions of camp were held at the Wayne County Schools Career Center, with each two-day session having around 24 participants.
The goal was to provide students with more opportunities to experiment and play with technology. Campers were able to be in the RAMTEC Lab, where they could see the same robots and CNC machines adults use — the perfect way to show students the skills they learned at the camp could lead to many different career paths.
The goal of the camp was to provide enrichment and learning opportunities for area students, focusing specifically on science, technology, engineering, art and math. This was accomplished by leading students through a design and build of VEX IQ robotics kits. All students built a base robot vehicle and then used their own knowledge and creativity to modify and enhance its functionality and appearance.
Students had opportunities to test their bots' functionality and continually improve upon the original build, much like modern products are designed and improved upon. Students also installed sensors to help improve the robots' functionality and learned basic programming to improve robot performance.
Campers learned about 3-D printing and additive manufacturing during a presentation by Tom Hammond, from the 3-D Printing Lab at the University of Akron-Wayne College. Subtractive manufacturing was modeled for campers during a CNC Machining presentation by Bruce Steiner, industrial and customized training coordinator at the Wayne County Schools Career Center.
The tri-county region is a manufacturing and technical hub in Northeastern Ohio. However, with an increasingly aging workforce, area businesses have realized the difficulty in finding individuals who are interested in careers in manufacturing. This is due in part to an antiquated view of manufacturing and technical skills. In today's economy manufacturing is a complex and technical career opportunity with competitive wages.
"We are constantly impressed by the ingenuity and problem-solving skills our campers show," John Schantz of Schantz Makerspace said. "They beam with pride when an idea works and then move straight to 'How can I make it better?' Why? Because it's fun. They want to succeed. If we can feed that engineering mind-set, then we can set them up for better success down the road. And I can think of a number of employers that will be waiting to talk to them."
The planning group's hope is camps like this ignite curiosity and fuel passion for learning that can take students in any career direction. This annual camp is slated to run next summer as well. If you have a student who would be interested in attending camp, be on the lookout for information from your local school districts in spring 2022 or follow Career Connections – Tri County ESC on Facebook.