Student-led initiative provides bicycles for local kids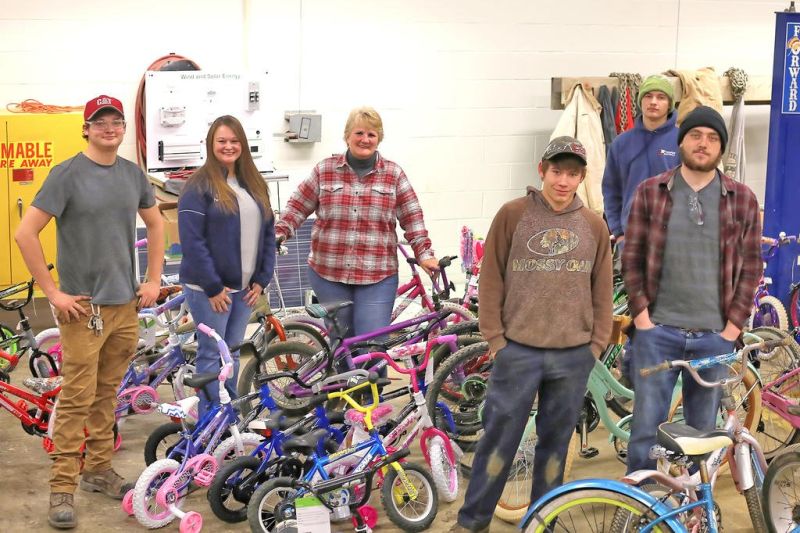 Students at Buckeye Career Center in New Philadelphia are holding their annual bicycle drive to benefit T-4-C's Share-A-Christmas. They are seeking new and gently used bicycles that only need minor repairs. Since the program's inception, on average 20-30 bikes are donated each year by the public.
Bicycles can be dropped off at Buckeye Career Center during school hours Monday through Friday from 7:30 a.m. to 3 p.m. The school will be closed for the Thanksgiving holiday from Thursday, Nov. 28 through Monday, Dec. 2. The deadline to drop off bikes is Thursday, Dec. 12.
There is a lot of demand for bikes at Share-A-Christmas. "Who doesn't want a new bike on Christmas morning?" said Shyanne Carroll, public relations coordinator at Buckeye Career Center. "We usually have very few bikes left after the parents come to select bikes for their children. It just shows that we live in a great community that is willing to help out when called upon. It is always amazing, after the students have repaired, sorted and tagged the bikes for distribution, to see them fill one of our larger labs."
Last year the program received donations of 30 used bikes, and the adult education EMS classes at BCC donated 22 bikes.
In addition to donations from the public, the EMS classes are contributing new bikes again this year. "They will purchase and put the bikes together ahead of distribution," Carroll said. "They have also challenged our local fire departments to participate as well."
The students repairing the bicycles are from the agriculture and diesel technology and commercial truck technology programs. "Normally they are working on larger diesel engines such as tractors, farm equipment, diesel trucks, dump trucks, heavy equipment and more," Carroll said. "These classes are very large, so while some students are repairing bikes, others are still working on those larger vehicles."
The program has been informed that the city of Uhrichsville plans to bring a truckload of bikes, and other donations are expected.
"We do encourage anyone who wants to donate to only contribute bikes that need minor repairs or a basic cleaning," Carroll said. "Bikes are usually donated at the WJER Radio Toy Drive, and any that need to be repaired are transported to Buckeye to be fixed. It is usually a trailer full."
Other Share-A-Christmas projects the school participates in are internal and for students only. These include a canned food drive organized by the career-technical student organization, SkillsUSA. The lab bringing in the most items wins a pizza party.
"This year the students also collected new socks and underwear for Share-A-Christmas," Carroll said. "Last year students contributed 5,177 food items and 437 toys. Our Leadership Council will also host a hat day, which allows students and staff to pay $1 to wear a hat at school that day."
The money is then given directly to Share-A-Christmas as a financial contribution. The Leadership and SkillsUSA members will then deliver the items collected by the students (donations from the public are not accepted) during the food-delivery days and help sort the food.
At Buckeye Career Center, community service is very important. "Hosting the bicycle drive allows our students to get involved while remaining in the building. We hope this teaches them about giving back to those in need and serving the community that supports our school," Carroll said. "We've also found that not only is it uplifting for the Share-A-Christmas families, but it also makes our students feel good because they have helped someone else."