Students gain employment before graduation from BCC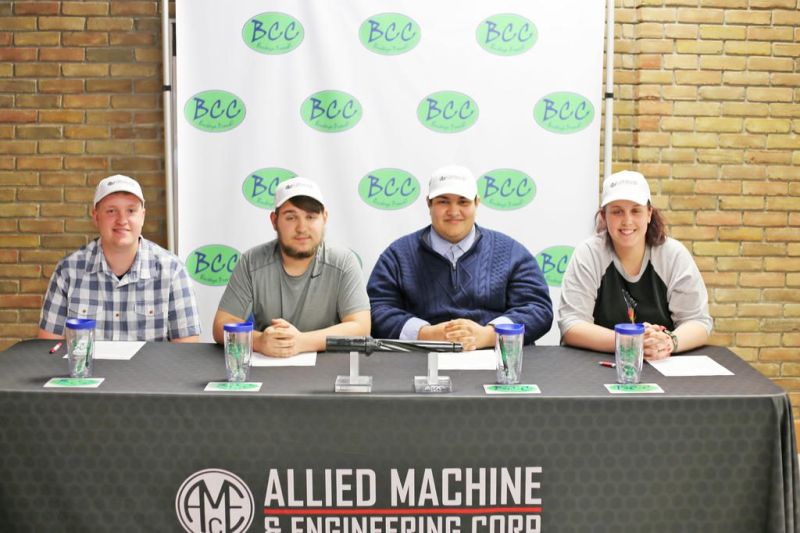 Buckeye Career Center, in partnership with Allied Machine & Engineering, hosted a career-technical signing day on Tuesday, May 8 to celebrate the full-time employment of four Buckeye seniors.
The signing ceremony featured students who were hired full-time at Allied during the school year and will continue their employment following graduation. The event was similar to an athletic signing event, but company officials and Buckeye Career Center believe it is even more important to highlight students who are achieving their work goals.
"This is a great way to celebrate one of our most important accomplishments as a career center," Buckeye Superintendent Bob Alsept said. "We are very proud that our skilled students are moving into full-time employment with a wonderful company like Allied Machine & Engineering."
The new Allied employees and soon-to-be Buckeye graduates include Chevelle Carothers (precision machining and welding) from Claymont, Lucian Garcias-Miller (precision machining) from Dover, Luke Burton (precision machining) from Dover and Jacob Herman (precision machining) from Conotton Valley.
Carothers will serve as a gen-two machine operator, Miller as a round-tool specialist, Burton as an OD grind operator and Herman as a round-tool specialist.
The students were joined at the ceremony by family, BCC administration, Allied officials and BCC precision machining instructor Bob LaFollette.