Students hypothesize their way to a great experience at the Mohican District Science Fair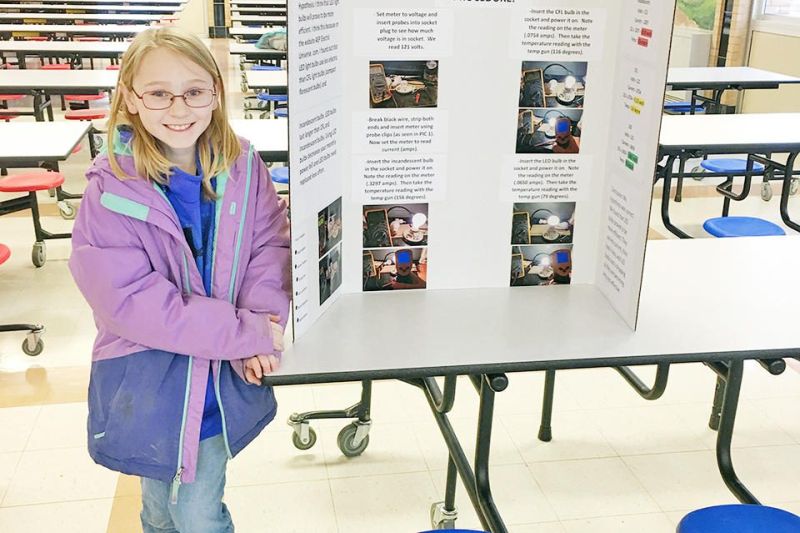 Young minds were given an opportunity to create a hypothesis and then experiment whether it held water — in one case quite literally — during the annual Mohican District Science Fair at Ashland University on March 23.
West Holmes Middle School had a trio of students qualify for the district science fair, where they displayed their projects and were judged, and all there came away from the district science fair having done well. The Mohican District Science Fair is designed for youth between fifth and 12th grade and was created to help young minds develop a sense of how the scientific method works.
The three students who earned their way to the district science fair were Alexis Wagers, Quentin Vehrs and Aubrey Bright. Each of these students had to receive a superior award at the West Holmes Science Fair.
Wagers is a fifth-grader from Millersburg Elementary. She scored an excellent at the district fair. Her project was on the three types of light bulbs and their energy efficiency.
Quentin Vehrs is a sixth-grader at West Holmes Middle School, and he scored an excellent as well. His project was testing the hardness of different types of wood.
Aubrey Bright is an eighth-grader at WHMS, and like the others, she too scored an excellent. Her project focused on making water bulbs for drinking instead of using plastic water bottles.
Creating hypotheses and proving them are what the West Holmes Middle School students were asked to do during the local science fair. Each individual science project was judged based on several categories including knowledge achieved, use of scientific method, clarity of expression, creativity and originality, displaying neatness and organization, and whether the report is complete.
The scores from each category are totaled up, and the top students were selected to move on to the district science fair at Ashland University.
"This is an awesome learning tool in terms of conducting scientific investigations and having questions about the world and investigating them," WHMS science teacher Brooke Fox said. "This also gives students opportunities to learn more about what they are passionate about because we don't always get to in class."
The students are given the freedom to choose and design whatever hypothesis piques their interest. Doing so allows them to design a project they can be passionate about.
"The students generally start with a topic they are interested in," Fox said. "Quentin is very interested in woodworking, so he got an idea for his project through that. Alexis' dad is an electrician, so he gave her the inspiration for her project. Aubrey got her project because she learned about the garbage mass in the ocean and was trying to think of ways to reduce the amount of waste humans produce."
Fox said all three students are dedicated to their schoolwork and all are great students deserving of the accolades they received during the project.
Fox said each of the three students worked for a long period of time to receive the superior rating at the local level. For each of them to receive the excellent designation at the district meet, which is one step below superior, is an outstanding accomplishment.
"All three students spent a good amount of time on their projects," Fox said. "Quentin built a contraption that hammered a nail into a piece of wood with the same amount of force each time. It was remarkable. Aubrey had a lot of trial and error getting the correct amount of substances in order to form the perfect water ball, and she ate them for us to prove they were safe. Alexis learned a great deal about electricity working on her project with her dad. These kids displayed great inquiry and investigation skills."