Students inducted into NTHS at career center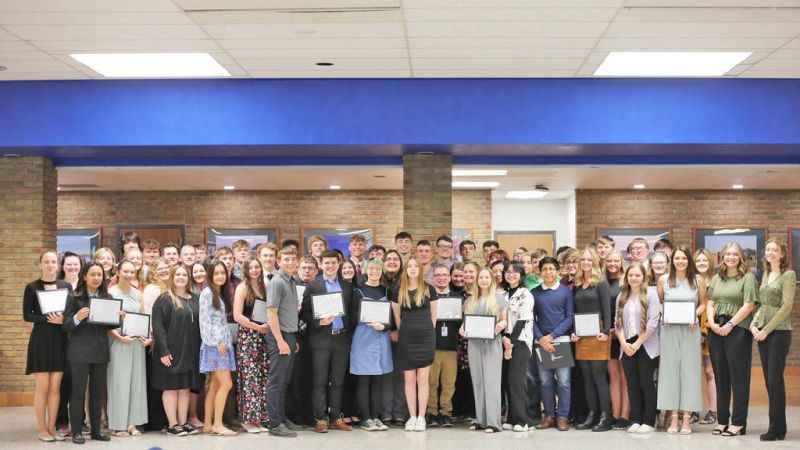 Buckeye Career Center's chapter of the National Technical Honor Society has 58 first-year members and 16 returning inductees. The induction was held April 27 at BCC with inductees, family members, partner school administrators and BCC staff members in attendance.
Carrollton first-year members are Brandon Haney, Richard Stull, Ben Steiner, Calvin Romeo, Justin Lowther, Marcus Colvin, Dominic Colantonio, Courtney Benning and Kristy Koenitzer. Kolby Tullis is a second-year member.
Claymont first-year members are Hannah Lorenz, Tatum Kadri, Mac McCluskey, Lauren Ferguson and Alexander Douglas. Second-year members from Claymont are Makayla Contrael, Olivia Swigert, Gabrielle Kellar and Bryden Doane.
Conotton Valley first-year inductees are Gavin Booth, Cadence Beavers, Chloe Stuber, Nolan Caldwell, Gage Galigher and Jordyn Braun. Samantha Magallanez is a second-year member from Conotton Valley.
New Philadelphia first-year members are Cody Lynch, Emmalee Warner, Lily Hissner, Joseph Fulton, Ryan Flaherty, Erika Kugler, Ali Anderson and Anna Roe. Andrew Martin and Alexandria Baker are second-year members.
Dover first-year inductees are Katerina Shuba, Joaquen Osorio-Raymundo, Jarrett Cleary, Tenley Jaberg, Carter Hickey, Timothy Henry, Austin Gump, Mariela Sica Calel, Jehred Bennett and Jacob Murphy. Second-year inductees are Dawson Devecka and Julia Weaver.
Garaway first-year inductees are Josephine Zimmerman and Andre Miller. Second-year members are JD Young and Marissa Blauch.
Indian Valley first-year inductees are Lexi Lute, Kari Mace, Kamree Lindon, Zander Stallings, Hunter Albright, Ashlyn Knepper, Ashton Thomas and Bryce Bremenkamp.
Tusky Valley first-year inductees are Hunter Kirtley and Lexi Dyrlund. Second-year members are Jenna Hykes and Emily Bower.
TCC first-year inductees are Kayden Crosier, Cassidy Green, Julio Sica-Perez and Samantha Liggett.
Newcomerstown's first-year inductee is Jonathon McConnell. Second-year members are Addison Guy and Seth Gamble.
Strasburg's first-year inductee is Leah Fry.
Hiland's first-year inductee is Camille Snow.
River View's first-year inductee is Hunter Cannon.
The ceremony featured words from BCC Superintendent Bob Alsept and principal Matt Fockler. Second-year members lit the NTHS candles, and the ceremony was coordinated by BCC counselors Ken Stocker, Kay Wise and Jennifer Robinson and guidance office secretary Kris Kinsey.