Students learn from the past at Wayne County Historical Society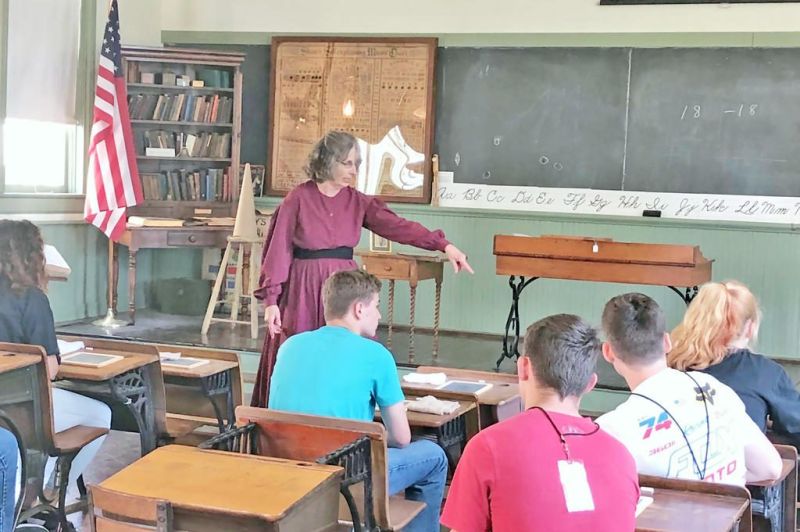 Following the recent opening of the Wayne County Historical Society's permanent collection and featured textile exhibit, years of research and months of planning by the society's numerous volunteers paid off when a record number of students came to tour WCHS this past spring.
The campus located on 546 E. Bowman St. in Wooster was visited by 454 students from area schools. Nell Reardon, co-chair of the visitor services and educational outreach committee, reported this record number follows a trend of continuous growth in the number of student visitors over the past five years.
To what does WCHS credit this marked increase in popularity among local schools? Reardon said the recent growth can be traced to about five years ago when a former board president recruited several retired educators to develop a new school tour program that aligned with the state social studies standards for each grade level.
This change made it easier for teachers to incorporate a trip to WCHS into their curriculum and improved the overall learning experience for students. Reardon, a former Wooster High School history teacher, said this familiarity with state standards enabled WCHS docents to provide information that builds directly on what students have learned that year.
Carla Veil, a teacher at St. Mary of the Immaculate Conception School, took her third-grade class to WCHS this past spring and attested to the benefits of a tour that corresponded directly with her history curriculum.
"We were able to refer back to our field trip when reading about what life was like for people who lived in Wooster years ago. My students did a Then and Now Project focusing on several historical buildings in Wooster, and it was easy for them to envision life long ago after visiting the buildings at the historical society," Veil said.
While WCHS offers tours that correspond to the standards of every grade level, its offerings are particularly well-suited to the curriculums of certain grades. The society gives numerous tours to third- and fourth-grade classes whose social studies standards are focused on local history. The society's buildings and many artifacts from the Civil War and Reconstruction Era also make it a popular site for eighth-grade classes whose objectives center around these periods.
One such building is the Beall-Stibbs House, constructed in 1816 and renovated during the 1850s, explained Julie Mennes, member of the WCHS visitor services and educational outreach committee. Eighth-grade students learn about its occupants' involvement with Civil War efforts. For example Emmeline Stibbs headed the local sanitation committee that made clothing and bandages for soldiers, and four of her sons served in the military during the war.
In addition to aligning with state standards, the second fundamental change in WCHS' approach to school tours was to create a program that would be more in line with a true mission of educating.
Rather than merely presenting students with facts and exhibits, tours now engage students more meaningfully through interactive historical activities. This new approach, said Robbin Christman, co-chair of the visitor services and educational outreach committee, enables students to truly see history, touch it and experience it.
These experiences include churning butter, buying penny candy in the General Store, playing old-fashioned recess games and interacting with docents dressed in period garb.
Recalling her students' visit, Veil said these hands-on experiences not only aided their understanding of history, but also sparked greater interest in the subject matter.
"[The students] really seemed to enjoy the interactive presentations. The experiences offered by the historical society made the classroom lessons come alive for my third-graders," Veil said.
These changes in WCHS' school tour program have not only resulted in increased popularity among students, but also among the general public. Reardon said students often enjoy their tour so much they return with Scout troops or parents for another visit. Some, she added, even come back and join as members because they had such a great experience as students.
In this way, Reardon said, school tours are a key element in fulfilling WCHS' dual missions of education and preservation.
Docent David Broehl further noted that giving school tours is a key part of the society's mission because they impress upon students the importance of studying all history.
"The best time to study history is when kids are in schools. That's when they develop an excitement about it. If they understand the relevance of history, that will bode well for our future leadership," Broehl said.
WCHS offers tours at no cost to students and a $5 charge for nonmembers over the age of 14. Tours take place primarily during the fall and spring, and it is recommended they be booked well in advance.
To make inquires, call the society at 330-264-8856 from 1-4 p.m. on Tuesday or Friday or visit www.waynehistoricalohio.org.