Students promote integrity and sportsmanship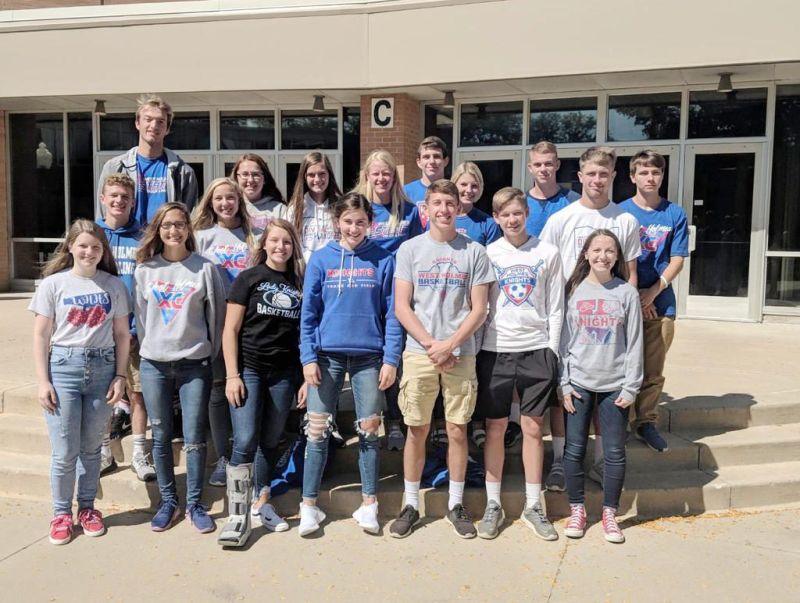 While one of the main goals of any educational entity is to help students grow and mature from an educational standpoint, there are many different facets of learning that go beyond the classroom.
Character traits like leadership, integrity and respect are all traits every teacher would love to see students develop.
For the Ohio Cardinal Conference, developing those traits in students from schools throughout the conference is a part of the sportsmanship from the many athletic venues and rivalries that have grown in the league that took root in the early 2000s.
One way to do that is through the Ohio Cardinal Conference Leadership Conference that took place at Ashland High School on Wednesday, Sept. 18 when representatives from all of the league schools met to discuss what they are doing to develop respect, honor and leadership among their classmates.
Included in the list of Knights who made the trek to Ashland High School were seniors, Grant Baker, Jordyn Burnison, Jacob Goudy, Tyler Masters, Kaylin Martin, Clara Powers, Zander Proper and Maddie Woods; juniors, Aniston Gallion, Maddie Mellott, Hannah Rohr, Katie Sprang, Brogan Steimel, Brady Taylor, Cade Wagers, Curtis Wagner and Jack Welsh; and sophomores, Hunter Ellis and Kaili Maltarich.
Those students make up the Knights of the Round Table, a group that is guided by WHHS teacher Mike Molnar. For many years KoRT has turned its focus toward creating character and leadership in West Holmes students.
Each sport at WHHS picks a representative to be a part of the group, and the students selected are among the cream of the crop in the school, not just athletically, but also in terms of leadership and character.
What the members of KoRT experienced at Ashland High School was exactly the kind of character development the OCC was hoping to promote among its student members.
The Knights' students who attended the conference were excited to connect with members from other schools to learn what the groups were doing to promote unity, spirit and character in their schools. It also was an opportunity for the West Holmes members of KoRT to put their heads together to gain perspective on where they wanted to go in the future.
"It was a really great experience," said junior Brogan Steimel, representing Lady Knights track and field. "We had some great speakers, and it was a nice chance to bring the schools and team representatives from around the league together and share ideas on how we can make a bigger impact in leading our schools in ways that extend beyond just sports."
Steimel gave the Knights' presentation in front of all of the other schools and said getting to put an agenda together under that format really benefited their KoRT effort for the year.
Senior Tyler Masters, representing Knights soccer and wrestling, said the conference was a perfect way for the WHHS members to bond and create one mind in their effort to promote character and respect within the schools.
"I think this conference helps the leaders and captains of their teams better understand that they have a big responsibility in showing them that it's more than just about sports," Masters said. "What we do and say has an effect off the field too, and we can work together to make our school a better place for everyone."
Masters said much like their respective sports, KoRT members need to work together to build relationships and a bond that will help them make each other better and in turn make their school better.
Senior softball representative Maddie Woods said the vibe at the conference helped generate plenty of excitement.
"Everyone there was just so positive that it made it that much more inspirational for all of us," Woods said. "All of these great leaders from all of the schools in the OCC gathered together and were sharing ideas, and it was really great. Everyone is driven by something, and when we can share our ideas, it is only going to make us all better."
Woods said when they discussed their goals at the conference, each of the team members had input as to what they felt were the best ways to promote character, leadership and unity among the schools.
Senior basketball and soccer player Grant Baker said being named a captain on a team is always nice, but the responsibility and leadership that accompany that appointment means a lot to all of those who attended the event.
Each of those in attendance at the conference was nominated by their head coach because of their ability, leadership and character. Those members make up KoRT, and they meet monthly to find ways they can promote their school and their sport.
For the 19 members of KoRT, there will be a follow-up league conference in February where each school can share how they have followed through on their plans and how they have been able to implement some of the ideas that were byproducts of the initial 2019 conference.
"I think we all have very similar goals," Baker said of the OCC school groups who attended the conference. "I think it is all about growing in confidence, leadership and finding ways to promote respect within our own sports."
The four agreed promoting their own sport within the school district to elementary-age students is another important aspect of what they can do. Each acknowledged younger kids are watching what they do and emulating the way they represent and play their respective sports.
"We can all make a positive impact if we choose to," Baker said.
Baker said he idolized Brady Arnold for the way he overcame so much and worked so hard.
Woods chose former Lady Knights track and basketball standout Laina Snyder as the player she grew up wanting to emulate.
Steimel said All-Ohio hurdler Cierra Rose was an inspiration to her when she was younger because Rose cared and taught Steimel to compete.
Masters said three-time state champion wrestler Colt Sponseller was his idol growing up because he won and for how he went out of his way to connect with younger kids.
All four of the current KoRT members chose to emulate former greats who made an impact and led with character. Now they have become the ones youngsters will one day want to be like. They understand they have a responsibility to display the right way to approach competing at a high level.
Each of the KoRT members will eventually make a trip around the district to promote their sport, and Masters said the idea of sharing their respective sports with young students could open the eyes of a youngster and help generate interest in more than just one sport or whatever it is they love to do.
"I like the idea of kids playing multiple sports and competing in more than one activity," Masters said. "I think us sharing with them gives them an opportunity to hear about something new that might be interesting to them."
While sports are competitive, the other side of an athletic organization in school is inclusion, something the KoRT members believe is just as important.
"Sometimes it is important for someone just to feel accepted and just be a part of something or some group," Woods said. "Not everyone is going to go on to the next level, but we want every student to feel like there is a place for them somewhere."