Opening children's eyes to the world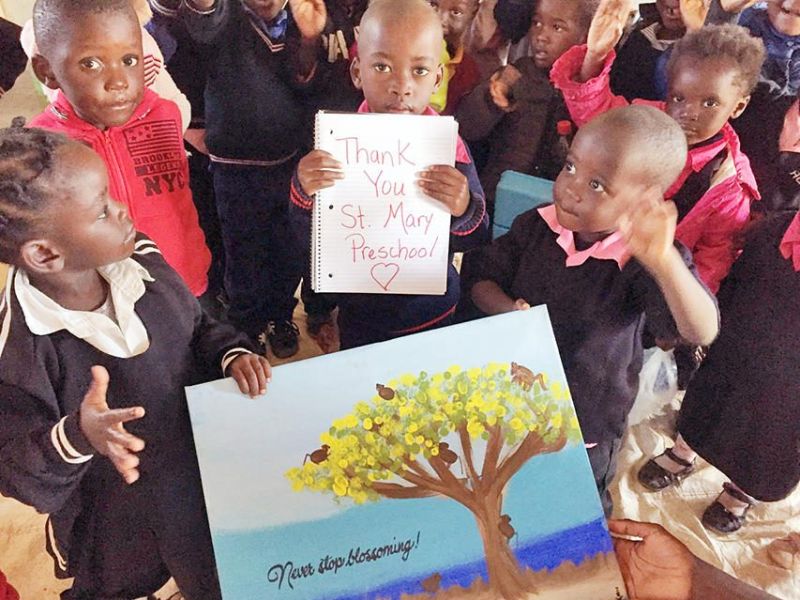 Preschool children at St. Mary School in Wooster heard of a small, poor African nation and asked how they could bring some beauty to those other children's lives. The answer grew to become a project involving creativity, collaboration and a journey of 8,000 miles.
Dorene Miller of Mission Possible A to Z (America to Zambia), a nonprofit organization providing essential assistance to the people of Zambia, speaks on occasion to the more than 20 preschool students in Michelle Hostetler's class at St. Mary School in Wooster.
"Michelle likes to give the children experiences that are out of the ordinary, that can help them understand a little bit about the world around them," Miller said.
As she has several times in the past, Miller found herself visiting St. Mary School earlier this year and talking to the young children in the class about the children she knew in Zambia, a country at the southern center of the African continent.
"I explain things to them at their level," Miller said. "I ask them, 'How many of you have your own bed to sleep in? How many of you have toys to play with? Do you have pretty things on the wall in your room?' And I explain that the children in Zambia may share a bed, if there is a bed at all, with other people, and they have no toys and nothing at all that is pretty for their walls. Of course the kids get wide-eyed and ask, 'How can that be?'"
Miller said the children had plenty to think and talk about after her visit. "And they began to ask Ms. Hostetler what they could do, what they could send to these children they'd learned about. They wanted to make some pictures the kids could put on their wall. They were concerned that they had nothing pretty," she said.
So Hostetler hit on the idea of letting her students paint simple pictures using their fingers and thumbs dipped in colorful paints.
"They started with a simple blue background," Miller said, "and they made 20 pictures. I provided the canvasses and the paints, and they did the rest. The pictures were 16-by-20 inches."
Miller and her husband packed the pictures into a planned shipment and stashed some in their own luggage. "So they got there in stages," she said.
She presented the paintings to the kids personally. The pictures were of flowers made of tiny petals the shape of small fingers and thumbs. They were of monkeys in trees or of crocodiles.
"The Zambian children were very surprised and so thrilled when they got them," Miller said. "They wanted to know how someone could do such a thing, and they were so pleased that children like themselves had created these gifts just for them. These are people who barely have money to educate their children in the basics. There is no education in art or music, so it was quite a big thing."
Miller found the entire experience very touching. "The kids put their heart and soul into doing something for other children they would never meet. They just wanted to do something special for them," she said.
Mission Possible ATZ has been providing assistance to the people of that region for 13 years. "We thought it would be a one-time thing," Miller said. "But here we are."
There may be few chances to do something this special again, as the cost of shipping much-needed medical supplies, books, computers and other things to Africa is becoming very expensive, and fundraising for the small organization is difficult.
"It is hard to open people's eyes to the plight of others who have nothing, nothing at all. We take so much of what we have for granted, and there are people who have nothing who need help," Miller said.
For now Miller and Hostetler are talking about possibly creating smaller pictures that will be simpler and cheaper to ship.
Miller gives Hostetler full credit. "None of this could have happened without Michelle Hostetler's creativity. She always goes beyond the ordinary for the students, and I have boundless admiration for her. She opens the children's eyes to the world," she said.