Top WCSCC seniors honored at breakfast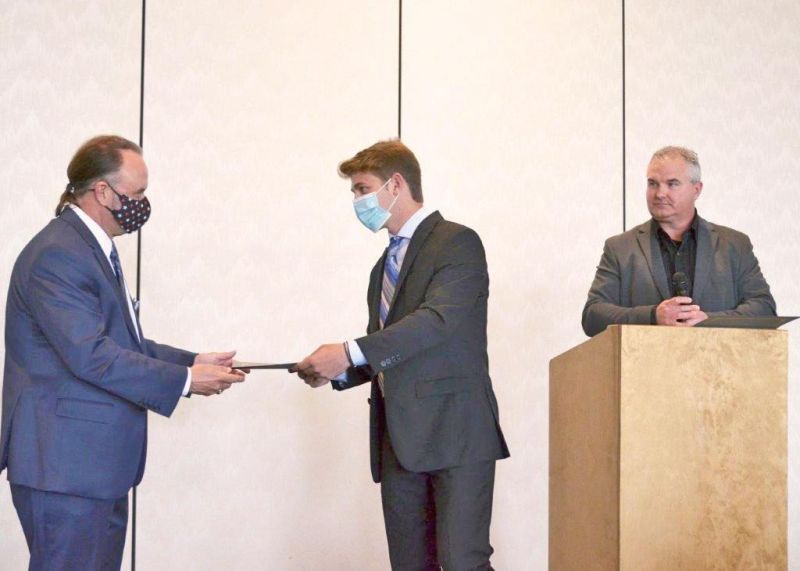 Top seniors on job placement from 21 of the career-technical programs at the Wayne County Schools Career Center were honored at the Wayne Economic Development Council Senior Recognition Day Breakfast at the Greystone Event Center.
WEDC President Tom Pukys welcomed the career center staff, students and the representatives from area businesses that employ those students. He then introduced guest speaker Kevin Weldi, president and director of the Americas of Tekfor.
Weldi spoke about the importance of wisdom. He shared his thoughts to help guide the students as they begin the next chapter of their lives. "Wisdom is the knowledge and ability to make right choices at the right time. In order to have wisdom, though, we must seek it," Weldi said.
Weldi stressed the importance of being a person of integrity, humility, generosity, good judgement and good character. "You are our future leaders, and these qualities will help you build a foundation for your success," he said. "Today is your beginning, and each decision you make will influence your future."
Students receiving certificates of recognition were as follows:
Ag mechanics/power technologies, Gavin Woodford of Chippewa; animal science, Isabella Brown of Norwayne; automotive technologies, Tonya Bowman of Dalton; business, Erica Boyer of Triway; construction technologies, Jubal Hartzler, home-schooled; Macey Carlson of Northwestern; criminal justice, Emma Gabbard of Tuslaw; dental assisting, Alexis Cicconetti of Triway;
Early childhood education and care, Brittany Gasser of Norwayne; electronics and computer networking, Brandon Mihelic of Norwayne; engineering technologies, Katelin McNeil of Wooster; exercise science and sports medicine, Shari Ritchey of Triway; hospitality, Joey McGhee of Wooster; interactive media, Carter Withrow of Triway; machining technologies, Cory Lengacher of Smithville; medical assisting, Kelsey Holiday of Wooster;
Patient care technologies, Amber Hershberger of Dalton; powerline technologies, Andrew Bertsch of Chippewa; practical nursing, Macey Dillon of Wooster; robotics and automation, Hunter Compan of Chippewa; and welding technologies, James White of Chippewa.