Tri-County Honor Choir will hit all the right notes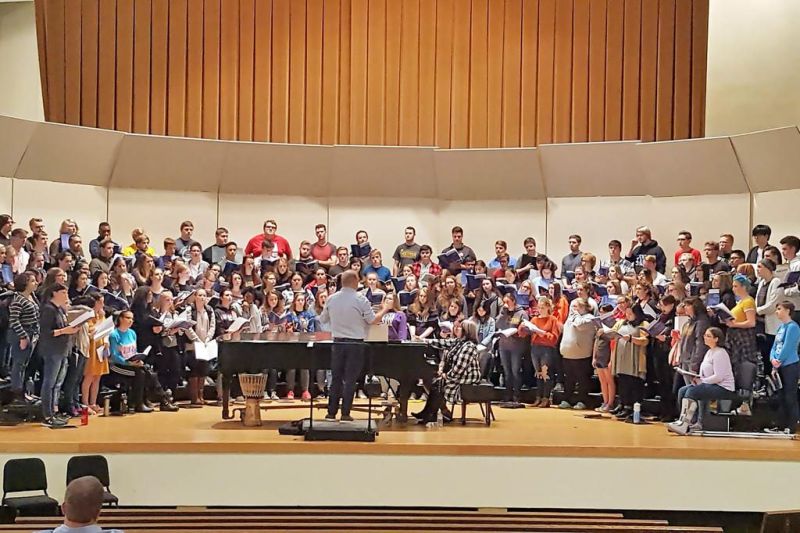 The annual Tri-County Honor Choir will hit all the right notes once again on Oct. 16 at the McGaw Chapel at the College of Wooster.
Sponsored by Tri-County Educational Service Center in partnership with the College of Wooster, Ashland, Holmes and Wayne county students will join together for the third time with 15 schools participating in the concert event.
"A few years ago, local choir directors wanted a higher level learning opportunity that would challenge their top students to a difficulty level they would not typically have in their individual school choir setting," said Michelle Muro, fine arts consultant for the Tri-County
Educational Service Center. "We came together to map out a plan and set the event in motion."
With funds from a Teach Arts Ohio grant from the Ohio Arts Council and student participating fees, the first concert was held.
Two years in, 90 students have been selected to participate in this year's choir. And the students get plenty of preparation. "An evening sectional rehearsal is held a week before the concert," Muro said. "During this rehearsal sopranos and altos rehearse with Dr. Lisa Wong from the College of Wooster while tenors and basses rehearse separately to review their musical parts. The last 30 minutes is a combined rehearsal, which allows everyone to hear the entire work performed with all parts. A college-level guest conductor works with the
honor choir students all day on the Tuesday before the concert to prepare the best choral sound possible."
This year that will be Dr. Anthony Leach, professor emeritus of Penn State University. "Dr. Leach brings a wealth of choral knowledge, skill and talent to our area," Muro said. "He's sure to provide a unique and wonderful learning opportunity to area students that they would not be able to experience in their local school programs."
Muro said Leach selected a variety of gospel-style compositions for this year's concert such as "Dwell in the House" and "Arise, Look Up and Go On." She also said this year the men will be featured in a tenor and bass composition by Donte Ford, a young composer, while the
women will be featured in "Dreamcatcher" by Ford.
In the closing section, "Dona Nobis Pacem" by Jon Washburn will be performed by a double-choir with lots of parts. The College of Wooster Chorus and the High School Honor Choir will join together for a combined finale.
Muro said, "It's important to note that the College of Wooster partners with Tri-County Educational Service Center to provide high-quality musical learning opportunities for our local students."
The evening of the concert will begin with a brief warm-up and rehearsal for the students before the concert starts at 7 p.m., which is free and open to the public.
Muro said Wong, who is the College of Wooster choral director, is a strong supporter of the event, helping to promote choral music education in the local schools. Wong handles the on-site facility arrangements, rehearsal rooms, equipment and accompanists and provides lunch for all of the participating high school students and choral directors.
The participating schools are Chippewa, Dalton, Hiland, Hillsdale, Loudonville, Mapleton, Northwestern, Norwayne, Orrville, Rittman, Smithville, Triway, Waynedale, West Holmes and Wooster.
Muro said it is important to support the arts in students' education. "The arts are an important part of our school curriculum. Research proves that involvement in school music programs increases student success in other academic subjects and promotes essential skills for life such as creative problem-solving skills, teamwork, cooperation and self discipline. The purpose of education is to develop well-rounded citizens with the skills to lead healthy, productive and fulfilling lives. Therefore every student at every level should have
access to a sequential, high-quality program of music instruction in our schools taught by licensed music educators."
McGaw Chapel is located at 340 E. University St. in Wooster.