Tuscarawas Valley opens new Middle-High School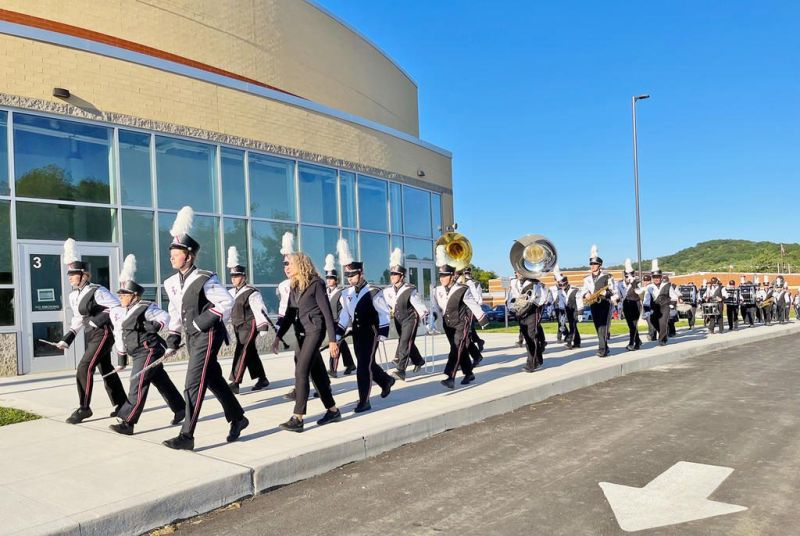 Very few of the 1,000 chairs set for the Aug. 31 ribbon cutting and grand opening ceremony of the new Tusky Valley Middle-High School were empty. Community leaders and political dignitaries joined with school officials, students and members of the community to celebrate completion of the long-awaited, high-tech facility and usher in a new era of education.
The evening included the Tusky Valley marching band and choir, along with assorted speeches from school administrators, government officials, and board of education members.
Sally Green of the Tusky Valley Board of Education welcomed everyone and introduced the numerous special guests and dignitaries in attendance, thanking them for creating "a place where our children and our community will dream, believe, achieve and succeed."
"This building is not just a building," said Mark Murphy, director of operations for the school district. "It is a masterpiece. It is beautifully and thoughtfully designed. Thank you Lesko Associates. It is meticulously constructed. Thank you, Hammond Construction. And, it is responsibly paid for without one dime coming from our community in the form of a bond issue or tax levy. Now that's something to celebrate."
Murphy, the former Tusky Valley superintendent, said the dream for the school really began around 2007, spearheaded the project for Tusky Valley, but was quick to credit Mark Phillips, the school district's treasurer, for having the foresight to grab Rover Pipeline funds when he saw the opportunity.
Cheryl Lyman, executive director of the Ohio Facilities Construction Commission, also addressed the crowd. "It takes a dedicated team to take a school construction project from an idea of what this community wanted to deliver to where we stand today," she said. Lyman specifically congratulated the district and all involved for persevering and being able to complete the project on time amidst a pandemic and various market challenges.
"This is the exception, this is not the rule," said U.S. Representative Bill Johnson, Ohio 6th District. "Not every parent across our region gets to get some put their kids in a school like this. And young people, know what you've got and understand how privileged and blessed you are to be able to have a facility like this"
Johnson also issued a challenge to the students who will attend the new school. "The things you will learn here are going to prepare you to take the reins of leadership, because you're going to get them, whether you want them or not," he said. "You have get up every single day and ask yourself, 'what is my chapter of this great nation's history going to say when it's my turn to write it?'"
Ohio Senator Al Landis, 31st District, echoed some of Lyman's thoughts, saying, "We were in a pandemic. We had a labor shortage. We had supply chain issues, and yet the school district had the fortitude and the foresight to keep moving forward. And here we are on Aug. 31, 2023. cutting the ribbon on this phenomenal facility."
Landis then presented a senate proclamation on behalf of all members of the 135 Ohio General Assembly to Board of Education President Dick Gooding.
Dr. Derek Varansky, superintendent, also shared a number of thank-yous, particularly to the late Ray Reed, his wife Marie Reed and their family for their initial donation of land on which the previous high school was built and for agreeing to sell land for the middle school and now, the new Middle-High School.
"From the early days of dreaming what could be, meeting with community members, staff and students in the visionary planning process, seeing initial blueprints, and then watching walls go up, the united effort of many shaped our dreams into reality," said Varansky.
In closing, Amy Burrier, vice president of the BOE, remarked on the challenges overcome to build the new facility, "The Trojan community has proven once again we will not back down and we will not give in."
After a ribbon cutting headed by Scott Robinson, executive director of the Tuscarawas County Chamber of Commerce, the crowd was invited to tour the new school at their leisure. Those who did were treated to a glimpse of the future of education as they strolled halls lined with:
-Sound enhanced equipped with large interactive screens
-Abundant natural light
-Flexibly learning spaces
-The latest in climate control
-A competition gymnasium built to accommodate 2,600 spectators
-Carpeted "gathering stairs" designed for quiet study or meetings
-An elevator and complete ADA compliance for handicap accessibility
-A new state-of-the-art auditorium designed to hold more than 500 people, scheduled to be completed by the end of this year.
Construction is now taking place to turn the existing middle school into a Pre-K through six facility. Until it is complete, the existing high school will house grades two through six with the Mineral City school accommodating kindergarten and first grade students.
"We have taken an important step in securing the future of the school," said Burrier. "Lest we forget, though, the foundation for today's celebration was put in place years ago by former board members and school leaders. It is their hard work, dedication and forward thinking that set us on this path and will inspire those who have yet to wear the Trojan red and black."