Wallick's new responsibility is 'a commitment worth making'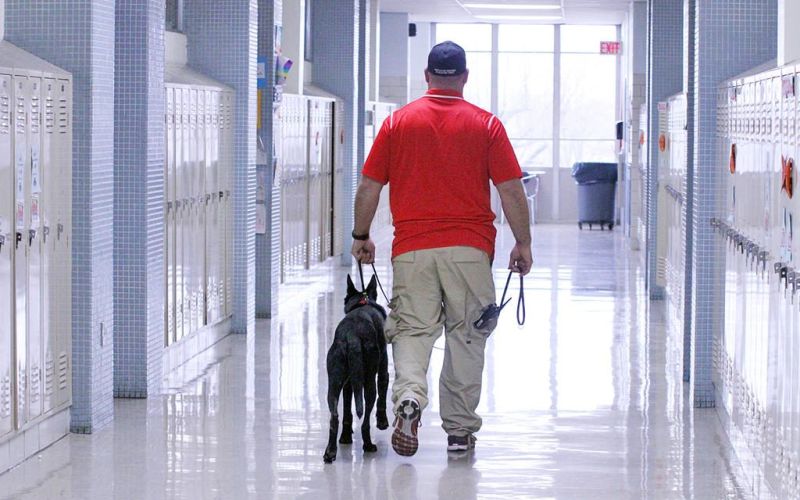 Ask many pet owners and they will tell you their pet is like a family member.
For Jason Wallick, his newest family member will serve a greater purpose that goes beyond the walls of his home and property.
Wallick, the safety and security official in the Garaway School District, recently volunteered to take on the role of handler for Sailor, a 2-year-old Belgian Malinois that has been trained by Skool Dogs to react and protect should a school-shooting scenario take place. Sailor also is trained to patrol hallways and identify ammunition and weaponry that might be tucked away in school lockers or backpacks.
In volunteering to take on the task of partnering with Sailor when asked by Garaway Superintendent Dr. James Millet, Wallick has taken on a lot of responsibility, yet it was a sacrifice he was willing to do for the sake of the school district.
"When Dr. Millet asked me, the first I had to do was get the OK from my family because this is a big commitment from them too," Wallick said. "What really drove me to want to do this is my love and passion for the kids. Their safety is everything, and when we can add a level of safety to their school experience, that made it well worth it."
Wallick received extensive training in working with Sailor, and Skool Dogs partner and trainer Joe Nicholas said he personally trains each dog because he will not have the system fail.
Wallick went to New Jersey for two weeks to work with Skool Dogs personnel and with Sailor. Nicholas and his team then travel to whatever school district they are working with and work with the handler and the school district for another two weeks.
In that time period Wallick had a chance to bond with Sailor, and the two got more comfortable around one another. Eventually Wallick said he and Sailor will develop a strong bond of trust and faith in one another, something that has already begun to take place.
"As long as Sailor is around, it is going to be a lifelong learning experience and time of growing together and getting to know each other better and better," Wallick said of the relationship between dog and handler.
Wallick said Sailor has already grown more accustomed to his home and his family, and that familiarity will only continue to grow and increase as time passes and the home life becomes more routine for Sailor.
The Wallicks have had a dog as part of their family for years but lost their Airedale Terrier when it passed away two years ago. Now Sailor is the newest addition to the family.
While Wallick said Sailor might be seen as a pet, he realizes his new companion that will be by his side at school all day is a working dog, not trained to be a friend but trained to serve a purpose, that being one of providing safety for all students.
In serving the Garaway schools, Wallick and Sailor will provide a level of safety that is very new to the nation, Garaway being just the fourth school district with a Skool Dog in place.
Trained to attack an active shooter, Sailor is a quick-time response to school-shooting scenes that have become more common. Wallick realizes he would be put in the midst of a dangerous situation, but he said the safety of the kids comes first, and Sailor will be a true asset in making that happen.
"I don't think a lot of people recognize the huge responsibility Jason has taken on with this new role," Millet said. "But Jason understands what is at risk, and he, like the rest of our school district, will do whatever we believe is the best way to protect our children."
As Wallick and his family continue to get to know their newest family member, Sailor also will become a valuable addition to the students as he provides a level of security and companionship that humans cannot provide.