West Holmes athletes read to Millersburg students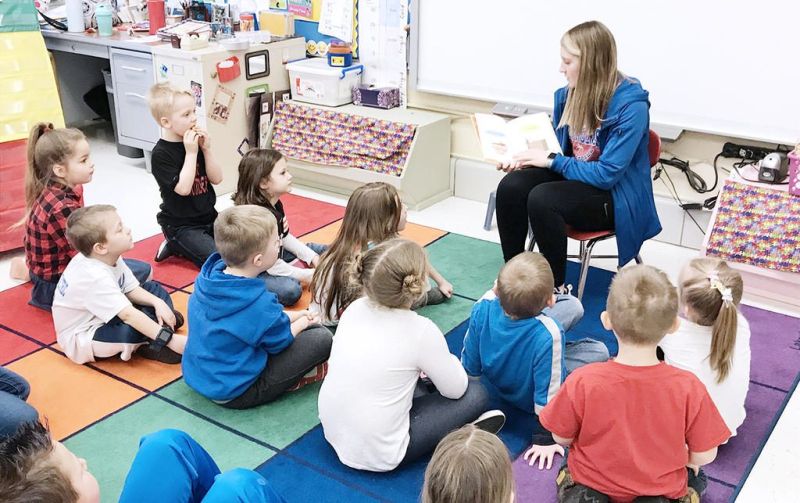 Several West Holmes High School student-athletes were given an opportunity to go back in time and return to their elementary roots recently.
Six West Holmes High School varsity athletes were hand-picked to visit Millersburg Elementary on Wednesday, March 4 to read to all of the school's classes as part of Right to Read Week.
Varsity athletes from each of the winter varsity sports were tabbed to read. The girls basketball team members were Hannah Rohr and Kinsey Patterson, the wrestling team was represented by Tyler Masters and Cael Woods, and the boys basketball team members included Grant Baker and Jacob Hammond.
The six high school students spent much of the day sharing with the k-5 classes.
Patterson had the privilege to read in the room of kindergarten teacher Kelly Weiss, who actually taught Patterson when she was in kindergarten at Millersburg.
"Just getting to come back and read in the class of a teacher I had in grade school was fun," Patterson said. "I thought the whole experience was really cool, and seeing the smiles on the kids' faces was a thrill. I felt that it was an honor just to get picked for this."
Masters is an only child, so he has never had the opportunity to read to a younger sibling. This experience was a good one for him because he plans on going into education at Ashland University next year, so this served as a valuable tool in that way for him.
"It was like being in elementary school all over again," Masters said. "Really it was a unique experience, but it was really fun. I think this is really a good way for us to give back to the community and for the kids to meet some of the varsity athletes they watch."
Baker said having the district provide an avenue for high school student-athletes to bond with the elementary-age students is something that should take place on a regular basis.
"It's important for us to bond with the youth and share what we do with them," Baker said. "It's especially nice because we are using reading as the way to connect with them, and it is very important to share the message that they need to read as much as possible. That we get a chance to share about our sports with them is an easy way to make connections too."
Baker said he recognized some of the children as fans he has seen at games, and knowing there is a connection there made for an easy way for all of them to get comfortable with one another.
Baker will explore a degree in civil engineering next year at Ohio Northern University, and while reading to children certainly doesn't factor into that degree, he said just getting a chance to share with the kids was a good experience for not just the young students, but also for all six of the high school student-athletes.
"It's an honor to be picked to do this, and I think it is a learning experience for us as much as it is for the kids," Baker said.
Not only were the athletes available to read during the day, a surprise visit came from West Holmes FFA member Macin Hager, who was there to represent the West Holmes FFA. Not only did he come to connect with the kids, but also he brought along a baby goat that ended up being all the rage as he went from class to class.
"The purpose of coming is to talk to the students about agriculture and our FFA program, and I think the goat helps to present the fun side of FFA," Hager said. "It serves as a good way to connect with kids, to introduce them to the agricultural world, and we talked a lot about types of projects and animals they can take to the Holmes County Fair. I think the kids had more fun with the goat than they had with me."