First 9 weeks honor roll at West Holmes schools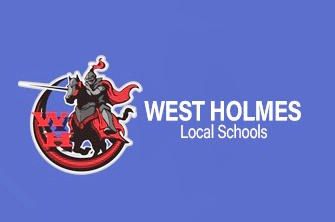 West Holmes announced its first nine weeks honor roll.
All Asseniors
Eden Alexander, Brandon Barkman, Katie Hershberger, Adam Hopkins, Bailey Jeffries, Andrew Jones, Lauren Jones, Jessie Keen, Logan Kula, Erik Marmet, Rosanna Miller, Carolyn Rohr, Hannah Rohr, Katrina Rolince, Malaya Sherman, Joshua Shrock, Yasmine Spangler, Brogan Steimel, Luke Vaccariello, Kenna Warner, Alexis Weiss, Haeden Wolfe and Addison Yates.
All As juniors
James Barr, Rader Eastep, Hunter Ellis, Melanie Fair, Ethan Feikert, Hannah Hopkins, Blake Morrison, Kinsey Patterson, Ashley Tate, Megan Westbrook, Mia Wiggs, Avery Yoder and Brock Zimmerly.
All As sophomores
Daphne Alexander, Emily Beach, Emily Beachy, Kennedy Burnison, Felicity Cline, Bree Close, Tim Donley, Zeke Galbraith, Griffin Galehouse, Jasmine Giauque, Mia Halverson, Sarah Irwin, Owen Jeffries, Kevin Lattimer, Brayden Miller, Carolyn Miller, Mathan Miller, Brenna Myers, Blake Norman, Aiden Piatt, Jaret Snyder, Laci Snyder, Addison Streer, Timothy Wade and Blake Wagers.
All As freshmen
Max Baker, Nadia Chaney, Erikah Cline, Maren Drzazga, Nathan Fair, Nealie Fair, Rachel Graebner, Ashlee Kick, Jack Marmet, Jacob Miller, Ryan Mirich, Brianna Parks, Chloe Patten, Audrey Rising, Natalie Rohr, Sydney Rolince, Samuel Sprang, Mia Surber-Emick, Alyssa Swinehart, Calihan Tennant, Grady Toye, Cuylee Troyer, Keegan Uhl, August Warner, Hannah Wolfe, Kali Woods, Kenzie Woods, Addison Yoder, Chaise Yoder and Alexander Zaugg.
Honor rollseniors
Thomas Johnson, Sydnee Payne, Gavin Haston, Sayler Miller, Jayme Pennell, Cameron Ault, Cadence Hinds, Maggie Taylor, Cade Wagers, Kaarle Spangler, Alicia Alexander, Natasha Averbukh, Emmett Myers, Jackson Oliver, Brock Barbey, Ryan Bridenthal, Tyler Gallion, Ashly Phillips, Reed Fendrick, Brenna Barnes, Hannah Clark, Madison Mellott, Brady Taylor, Anistin Gallion, Samantha Kendall, Curtis Wagner, Brevin Bucher, Allison Mullen, Adriana Rodriguez, Tristen Swigert, Ashlee Phillips, Kylie Graber, Timothy Kandel, Gavin Greer, Johnathon Miller, Joy Latouf and Claudia Hostettler.
Honor roll juniors
Claire Reynolds, Bronson Birchfield, Frances Schlabach, Zachary Snow, Matthew Weaver, Ty Dilly, Katie Stitzlein, Paxton Lemon, Connor Miller, Broden Roth, Rudy Hershberger, Sareal Zickefoose, Fiona Erb, Elizabeth Brantley, Cora Crilow, Chloe Shumaker, Destiny Shackelford, Kailyn Snyder, Leah Reining, Elyssa Sutton, Samantha Butcher, Hunter Eberhard, Micaiah Lowe, James Parks, Gage Marmet, Brady Smith, Logan Barlow and Victoria Perry.
Honor roll sophomores
Sydney Krownapple, Dylan Robinson, Gavin Schlagenhauser, Robert Fendrick, Summer Felton, Kendall Miller, Mason Taylor, Chloe Jones, Randy Parsons, Grace Miller, Arizona Patterson, Brynlee Reed, Jared Miller, Daniel Blankenship, Griffin Boal, Rita Byler, Sabastian Marks, Coleson Miller, Beau Norman, Gracie Barkman, Rosella McMillen, Dakotah Ringwalt, Kasey Weber, Ally Baker, Cierra Miller, Caleb Larimore, Casey Norman, Isabela Rodriguez, Laney Duff, Madalyn Duff, Gennavieve Miller, Olivia Snyder, Jessilyn Miller, Olivia Sampsel, Kalie Barnes, Julia Sprang and Rebecca Schuch.
Honor roll freshmen
Jesse Hickman, Alayna Dudte, Donovan Savage, Alexis McCune, Laina Croskey, Skylar Neels, Avery Arnold, Keira Freewalt, Alexandra McMillen, Zaylie Shultz, Wyatt Schlauch, Malachi Bright, Keegan Camacho, Collier Cline, Kenzie Gallion, Brannon Nickles, Sienna Snow, John Maloney, Logan Vansickle, Mya Arnette, Trey Baker, Graham Martin, Abigail Price and Araceli Kandel.
Merit rollseniors
Mackenzey Stewart, Brant Burgett, Braden Myers, Rhyley Collins, Cannan Wetz, Mackenna Surber-Emick, Zoe Clark, Lane Graham, Kaden McCune, Matthew Lacey, Sarah McCulloch, Alex Sprang, Devin Brenly, Letticia Larson, Taylor Patterson, Luke Vess, Koen Baker, Payton Miller, Rhiannon Deutschle, Kadence Howell, Ian Jones, Carson Yoder, Callie Proper, Zachary Stair, Avery Frank, Peyton McKinney and Megan Jones.
Merit roll juniors
Noah Clark, Walker Graham, Mateo Poventud, Nathaniel Coen, Dillon Miller, Grace Jackson, Cadence Frankart, Tucker Kaufman, Evan Estill, Quinn Findley, Elayna Gallion, Makayla Shackelford, Brandon Stutzman, Jason Brooks, Danielle Miller, Matthew Young, Madison Eaches, Madison Baker, Allyson Ogi, Michael Uldrich, Willow Stroh, Trinity Conner, Kenna Howell, Giovanni Dinardi, Meghan Stewart and Meghan Casey.
Merit roll sophomores
Korben Felton, Nicholas Ginsburg, Dakota Patterson, Brendan Smith, Bret Shearer, Collin Gardner, Viany Rodriguez Vasquez, Ashley Miller, Jenna Whitman, Dakota Sutterlin, Pacee Miller, Aubrey Bright, Brayden Franks, Kenton Baker, Charlotte Yoder, Trinity Curtiss, Marcus Miller, Luke Lay, Zevin Proper, Cylie Couch, Bryce Wengerd, Cadence Hershberger, Zachary Mowery, Haileigh Paddock, Camden Doty, Kelli Neville, Brianna VanSickle, Bryce Franks, Anessa Poventud, Destany Conway, Allyson Yoder, Ansen Hall, Jason Hales, Kellen Keener, Garrett Houin, Mya Miller, Olivia Gerber and Alysa Pringle.
Merit roll freshmen
Angelina Landaw, Christopher Roberts, Gabriel Averbukh, Sophie Oliver, James Lesiak, Wyatt Myers, Isabella Starner, Mackenzie Miller, Gracie Phillips, Sarah Moorhead, Jocelyn Lucas, Daniel Baird, Hunter Dials, Gage Brown, Shania Miller, Emily Sheely, Victoria Savage, Cooper Clark, Jordan Holderbaum, Johnathon Plant, Kayden Worley, Taelor Patterson, Koyer Miller, Zoee Snow, Peyton Carathers, Courtney Powers, Easton Edwards, Grant Miller, Joseph Luzader, Tristin Middaugh and Josephyna Tish.