West Holmes FFA members attend national convention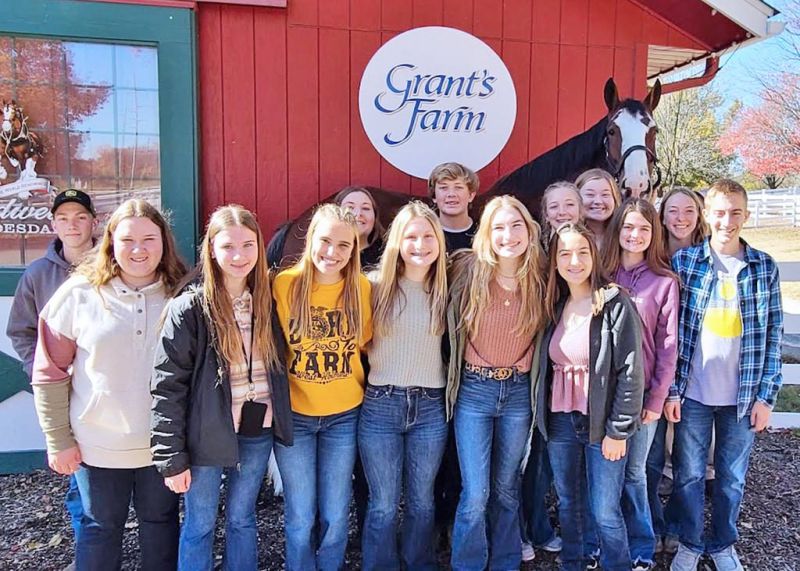 The West Holmes FFA chapter traveled to the National Convention in Indianapolis Oct. 26-30, as 14 FFA members attended the convention: Maison Carter, Dakotah Ringwalt, Madison Ringwalt, Alexa Tate, Alex Pringle, Alysa Pringle, Maren Drzazga, Claire Drzazga, Gabby Yates, Jenna Sheldon, Maria Stiener, Pacee Miller, Andi Schuch and Garrett Fowler. The group went to Indiana after spending time in St. Louis.
On Tuesday, the chapter departed from the West Holmes High and arrived at Licking Valley High School around noon to eat lunch and begin their journey. The chapter arrived in St. Louis around 7 p.m. and enjoyed dinner at Culver's.
On Wednesday the chapter began their day with a tour of Busch Stadium, the home of the St. Louis Cardinals, and ate lunch at the stadium. The chapter then toured Grant's Farm, a renowned training facility where they train clydesdales from weaning to three years of age. After that, the chapter arrived at the St. Louis Arch where they watched a movie about the Arch and got to travel to the top of it via tram. The chapter then walked to a dinner cruise on the Tom Sawyer and got to eat dinner on the Mississippi River.
On Thursday the chapter toured ADM, which is one of the largest grain distribution and processing facilities, located on 640 acres in Decatur, Illinois. Then the chapter toured the University of Illinois and its meat science department, followed by departure for Indianapolis.
On Friday, the chapter attended session four at National Convention inside the Lucas Oil Stadium and listened to Coty Back and Mallory White give motivational speeches. After the session, the chapter toured the convention career show and shopping mall. Later in the afternoon, the chapter attended the fifth session where National FFA Western Region Vice President Josiah Cruikshank gave his retiring address. After spending the day at the convention, the chapter ate dinner and attended a rodeo.
On Saturday, the chapter attended the American Degree session where WH FFA alumni Jayme Pennell, Clay Shepler, Rebecca Sprang, and Addison Yates were awarded with their American Degrees. The American Degree is the most prestigious award given to anyone in FFA, it is a very challenging degree to achieve, but its rewards are worth it.
In order to get this degree, applicants must have obtained the Greenhand Degree, Chapter Degree, and State Degree; they also must have been involved in FFA for at least three years; must have graduated at least one year prior to the National Convention; invested a total of $7,500; have good leadership skill; been involved in a large number of community service activities; and maintained a "C" or higher grade average. They represent 1% of the FFA membership. Congratulations to all members who received their American Degrees. After the session, the chapter went on their safe journey home.