West Holmes students lend many hands to Garden of Hope project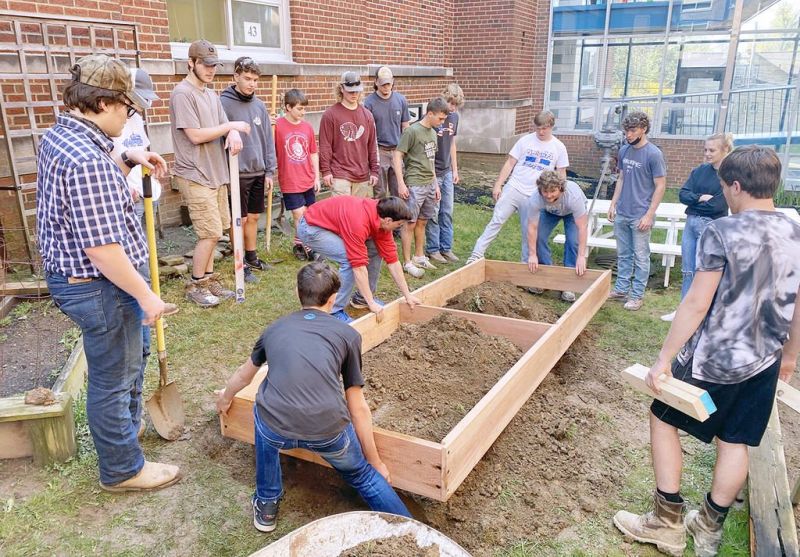 Millersburg Elementary welcomed back some old friends on Friday, April 9 when a group of West Holmes High School seniors and West Holmes Middle School eighth-graders brought their talents from Dave McMillen's building trades classes to install a storage shed and rebuild a garden bed in the Garden of Hope at the elementary school.
Millersburg teacher Lynda Park has been instrumental in the ongoing growth of the Garden of Hope, and in reconnecting with McMillen's students, she brought the garden full circle because it was McMillen's kids who built the original garden beds a number of years ago.
Park said seeing so many different groups of people playing a role in the garden's growth has been exciting. She and her speech students have had the joy of gardening and watching the vegetables and flowers grow. They have given to the Love Center Food Pantry and have seen many groups come in to lend them a hand. This marked yet another community effort.
"This was supposed to be in during the spring, but we have been on hold due to COVID-19, so we have seen it pushed back, but it is a joy to see it become a reality," Park said. "With Mr. McMillen's class creating these beds years ago, it has kind of come full circle."
McMillen's eighth-grade class from one year ago actually built the utility shed that was installed. The shed was erected inside the middle school facility and had to be torn down in order to transport it to Millersburg Elementary. The seniors had little problem rebuilding the shed once it arrived.
The biggest part of the day was spent making sure the grounds were level, and there was plenty of dirt being dug up and moved in order to perfect the landscape foundation on which the garden bed and shed now reside.
McMillen said providing opportunities for his student to do meaningful physical activities is always a fun part of the class.
"How cool is it to see all of these kids outside getting their hands dirty and doing work that has purpose to it," McMillen said. "These types of activities are great learning tools. These hands-on activities are the ones that tend to really stick with the kids and make an impact, and we are excited to be able to help make the garden nicer because we know it is important to a lot of people."
In bringing both seniors and eighth-graders to the project, McMillen gave his younger middle school kids a chance to learn and watch the seniors work. At the same time, it afforded an opportunity for the seniors to serve as mentors to the youngsters.
"This type of thing can really teach kids how to step outside of their comfort zone and do some things they aren't used to doing," West Holmes senior Brant Burgett said. "This is the kind of thing that can really help later in life because it is real experience. It's also going to teach us how to work with other people, which is an incredibly valuable asset. You're not always going to like all of the people you work with, but it is a great lesson in pushing through to get the job done by working together."
Burgett said this type of event also provides a chance to develop leadership and mentoring skills for the seniors, who can give guidance in helping the eighth-graders. He said all of these seniors were at one time in the eighth-graders' shoes, and they appreciated any help they got at that age.
While the WHHS and WHMS students toiled to place the new shed and garden bed, students inside the school watched through the huge window overseeing the ramp.
"We are so grateful to the kids who helped build this and make it happen today," Park said. "Mr. McMillen's class was really what started this all, and they were excited to build the shed for us, and they were even there for us in the very beginning. With the grant we had, we were able to designate who did the building and the labor, so we knew immediately we would turn to Mr. McMillen and his class. It continues to be such a community-driven garden, and we are so happy that it has given my kids and brought more people so much joy."
While it may be dubbed the Garden of Hope, it also has proven to be a Garden of Community.