West Holmes students return to full 5-day week at school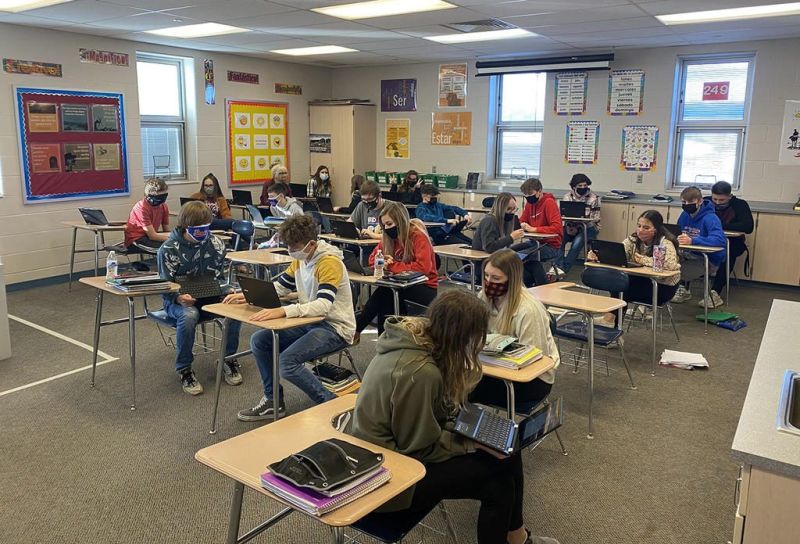 On Tuesday, Jan. 19, schools throughout West Holmes School District did something they haven't done for weeks. When the district decided it was time to return to five days at school rather than the blended format that saw students coming to school on either Monday through Wednesday or Tuesday through Thursday, it meant seeing all of the students back in the classroom at full capacity.
The district hopes it alleviates some of the stress families and teachers were under in the blended method, and it was evident leaders in the district were appreciative of everything staff and parents did to get through a tough situation.
The first day back to school was a moment that was met with joy by students, who were eager to reconnect with friends they hadn't seen at school for weeks, and it also meant a time for teachers to refocus on what they all signed up for when they became teachers, and that was teaching their kids face to face.
Area principals and staffs did their best to reinstitute the five-day approach, and the initial day back had its challenges as well as plenty of rejoicing.
"In some ways it was like the first day of school all over again," said Carrie Maltarich, principal at Killbuck Elementary. "It felt good to see everyone back and together as one. The kids definitely need routine and consistency, and having that face-to-face contact with teachers allows them to develop a better relationship and helps the kids feel better about what is taking place with their schoolwork."
Maltarich said issues like teachers trying to teach both online and at school and track student homework and parents pulling double shifts and working while trying to be at home with their children to help guide them through their homework created plenty of strife.
"All anyone could do was try to be flexible and patient," Maltarich said. "I think this way will create much less stress on parents, students and teachers."
Maltarich said her Killbuck students were eager and excited to be back together, and she suggested to her staff they build in a time of socialization early in the first day back to allow kids to enjoy being together as a whole. She said the district as a whole appreciates all of the parents' help in getting through what has been a difficult stretch.
"Everyone chipped in in what was truly a community effort in all of our schools," Maltarich said.
Nashville principal Brian Zimmerly said his students all seemed eager to get back to the normal five-day approach, noting the first day back was encouraging.
"It was almost like nobody missed a beat," Zimmerly said. "It has been difficult for teachers to juggle teaching two different groups of kids every other day and then doing online work too. We also know it took a lot of extra effort on the parts of parents, and we appreciate everything they did in helping to get through this. A lot of people went above and beyond to get us to this point. Our teachers and parents were definitely champions, and I still feel that students were learning, not in the same way they did if they were here every day."
At the high school, principal Tyler Renner said everything seemed to move smoothly and everyone seemed to settle in quickly as both students and staff were reintroduced to a way of schooling that was probably taken for granted prior to COVID-19.
The commitment to going back to a full-time week was discussed at length by the school board, but in the end the board felt it was important to put students back into a proper learning environment where they could ask questions and regain some focus and direction that comes with attending school on a daily basis rather than working from home.
West Holmes Schools superintendent John Thomas said he believes most teachers believe the district could do a really good job with students over the internet. However, he said what district staff members have found is the most effective instructional format for the children is face to face five days a week.
"When kids are home and nobody is there to supervise, their attention to what they need to focus on, their ability to ask questions, all goes away," Thomas said. "There is a way kids learn how to learn, and that way is at school with other children, ever since they have been 5 years old. We as a nation have found that we didn't appreciate the job teachers were doing more than we have now. We have great learning software and have made an investment financially and in terms of time, but nothing can take the place of being here at school learning from professionals who have worked hard to do that job well. It is by far the most effective method of teaching."