WH schools providing free meals to students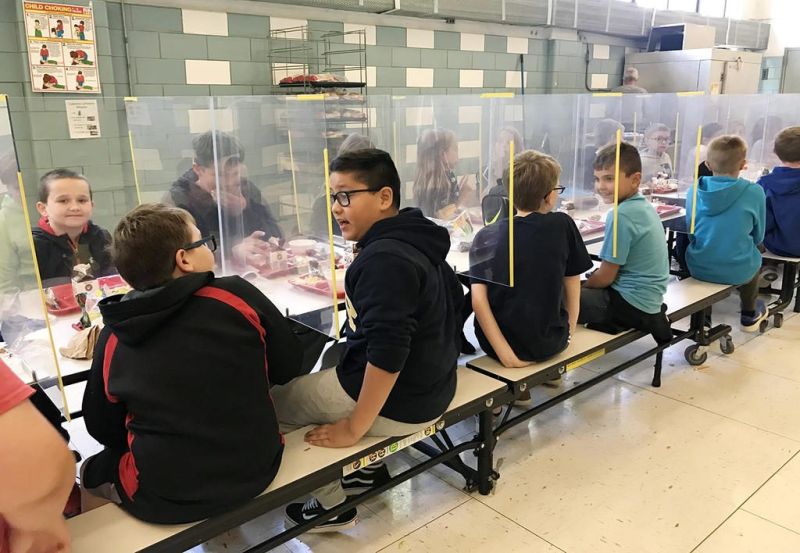 While getting their education, West Holmes Schools students are going to be very well fed.
Starting Monday, Sept. 21, the West Holmes School District was able to provide free meals for all children enrolled in West Holmes Local Schools.
The United States Department of Agriculture recently announced it would extend waivers to school districts operating under the National School Lunch and School Breakfast programs, allowing all school-age children serviced by West Holmes Local Schools to receive school breakfast and school lunch free of charge through Dec. 31.
While the program could end sooner than that date, depending on when federal funds are depleted for this program, it was good news for West Holmes students.
The program is similar to what the district experienced when schools shut down last spring and every student became eligible to receive free meals. With current funds available, the state has decided to administer those same principles to students in districts that qualify.
"We got notification from (Ohio Department of Education) that they were going to extend our waiver and we could go ahead with serving the free meals as soon as we could process everything," said Dawn Martin, West Holmes Schools director of food services. "We held out on getting started because we had to have our kitchens prepared, but this is a really good opportunity for our district."
The program includes both breakfast and lunch, but there are several stipulations for the free breakfast and lunch program. Milk is not free for students packing their lunches and will cost 40 cents. In addition, students must have money on their account to purchase any a la carte, seconds or extras.
In addition, students at the buildings must take a complete meal in order to receive the meal free of charge.
Martin said currently this year the school provided what is called an "offer versus serve" option that allowed the students to take three of the five meal items offered. Under this program, students must take all five food items, based on a healthy and balanced diet format.
"In order for us to qualify, we have to offer all five items, and they have to take all five items," Martin said. "I think the idea is to provide an all-around balanced meal, which is part of the summer seamless option, which is what we went to last year after school was officially postponed."
Martin said the process and methods of providing this service may change at any given time, so the district will happily take advantage of this opportunity as long as possible.
In addition to students at school, West Holmes online students will start receiving free meals on Monday, Sept. 28.
Each school in the district will provide prepackaged meals, with a five-day supply for both breakfast and lunch in each package, to students who are opting to do the online schooling format.
Students doing that will have to preorder their meals and stop by at their respective school to pick up their packages at predetermined times, one time per week.
Martin said she will work closely with the district's IT department to create the best possible solutions to work through this process, although the district will follow programs already in place at Loudonville and Mansfield Madison schools.
"They sent out a one-call on Google Doc that only goes to families who have students doing online studies," Martin said. "So only West Holmes students doing online programs will receive the notification and preorder form that we send out. They have to fill that out and send it back in. The return information will be on the document."
That will allow Martin to track the students who are receiving and picking up meals.
Martin said this entire program will not change much in terms of how the district serves meals, nor will it add much burden to the district.
It will include a different tracking system, one that allows Martin to track student numbers and submit those claim reimbursement numbers to the state so it can provide a financial reimbursement in return.
"We will still be reimbursed through the federal program, but it will essentially be every student now, much like it was at the end of last year," Martin said.
For students who were not formerly involved with the free and reduced lunch program earlier this year, nothing will change in what they must do to receive their meals. Martin said there is no sign-up, not anything they must do differently. They simply need to show up, grab a tray and get their food, although one change is that they will receive all five items offered.
Martin said high school and middle school students have been providing meal information via a Google Doc form this year because COVID-19 forced the district to move away from the former method of entering their school number on a keypad as they file through.
The Google Doc form allows them to preorder their meals, and that will remain the same.
Elementary school teachers are currently marking who will eat school meals when taking attendance, and that also will remain the same.
It all gets turned in to the cafeteria, and the numbers eventually get to Martin, who takes care of collecting data and sending it to the state.
Families are encouraged to continue completing free or reduced meal applications in order to make a smooth transition back to regular-priced meals when schools return to traditional pricing, also to determine waived fees for eligible families.
Each year Martin fills out a community eligibility program to ODE that includes the number of students who qualify for free and reduced meals. She said any family who is close to qualifying should fill out a free and reduced meal application because the district could qualify for receiving the all-student free meal designation even after this program ends.
"If we have a large enough percentage, we could qualify and get locked in for several years for these lunch programs," Martin said. "It is definitely worth pursuing."
The free and reduced meal applications are available online on the district website at www.westholmes.org under the Forms button halfway down the page.