WHHS FFA has virtual celebration for State Proficiency winners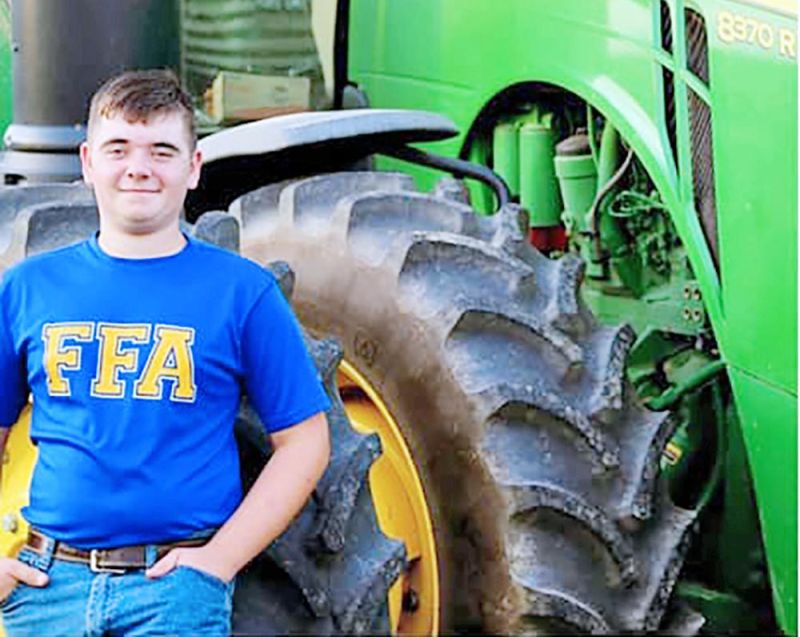 The West Holmes FFA chapter was thrilled to honor its most recent additions to those members who joined others in receiving the honor of being named a State Proficiency finalist.
While most of those honored get to walk across the stage in Columbus to receive their reward, this year's group was denied that privilege with the cancelation of the State FFA event due to coronavirus.
That doesn't make this group's accomplishments any less important, and the chapter honored them in a virtual celebration instead.
"The State Proficiency honor is a big one for us," said West Holmes FFA chapter advisor Jamie Chenevey. "It's a shame they weren't able to receive their awards the way they should have and been recognized properly for their achievements, but you can't focus on what you've lost, but you can only be grateful for what you have at hand and the many great things they did. This has been an incredibly hard-working group."
Every year, each chapter member is responsible for starting and maintaining a supervised agricultural experience for the State Proficiency honor. The program incorporates a student's animal and crop project and improvement projects done at work or at home.
Students who excel in this effort can submit an application and possibly be awarded monetarily at the state level. The minimum qualifications required for this award include doing at least 100 hours of work or earning $500.
"Just to submit a proficiency application and make it to the state finals is quite an honor," Chenevey said. "These kids put in many hours into their supervised agricultural experiences and have truly exceled in their areas. They have put many long hours into their work, as well as their books and applications."
Each student was interviewed about their experience at state convention.
State Proficiency finalists were honored at the virtual banquet.
Chase Stitzlein earned first-place in Dairy Production – Entrepreneurship. He worked with dairy cows, heifers and feeders, responsible for their daily care.
"Being a finalist meant a lot to me," Stitzlein said. "From all of the work I've done with my animals and then tracking it in my books, being recognized for it is a huge honor for me."
Jayme Pennell was awarded first-place for his work on Environmental and Natural Resources Management. He worked on Pennell Tree Farm, reclaiming 11 acres of land, brush hogging, preparing soil, planting pines and hardwood trees and creating water holes and food plots while putting in 1,177 hours over three years.
"It was a really great experience for me, one that Being a proficiency finalist means the world to me and placing first in the state two years in a row has taught me hard work really does pay off," Pennell said. "I would like to thank everyone who has supported me and helped me. Being successful doesn't happen by working by yourself."
Ethan Drzazga took second place for Agricultural Sales – Placement. He worked at Moore's Country Store, where he put in 1,248 hours stocking shelves, assisting customers, delivering products, taking inventory and placing orders.
"I have learned a lot of valuable lessons from my SAE," Drzazga said. "I have learned that good quality records and budgets are important for anything you do. I am proud that my hard work has paid off into something I will value for the rest of my life."
Logan Schlauch received a second-place state honor in Dairy Production – Entrepreneurship. He raised cows and heifers, earning more than $200,000 of total sales over four years. He was responsible for the daily care and management of the cows.
"Being a national finalist let me tell more people my story from my 'farm kid' life and the excitement of my role in ag processing," Schlauch said. "Being only one of four finalists from the United States was amazing."
Brayden Shumaker earned second place in Agricultural Services. His focus was on Operator at Application Specialties, where he devoted 4,660 hours over four years toward operating and maintaining equipment, spreading manure, custom chopping and harvesting and customer service.
"I am very thankful for being a proficiency finalist," Shumaker said. "I really appreciate being selected two years in a row. I have learned to keep organized with all of my records and to put effort into everything I do."
Taylor Feikert earned second place for Swine Production – Entrepreneurship. She raised sows and club pigs, creating $46,161 in sales. She as responsible for the daily care and management of the sows and piglets.
"My SAE is a passion," Feikert said. "It is what I love to do and the passion for the swine industry is something that runs in our family. I think that is a part of why it means so much to me. The greatest things I have gotten from my SAE is carrying on the family business and developing better genes every year."
Kylie Ramirez received third place for Service – Learning. Ramirez created the Be You Livestock Show at the Holmes County Fair that gave a taste of showing animals at the fair to mentally challenged people. She put in 261 hours preparing and conducting the show and collected $4,150 in sponsorships and donations.
"When I joined FFA, I never thought I would be able to be a proficiency finalist because I didn't have the experience or resources," Ramirez said. "Here I am, three years later and I couldn't be happier. I really wanted to give back to my community with my show, and I was honored to be able to do that, as well as become a finalist."
Hayley Davis received fourth place for Veterinary Science. She worked as a staff member for East Holmes Vet Clinic, logging 1,916 hours over four years. She assisted in the handling of animals, cleaned and sanitized pens and checked in clients while assisting the veterinarians.
"Being a proficiency finalist makes me feel very proud," Davis said. "Throughout my years of working at the clinic, I have grown and learned more than I ever expected to. I have learned a lot about patience, trust and concentration. I have also learned that if you put your mind to something you really care about, you can do anything. I am so grateful to Dr. Eric Shaver for giving me the opportunity to work with him and to get out of my comfort zone."