WHHS recognizes underclassmen with awards ceremony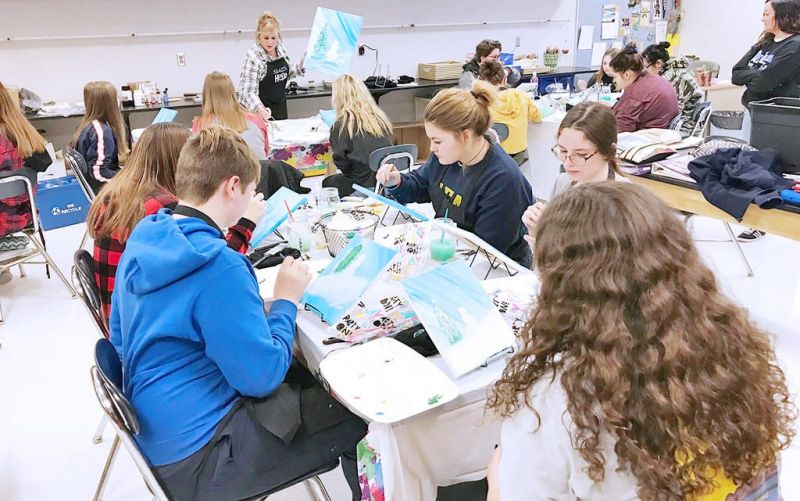 Each year West Holmes High School honors its underclassmen at the annual Underclassmen Honors Awards Ceremony. This year was certainly a very unique ceremony, one that only took place via video due to COVID-19 restrictions.
Even so, the list of accomplishments was well deserved, and the honors bestowed showcased the same leadership and dedication to the classroom that set these students apart.
"It was a challenging year in so many ways for our students," West Holmes Superintendent Aaron Kaufman said. "They faced a lot of adversity, but the students we honored through our virtual video certainly earned our praise for the job they did in the classroom this year, and they deserve to be commended."
On video, Lacey Reynolds, Honors Awards Ceremony coordinator, said this of doling out the awards by virtue of video rather than in person: "The teachers at West Holmes are just as disappointed as the students that our year ended this way. We wanted to make sure that our students received the recognition they deserved for all of their hard work."
The virtual awards ceremony featured all of the regular awards given out each year.
Student council advisor Alison Rogers thanked each of the student council members who served, noting there was a lengthy list of activities the group participated in this year.
That list included the homecoming football ceremony and homecoming dance, participation in the Holmes County Antique Festival and WHHS homecoming court ceremony, Santa's Secret Lane, and volunteer activities that included Holmes County Share-A-Christmas and the Salvation Army bell-ringing program. The group paid for the rental of a watercooler in the main office for students who take medication at the school and created a new format connected to Holmes County Job and Family Services that benefited foster care children and was spearheaded by member Max Pratt.
"It was a great first year of having this event, and I hope that we are able to continue it and partner with Job and Family Services in the future," Rogers said. "I'd like to thank all of our winners for all of their hard work. Unfortunately we weren't able to finish out the year with things we wanted to do, but they were great in the time they were given."
The $1,000 scholarship the group was able to provide from its blood-drive donations went to Kylie Ramirez.
Rogers finished by thanking her seniors for their time and effort.
"I encourage you to keep leading, keep participating and keep doing good for your fellow people, whether that is your classmates in college, your co-workers in the future or whatever path you go down. Continue to be that leader and that light."
Dawne O'Donnell, ninth- and 10th-grade counselor at WHHS, presented the HOBY and Girls/Boys State Awards.
The Hugh O'Brien Youth Award is given out to a sophomore student for leadership skills. This year's recipient was Megan Westbrook. She is involved with the marching band, solo ensemble, musicals and spring plays and is actively involved in her church youth group and is a straight-A student.
"She always has a smile on her face and a bright and positive attitude and is humble and kind," O'Donnell said of Westbrook.
The second HOBY winner was Hannah Hopkins, who is actively involved with Spanish Club and FCCLA, where she is treasurer. She also was involved in band and choir and took on a major role in the musical, "Mama Mia."
Hopkins also served as a tutor in an elementary after-school program, all of this while maintaining a 4.0 GPA.
"Hannah is a bright, smart, friendly person with a great future ahead of her," O'Donnell said.
A trio of juniors were selected for the Boys/Girls State. Sponsored by the American Legion, Sayler Miller was the Girls State honoree while Jack Welsh and Andrew Jones were tabbed for Boys State, alternates being Cadan Zeigler and Max Pratt.
"We are proud to have all of these students representing West Holmes," O'Donnell said.
Also honored were students who achieved perfect attendance and honor roll and merit role awards, all of which were crowning achievements in the shortened and challenging school year.
"Congratulations to our students for their hard work and dedication," Reynolds said. "We can't wait to see you all next year and hope you will all continue to strive for excellence."