WHMS sixth-graders enjoy science camp experience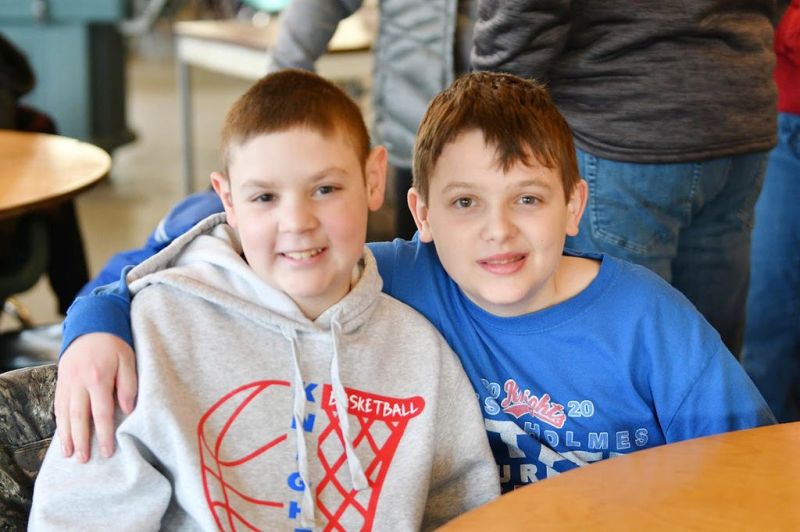 After being cooped up during the pandemic the past two years, this year's sixth-grade students were more than a little happy to get outdoors to unwind and enjoy the challenges, relaxation and fun of the West Holmes Middle School Sixth Grade Camp, an outdoor educational experience.
After attending Heartland Camp near Marengo, Ohio for many years, the district opted to stay closer to home by attending Camp Nuhop near Perrysville, but the change in venue didn't alter the fun, where zip-lining and a host of other outdoor activities paved the way for the students to experience some activities they may not have experienced before.
"It's something we wanted to bring back," WHMS guidance counselor Nic Fioritto said of the camp. "It gets our kids outside. It gets them into educational settings outside of the school, which is fun to see their brains work away from sitting behind a desk. It gets them involved in activities like creating a hot air balloon, using compasses, do a high rope swing course, hiking and a bunch of different activities that are outside the realm of a normal school day."
Stream studies, camp fires, zip-lining and countless other hands-on activities made a big impact on the students.
"Kids who generally don't like the classroom just flourish in this setting," Fioritto said. "I think it inspired a lot of the kids."
He said it also took the technology out of the students' hands. Rather than burying their face in a phone, computer screen or television set, students had to forego their normal routine with technology and return to the roots of conversation and building relationships.
Fioritto said they didn't allow phones or iPads on the trip, and he told parents they would see a difference in their children when they returned home, at least for a while.
With an overnight camping trek led by the teaching staff, the event proved to be everything the staff hoped it would be for the kids.
"This allows kids and teachers to connect in a whole new setting," Fioritto said. "I think sometimes the kids get this vision that we as teachers live at school and have no life. When they see us in this setting, they see another side of their teachers that makes us more human to them, which hopefully develops a smoother relationship between student and teacher. Building those relationships is a big part of why this type of excursion is important."
Fioritto said many schools do this at the beginning of the school year, but they felt doing it at the end provided a fun escape from school when it might be getting boring for the kids. He said it also is a neat reward for working through the year.
He said they also shuffle kids around in cabins, separating students who would normally hang around in cliques and putting kids they feel would be compatible but don't spend a lot of time together in the same cabins.
"It's not a bad thing to make new friends and stretch yourself," Fioritto said.
Fioritto said because of the pandemic, they did experience more homesickness this year, not surprising considering the students were stuck at home for so long.
However, they overcame it, had a good time despite being cold and wet, and had fun.
Fioritto said it is easy for kids to forget what it's like to be outside and enjoy nature. He said some of the kids reverted to a time when they were 7 years old.
Language arts teacher Sara Sponseller-Uhl said they took around 125 students and 10 teachers. She said seeing the students relax, take a breath of fresh air and study the elements and nature surrounding them was good for their minds and spirits.
She also said the team-building activities were a vital part of the experience, developing a teamwork attitude among the kids.
"It's all tied into science curriculum and team-building, and they seemed to be very satisfied with the experience," Sponseller-Uhl said. "They were real troopers with the weather as cold and rainy as it was, but the kids showed a lot of heart, and they were able to bond with each other and with the teachers. It was neat to see them mingle and develop new friendships."
She said the hope of the staff was the students would simply find joy, considering how much has been taken away from students the past two years.
While the educational part was important, the bonding experiencing and finding ways to grow outside the classroom was just as critical.
"School hasn't been very fun for the kids the past couple years," Sponseller-Uhl said. "They often weren't allowed to socialize or congregate and do things together. They've had a lot taken away from them, so this was an exciting opportunity for them to get some of that back."
She said seeing the students relax and even display gratitude and kindness to one another and to the staff was nice to see.
Whether it was building outside shelters as a team, dining together around the table or sitting around the camp fire, it was all about personal growth and finding the joy in life that many have been missing the last two years during the pandemic.