Winesburg goes out west for Right to Read Week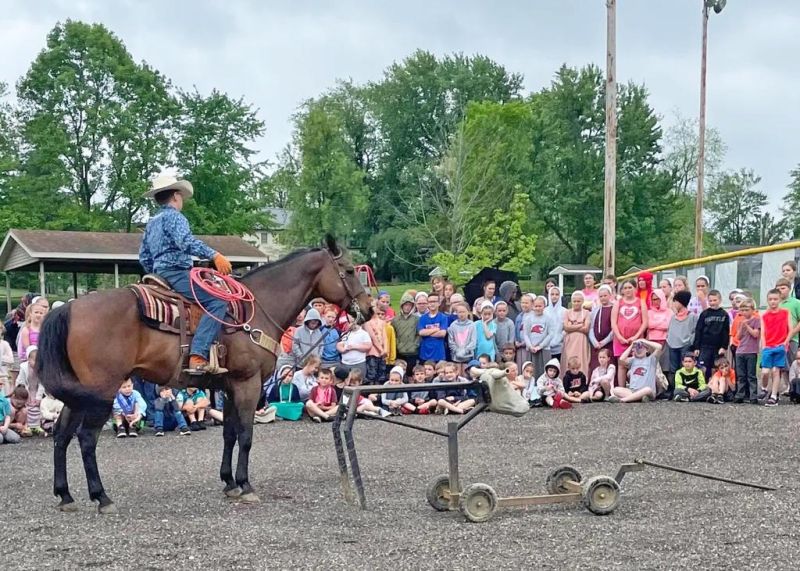 During the week of May 16-20, the students and staff at Winesburg Elementary had their Right to Read Week, which was centered around a Wild West theme. The students learned about the wild west, cowboys and rodeos. There was time to read 15 minutes every day, as well as different activities and snacks each day.
On Monday there was a kick-off assembly in the gym as the teachers did the line dance for the "Git Up" song, and the students joined in as well. Each student also got their picture taken at a photo booth and used the pictures to make Wild West wanted posters that were hung around the school.
On Tuesday parent volunteers came to school to help each student make a pool noodle horse.
On Wednesday some students from Hiland High School's National Honor Society set up an obstacle course at the Winesburg Park for the students to go through with their pool noodle horses, and on Thursday students grades 5-6 held an Unbelievable Talent Round-up in the gym. This was centered around a Wild West theme, and some students performed skits, some had snacks to sample and others had games to play. There was a variety of posters and art sculptures on display.
To cap off the week on Friday, Daxton Farr and his horse JJ put on a team roping heading demonstration for all the students and staff. Farr participates in youth rodeos and other horse shows. His main interest is team roping heading, and he was the 2022 champion team roping heading buckle winner at his youth rodeo this past April.