Wooster Schools' return-to-school plan includes multiple options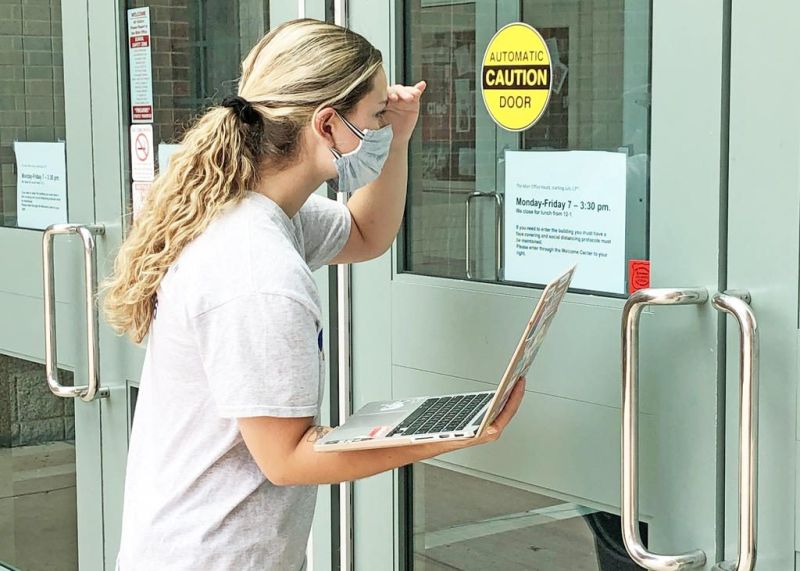 It's not a question of whether Wooster students will return to school in the fall; it's just a matter of what that will look like.
How many days a week will my child attend school in person? Or will they attend completely online? Is there some combination plan? How will I handle childcare if I have to go back to work and my children aren't in school full time? Will they still be able to ride the bus and are face coverings going to be required?
These are merely a few of the plethora of questions that the Wooster City Schools and Wooster Board of Education have been facing this summer as they strive to design a plan that will balance sound educational instruction with the health and safety of the students, teachers and community.
"If I could tell you how many times a five-minute trip to Buehler's turned into an hour-long conversation," Superintendent Dr. Michael Tefs said at a virtual town hall meeting held July 7.
Tefs and the district's COVID-19 education recovery committee reviewed the details of the plan being proposed and took questions from the community at the July meeting. More than 300 people signed on to the meeting, and they submitted 98 questions. A recording of the meeting is available on the Wooster City School District website at www.woostercityschools.org, as well as other resources on the "Recovery Planning" button on the website's home page.
"We really appreciate everyone showing up and appreciate your patience while we work toward hitting a moving target," said Sue Herman, president of the board of education.
Students, staff and parents previously had been surveyed multiple times for their input as the plan was developed.
According to Tefs, the framework for reopening the schools was developed around three pillars: flexibility, equity and coherence.
"If we don't remain dedicated to these, there's a chance we might leave someone out, and we don't want to marginalize anyone," Tefs said. "Our plan has to be coherent — logical and uniting — and equitable for all of our students, families and the community. And the plan will have to be flexible, in case we need to pivot quickly."
Administrators; teachers from elementary, middle and secondary school; and transportation and food service employees had worked closely with medical consultants from Wooster City Hospital, Akron Children's Hospital and the Wayne County Health Department to hammer out a plan that was presented at the June BOE meeting.
The plan consists of four options:
Option A-1 is a blended school and remote learning site. Students will be able to report to their school building or a designated remote learning center five days a week, Monday through Friday.
This is what school will look like: Students will report to the school building, two days per week, and a remote learning center, three days per week, to receive their instruction. During the time spent in the school building, students will practice physical distancing, work in cohort groups and receive instruction from teachers. During the time spent at the remote learning center, students will work through a learning management system with assistance from staff.
"The learning centers will be based on day camps. There will be academic support and also recreational and fine arts activities, breakfast and lunch, and clinical counseling and mentoring," Tefs said. "I think this option will really be a lot of fun for our students and a support for parents."
Option A-2 is blended school and at-home. Students will report to their school building, a designated remote learning center or work from home five days a week, Monday through Friday. Students will have the choice to report to the school building two days per week/remote learning center as needed or work from home online as needed through a learning management system.
Option B is the Generals Academy. Students will be able to work entirely from home, online, five days a week, Monday through Friday. They will work through a learning management system with personalized learning options and assistance from the Generals Academy staff.
Option C is all in-person instruction. Students report to the building five days per week, with precautions in place with cohorts of students in each classroom. Safety procedures will be followed when moving between classrooms, restrooms, lunch and recess. This option is based on virus prevalence and vaccine availability.
"Option C is prepandemic, like the pandemic was never here. I don't see that option C is even something to discuss yet at this point," Tefs said.
A cornerstone of the plan is remote learning centers.
Remote learning centers will not be an issue at the high school, Tefs said, because the school has the necessary square footage to be able to physically space students appropriately.
The elementary schools and Edgewood will be challenges, however, Tefs said.
"We simply don't have the square footages needed, so we have to look at other additional options like perhaps the Wayne Center for the Arts, Alice Noble (ice arena) and faith-based organizations. We're lucky that we have some amazing partners in this community," Tefs said.
An area that will have some unique requirements is preschool, according to Kean principal Molly Richard. "We need to follow different licensure, step up to quality requirements, monitoring temperatures, et cetera," she said. "We're working hard to ensure safety for our youngest students."
As far as transportation, Tefs said he is waiting for guidance from the state, as well as feedback from parents.
"We can't really start planning routes or anything yet, until we know who's coming, when," Tefs said. "I can say it won't be as comprehensive. We'll be asking families to transport their students wherever possible. We might have to look at increasing walking distances. We know buses will not be running at capacity. That is one of the things that keeps me up at night."
Food service also is a challenging area, Tefs said. "I'm not sure how we'll get there yet, but after what we saw them do in the spring (delivering free lunches to several drop-off sites in the city), I'm sure we'll work it out," he said.
A huge concern with COVID-19 is, of course, sanitization.
"We will have to become what I'm going to call a 'community of cleaners,'" Tefs said. "Everyone — not just the custodial staff — will have to be responsible for their areas, daily and between classes. It is just an impossible ask to do it any other way."
Buses will be sanitized constantly, Tefs said. He said the district is looking at UV and electrostatic sprayers as well as "the old-fashioned wiping it down."
As far as face coverings, Tefs said the plan will require all staff, students and visitors to wear masks, with very few exceptions. "This is what we will be recommending to the board of education," he said.
The finalized plan will be submitted to the board of education at its meeting on July 28.
The district will hold another virtual town hall on Aug. 4 at 6 p.m., and a final survey will be sent out to parents the first week of August, asking them to commit to their desired option for the first semester.
School is scheduled to start Aug. 19, but Tefs said it might take until Aug. 24 in order to allow for additional professional development for teachers and training on new procedures.
Tefs encourages people to continue to monitor the district website for new developments and to submit their feedback.