After 58 years, Lytle fights his final fire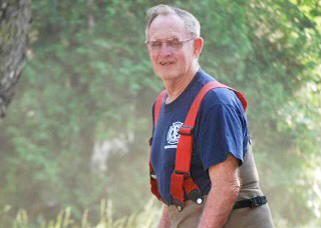 Nearly 150 years ago, Orrville's first fire department was organized, and one man served as a volunteer firefighter for over one-third of the ensuing years. Bill Lytle retired from the Orrville Fire Department on May 30 after 58 years of service.
Lytle is known as a man who jumps right in and gets things done, but his decision to step down wasn't made in the heat of the moment. He'd considered retiring before.
According to Chief Chris Bishop, who has been with the department 41 years, over four as chief, "Bill has previously said he was going to retire but then changed his mind because we were short of volunteers. He didn't want to leave us hanging."
"I turned in my resignation four or five years ago. Then one of the guys had to have a knee replacement, so I stayed," Lytle said. "Then I stayed a few extra years."
With no full-time firefighters on the payroll, the Orrville Fire Department relies solely on volunteers who are paid by the call.
"It's difficult to get volunteers," Bishop said. "There's a screening process, the training is challenging and they are required to complete continuing training each year. And, of course, it's tough work."
Lytle's inclination toward firefighting was sparked in an unusual way.
"Our next-door neighbor was assistant fire chief, and I used to go along with him on calls. Then I just decided to join," Lytle said.
Known also as a man of few words, Lytle simply said, "It was community service."
Born in Wooster, Lytle has lived in Orrville for all but his first five years of life, so he considers giving back to his community a worthwhile use of his time, even when he was raising a family and working full time.
Retired now, his 46 years as a vehicle mechanic included 20 years at Smith Dairy, a stint at Young Truck Sales in Canton and finally the City of Orrville. At Smith Dairy he was on call 24/7 and still managed to respond to fire calls. He also spent six years in the military police unit of the 447th Army Reserve Wooster, which he joined about the same time he joined the fire department.
Asked how he did it all, he said, "I never thought about it; I just did it. I was fortunate that Smith's would let me off work whenever I got a call."
Lytle raised two sons, Jeff and Jim, with wife Pat, who also looks back at her husband's extended side gig with no complaints.
"The only thing was that when the boys were young, I never knew if I'd have Bill home to watch them or go with me to meetings or other functions," she said. "And he's had many dinners reheated in the microwave."
Lytle estimated the calls coming, at all hours of the day and night, at about 100 times per year.
"They would involve anywhere from 15 minutes for the false alarms to 12, 14, up to 24 hours. We'd maybe get a nap on the front seat of a truck on those runs. The challenge of putting out the fire was fun for me."
But the camaraderie also contributed to his staying for so long.
"Bill really cares about the other volunteers, and they looked up to him," Bishop said. "One of his legacies is all that he taught us about purchasing equipment — the detailed specs, working with salespeople and so on. He was a real pro at it."
Through his service on countless committees, Lytle was involved in every truck and piece of apparatus purchased during his tenure at the department. "I enjoyed operating and working on the mechanical equipment and helping buy it," he said.
The department also will miss Lytle's energy level and dedication.
"He never missed a training session and rarely missed a meeting," Bishop said. "He also volunteered for every event the department has been involved with over the years, such as the Fourth of July carnival games."
Lytle also has served as foreman on the department, which involved overseeing care of the equipment, and as lieutenant for many years, when he was responsible for the firefighters on his rig.
Lytle is one of only three people named the department's Firefighter of the Year more than once, the first being in 1992. When he was honored again in 2014, he characteristically protested.
"He said he didn't deserve it more than anyone else," Bishop said. "He also forbade us to do anything special to recognize his retirement."
Lytle didn't go out in a blaze of idleness. He enjoys spending his extra free time on another long-time passion: purchasing and restoring antique cars.
"I'll probably stop in at the station from time to time too," he said.
"Bill's the last of a dying breed," Bishop said. "To give almost 60 years to his community, you don't see that much anymore, and we don't know of anyone else who served in the department nearly as long. He's the best."