Baus steps down as Wooster girls basketball coach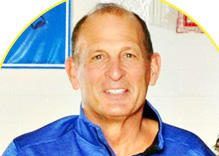 Mike Baus, who led Wooster High's girls basketball program as its head coach for the last dozen years, is stepping down, Wooster City Schools announced in a press release on Wednesday, March 24.
Under Baus, a longtime Wooster dentist who also has served on the district's school board, the Generals posted a record of 169-85 (.665 winning percentage) and won two Ohio Cardinal Conference championships. He also was a two-time OCC Coach of the Year.
"I have enjoyed the last 12 years of coaching the Wooster High School varsity girls basketball program," Baus said in the release. "I feel it's time for me to move on and pursue other opportunities."
Baus is a Wooster High graduate and also one of the founders of Wooster Youth Instructional Football.
According to the release from WHS athletic director Joe Rubino, the search for Baus' replacement is underway.