BBBS presents The Unusual, Unordinary, Un-Gala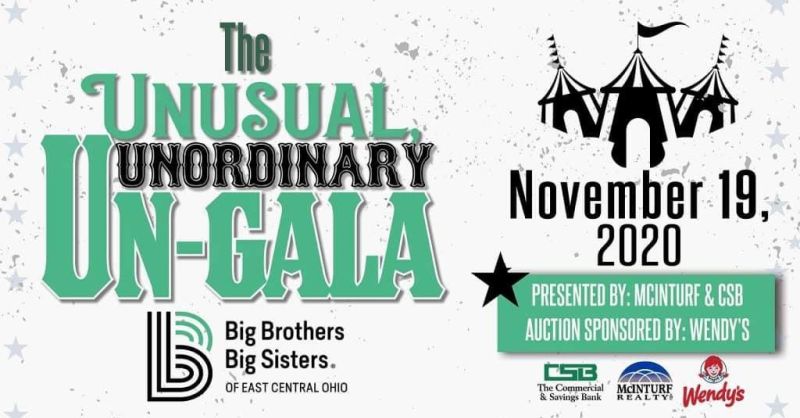 An annual gala to raise money for Big Brothers Big Sisters of East Central Ohio has been entirely recreated in a new light and will offer opportunities to participate from home while raising funds for the local organization.
The Unusual, Unordinary, Un-Gala is planned for Thursday, Nov. 19 with virtual entertainment and a live auction. The entire event had to be planned from the ground up.
"The gala is my favorite event to plan," said Olivia Scally, director of development and marketing for Big Brothers Big Sisters of East Central Ohio. "We've really tried to get creative and plan something fun this year. It started when we were trying to think of a way to open up the silent auction to more bidders, and that was the kickoff to what became the Unusual, Unordinary, Un-Gala."
The event is sponsored by Big Brothers Big Sisters of East Central Ohio, McInturf Realty of New Philadelphia, The Commercial and Savings Bank, and Wendy's.
The program will air at a single online location, Scally said. Registration is via the ticket purchase, and those who are registered will get a live link to the event with details.
Preshow programming will begin at 5:30 p.m. with the full program at 6 p.m. Bidding will close at 9 p.m.
Tickets of various levels are available, and each comes with its own set of bonuses. Each includes an appetizer from Benson's Catering of Dover, which has provided food for past galas.
"You can host a group Gala event in your own home with a purchase of 10 tickets," Scally said. "You can really make it a special evening including the great food you're used to seeing at the gala."
Tickets will begin at $30 for a single appetizer, special access to bidding for gift baskets and a raffle. Couples tickets for two appetizers are $100. Groups of 10 are $300, and wine may be added to any ticket package for an additional $10. For full details and to register, visit www.bigs4kids.com/gala.
For those who prefer to simply attend as a bidder and skip the food, a free registration for bidders also is available at the same address.
The gala will feature an art show with submissions from children from Big Brothers Big Sisters created specially for the event. "Viewers will be able to vote for their favorites and bid to take home something special," according to the event website.
Then local acts will begin entertainment with music and magic, followed by a program hosted by Jan McInturf of McInturf Realty. "The program will give an overview of Big Brothers Big Sisters," Scally said, "and you'll be able to meet some of the people behind the scenes and some of our adult-child matches."
Bidding for gift baskets and packages opens early on Thursday, Nov. 12, utilizing an online bidding platform that will keep bidders informed of their status as successful or losing bidders.
Scally said the fundraising goal for the evening is $40,000, a bit lower than in past years. "Since the event is virtual, we are able to cut some of the costs involved in hosting an actual gala. That enables us in turn to reduce our fundraising goal a bit."
Big Brothers Big Sisters of East Central Ohio has continued to function throughout the pandemic, Scally said. "We are keeping kids connected to services and matches. In 2019, 400 children were a part of the program, which is a record year."
The organization serves Tuscarawas and Carroll counties.
"We are still gathering gift baskets," Scally said. "They will include great packages for meals, spa treatments, getaways and other great things."
For any questions about the event, ticket package options, the program or sponsorships, call Scally at 330-339-6916, email oscally@bigs4kids.com or visit www.bigs4kids.com/gala/.