Clark Elementary tile floor topic at auction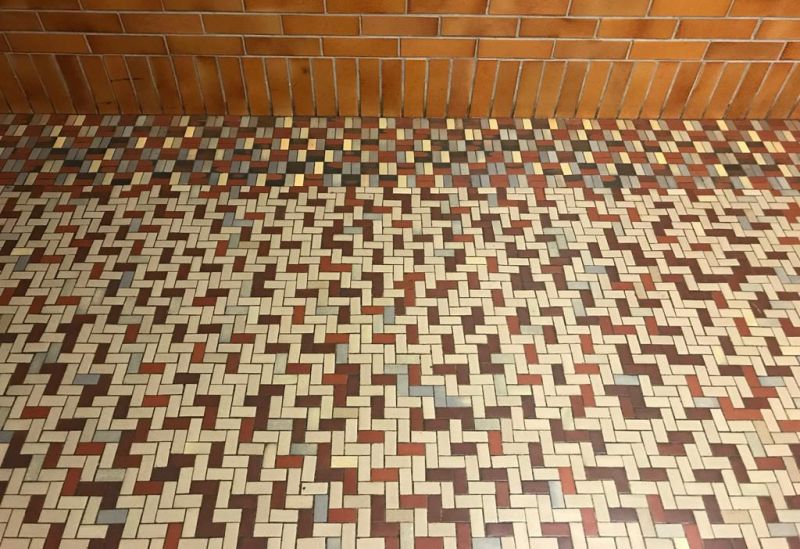 The tiled floor of Clark Elementary was put together back in the days of the Great Depression. Those tiles that are no more than 2 inches square were a much-talked-about aspect of the school building as it was auctioned off Monday, Sept. 30 in Clark.
There was plenty of talk about other aspects too, from old classrooms to childhood memories of activities.
Mary Conrad served as a cook at the school for many years. She retired in 2012, but during that time she created many relationships with students and faculty that made her time there very enjoyable.
"I spent a lot of time in the kitchen, but what I remember most was the time I spent with the kids and the teachers," Conrad said. "If I ever needed help, the staff was always right there, ready to lend a hand. The kids were great. They were a lot of fun and said some of the funniest things."
While Conrad worked at the school for a long time, her father Carl Casey and grandfather Charles Casey shared a very interesting part of the school's history. They were part of the crew that hand-laid all of those tiles that made the floor so beautiful. The tiles, which are about the size of a domino, had to have a great deal of patience and a steady hand to lay in place.
"They made 50 cents a day laying those tiny tiles in place," Conrad said of her family members who bore the aches and pains of kneeling, bending over and performing the chore. "They did an amazing job of making the floor look incredibly beautiful, but I know it was very difficult work."
Vickie Patterson said her two children, Joshua and Leah Patterson, like many families who either attended school at Clark or had children attend, have good memories and have nothing but praise for the Clark staff that has served there over the decades.
"We loved it here," Patterson said. "I think that with Clark being such a caring community that we all have these wonderful memories of this place. If there was a fundraiser, everyone was here pitching in and helping out. Everyone knew their neighbor, and it was like a big family. I'm afraid that we are losing that kind of feeling today."
Thankfully those memories are firmly entrenched in the minds and scrapbooks of those who called Clark Elementary their home for so many years.
The school has been a blessing to many, and when the school property was purchased by Dale Lahm, who graduated from Clark High School in 1955, for $130,000, the community could rejoice in the fact Lahm has every intention of keeping the school a functioning and vital part of the community, tiles and all.